Looking for ways to have fun without breaking the bank? We've all been there! York County has so many affordable and FREE activities to keep you entertained- even on a budget! We've put together this list of 10 things to do that cost $20 or less:
1. Fun at the Greenway
The Anne Springs Close Greenway is 2,100 acres of beautiful outdoors located in Fort Mill. For non-members, it costs only $6 to get in! Here you can enjoy miles of trails, a lake to kayak on, and swing bridges that take you across streams. If you've got a little cash to spare, make sure to grab a bite at the Greenway Gateway Canteen!
2. Check out a farm festival
Fall isn't complete without a little farm fun! Many farms across the county put on a fall festival filled with pumpkin patches, corn mazes, and more for only around $7 per ticket! Check out this year's list of farms open for some weekend fun here.
3. Frightmare! on Dam Road
Head to Mr. Putty's Fun Park in Tega Cay for their Frightmare! on Dam Road haunted house, open air scare zones, mini golf and more every Friday & Saturday in October! Tickets are $15 for general admission - get yours here. Never been to Mr. Putty's and want to know what to expect? Check out our guide on 5 Ways to Have Fun at Mr. Putty's! 
4. Lanterns & Legends Tour
Attend the Fort Mill History Museum's annual Lanterns & Legends walking tour for a spooky but fun activity the whole family can enjoy! For only $16 per ticket, you'll experience ghost stories, learning about Fort Mill's past, and more every Thursday, Friday, and Saturday in October.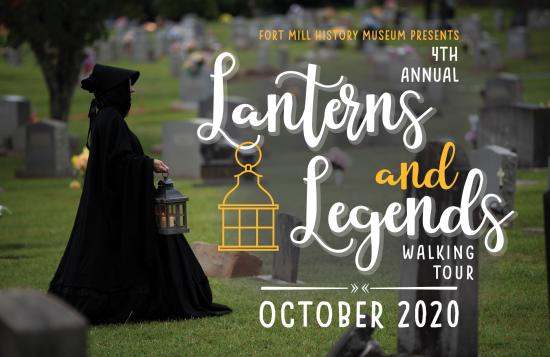 5. Explore Kings Mountain State Park
If you're an outdoorsy person, Kings Mountain State Park is the perfect place for you! You only need $2 to gain admission, and then the mountain is your playground for outdoor activities like hiking, mountain biking, fishing, kayaking, and camping! If you're into history, head down the road to Kings Mountain National Military Park to learn at the site of the Battle of Kings Mountain, an important part of the history of the Revolutionary War. Admission to the National Military Park is free.
6. Grab a beer on the YoCo Brew Trail
Make some progress on the YoCo Brew Trail by stopping by one of our six breweries! Almost every pint or bottle of beer is less than $10, and you're one step closer to getting a free t-shirt!
7. Browse the Farmer's Market
Legal Remedy Brewing hosts the Old Town Farmer's Market in Rock Hill every Saturday from May to November! Rain or shine, vendors and local farmers show up to show off local products and produce. Fort Mill also launched their own farmer's market this year, which doubles as their Fall Market, with a multitude of vendors every Saturday morning at Veteran's Park. Entry to both markets is free, and you'll be surprised what you can get at the market for only $20!
8. Spend the day at Windy Hill
What's more fall than apple-themed everything? Grab a bottle or flight of hard apple cider, a dozen of fresh apple cider donuts, or even pick your own apples all for $10 or less per activity! Reservations are required for U-Pick apples and the hard cider bar on Saturdays and Sundays. Dogs are currently not allowed on the property. Make sure to check in on the YoCo Brew Trail while you're there!
9. Go on the scarecrow crawl
Every year Fort Mill puts on an annual scarecrow crawl where scarecrows of all themes line the streets of downtown. This year there are 117 scarecrows to see and vote on! Catch the crawl from October 5 - 31 to get you in the swing of spooky season - it's free to check them out!
10. Learn at the Fort Mill History Museum
Learn a thing or two about Fort Mill's past at the Fort Mill History Museum - now reopen for visitors on Fridays and Saturdays. Discover how the Catawba Indians, the textile industry, and the Anne Springs Close Greenway all intertwine, plus learn about local war heroes, African American history, and more! Admission to the museum is free.