Anne Springs Close Greenway
Nestled amid beautiful lakes and hardwood forests, the Anne Springs Close Greenway is a natural preserve more than twice the size of Central Park, minutes south of Charlotte. Its 2,100 acres serve as a natural buffer from urban development and provide open spaces for countless activities from hiking, biking, horseback riding and everything in between.
While you're there, grab a bite to eat at the Gateway Canteen. Featuring a seasonal menu with local beer & wine, the Gateway Canteen is the perfect spot to dine after spending the day outdoors. Located at the Lake Haigler entrance, you can choose to either dine inside or eat al fresco!
For the Canteen's seasonal hours of operation, click here.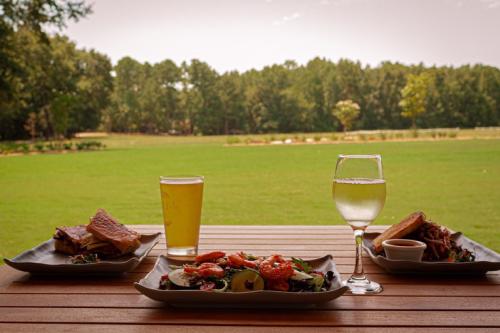 The land has ties to the Catawba Indians and the Civil War and has been permanently preserved for public use. The Greenway is home to native plants and animals, historic buildings, a 36-mile network of trails, and facilities for weddings and other special events. Main entrances include Lake Haigler, Adventure Road, and the Dairy Barn, all of which provide additional information and trail maps. Whether it be through school trips, guided tours, individual visits, or volunteer opportunities, be sure to explore the Greenway and take advantage of everything there is to offer year-round.
Dogs are welcome on the Greenway but must be kept on a leash at all times. No motorized equipment of any kind is allowed on any trails. Visit ASCGreenway.org for the current trail map & guidelines, as well as additional visitor information. Call 803.547.4575 for more information.
For the Greenway's hours of operation, click here.
Daily Admission Fees:
$12 per person | Youth (ages 5-12) $6 per person
Trailering In - $20/horse
(Lake Haigler Entrance only)