The Sports and Event Center includes a championship court along with 8 basketball courts and 16 volleyball courts. The center also has 700 court-side permanent seats with 1,200 stadium seats at the championship court.  This is a state-of-the-art facility with multiple concessions and locker rooms. 
Visit York County is proud to host the Martin Luther King Jr. Holiday Basketball Showcase, SIAC volleyball, men's and women's basketball tournaments with Rock Hill Parks, Recreation, and Tourism through 2022, and Battle At The Rock at the Sports & Event Center. If you are looking for a hotel nearby, take a look at our preferred hotels. 
To find a running list of events at the Sports & Event Center here.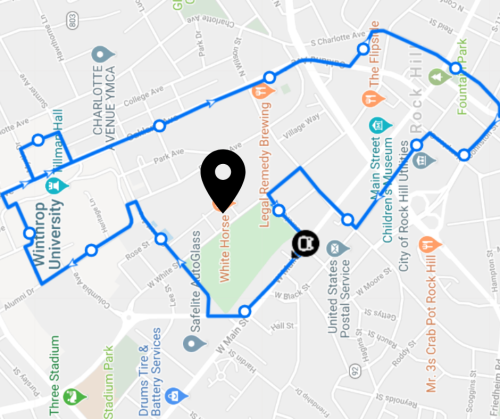 Free Bus Transportation
The My Ride Transit System is one of the best ways to get around Rock Hill. The bus system, which launched in July 2019, is free to ride, has mobile charging ports and free Wi-Fi, and is outfitted to be ADA compliant. Need a break from riding your bike? The bus even has bike racks on the front. With four fixed routes, the bus runs along the key corridors of the city, taking you from one end to the other, allowing you to visit almost any place in Rock Hill. You can download the My Ride mobile app to track where the bus currently is, preview routes, find nearby bus stops, and more.
The downtown loop, called Route 1: Knowledge Park Loop, has a bus stop right in front of the Rock Hill Sports & Events Center.