Getting Here
Situated on the East Coast of the United States, York County, South Carolina is approximately halfway between New York and Miami. Closer to home, York County is just minutes from Charlotte and one of the nation's busiest airports (CLT).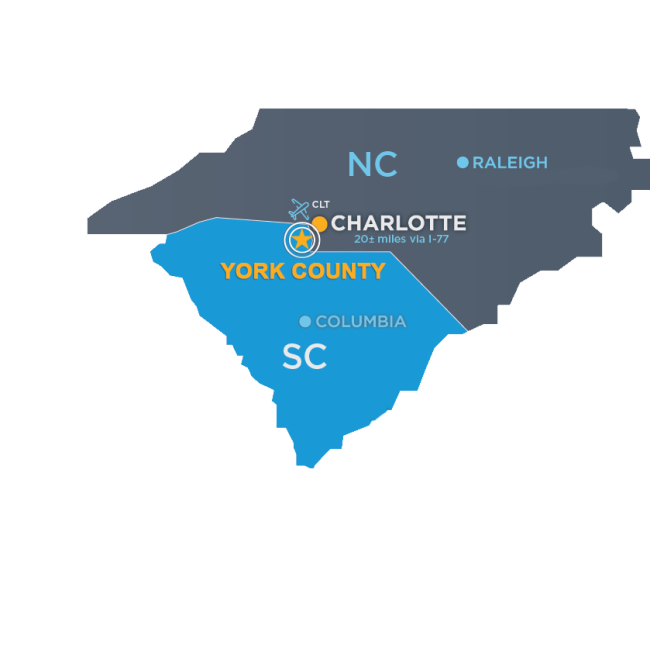 By Air
York County is within 20 miles of Charlotte Douglas International Airport (CLT), ranked among the top ten busiest airports in the world, averaging 1,600 daily aircraft operations. CLT serves approximately 178 nonstop destinations around the globe and welcomes more than 50 million passengers annually. 
The Rock Hill/York County Airport serves business travelers with streamlined arrival and departure capabilities. With a 5,500-foot runway and a 7,200-square-foot terminal building, the Rock Hill/ York County Airport continues to grow to meet local demand. 
By Highway
Interstate 77 and Interstate 85 connect the Charlotte Region to cities in the Northeast, Southeast, Southwest, and Midwest. Convenient I-40 provides an important east/west link with coast-to-coast access. To support unprecedented regional growth, I-77 is consistently widened and improved to make all parts of York County accessible.
By Rail
Amtrak passenger service is also available out of nearby Charlotte, providing daily rail service to the North and South lines that access most of the U.S.