For the 24th year, the United States Disc Golf Championship will be held at Winthrop Lake in Rock Hill, South Carolina from October 6th through the 9th. They are also excited to be hosting the Throw Pink Women's Disc Golf Championship (TPWDGC). If you're not entrenched in the disc golf community, this is like the Masters of the disc golf world. In the past decade, the sport has taken on extreme popularity with thousands of people in attendance for the USDGC. Rock Hill is also home to the East Coast Warehouse for Innova Discs, an American disc golf brand, and manufacturing company that was one of the first companies to produce equipment specifically for disc golf. A variety of vendors will be on-site in the brand-new Championship Village, located in the heart of the course. The USDGC itself will have a souvenir spot with apparel and disc golf equipment commemorating both Championship events.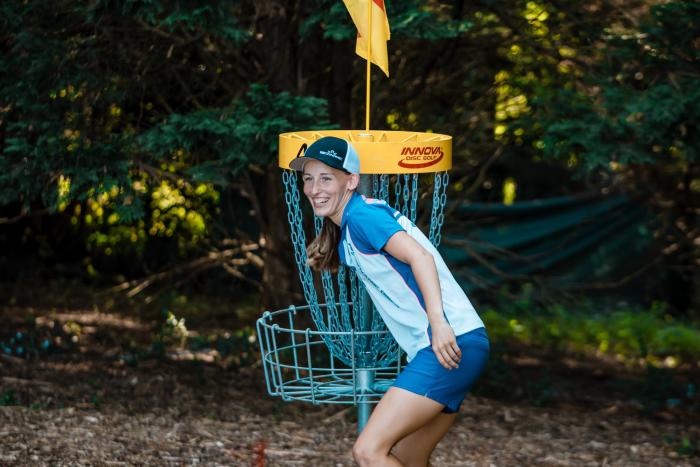 USDGC Ticket Information:
$25 day passes will go on sale September 9th and include:
Access to any single day of USDGC/TPWDGC competition. (Oct 6th - Oct 9th)
Parking at the course will be extremely limited for Day Pass holders. Remote lots will be activated once all available spaces at the course have been filled.
The following individuals may enjoy Championship Week at no charge:
Children 10 and under
Active military with valid ID & Veterans with a valid ID
Active Winthrop Students with a valid ID
Best Places to Watch the Action (If you have day passes):
Hole 1 (near the shack)
near the main hub of the event can eat, hang out, sit down, shop, and immerse yourself in disc golf culture
live stream in the shack
Hole 5 (road by the lake) 
watch the big par 5 and players test the water again and again. One of the most beautiful holes on the planet.
Hole 17 (by the lake)
the most dramatic hole on the course, more tournaments are won or lost on this hole than any other
plays down at the lake, can rest your legs on the hillside, and watch the drama unfold. 
Championship Village
Located directly behind the tee of the famous Hole 7 aka the "Bamboo Hole". More than 30 vendors, food trucks, games, prizes, and a free 9-hole "Ace Place" course that is fun for all ages and skill levels.
Spectator Course Sponsored by Sawyer Outdoor Products
Open all days of competition and free to play. If spectators want to compete against each other, tickets are $5 and prizes are given away daily. The course is located at the back of the area on the golf course.  
Watch it Live and Celebrate at Slow Play Brewing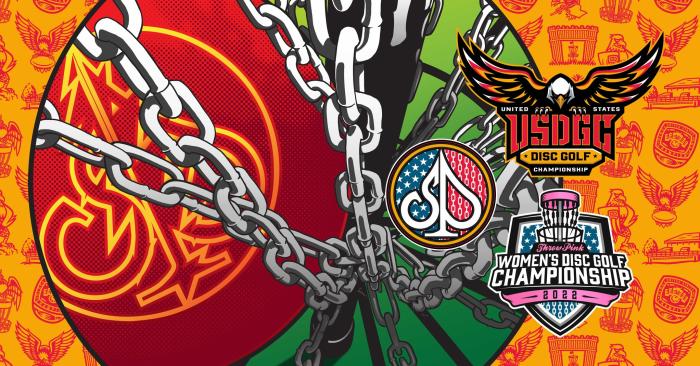 As the official beer sponsor of the USDGC, Slow Play Brewing will not only have a strong presence at the championship but is also designated as the official USDGC after-party location! Their beer "Throwing Aces" will be the official beer of the competition! Slow Play will also be pouring on-site at Vendor Village throughout the entire tournament. 
Schedule of Events:
Tues. (10/4) - Throwing Aces - Hazy IPA (the official beer of the USDGC) & Throw Pink - Mixed Berry Hard Seltzer CAN RELEASE! Parked Podcast on site with a live podcast from the brewery talking about all of the USDGC happenings.
Wed. (10/5) - KICKOFF PARTY with Live Band Karaoke from 7-9:30 pm!
Thurs. (10/6) - Live music with Kris Atom from 6-9 pm. The official USDGC Putting League Party starts at 5:30 pm.
Fri. (10/7) - Live music with Donnie Honeycutt from 7-10 pm.
Sat. (10/8) - OFFICIAL USDGC AFTER PARTY AT SLOW PLAY! Live music all night starting with Prepared Air at 7 pm. Marcy & The SP House Band starts at 8:30 pm. Drink specials, player party, live raffle drawing!
Sun. (10/9) - Relax with CIbi Cibi brunch on the patio. Open 12-8 pm.
Cibi Cibi Food Truck will be on-site all week, as well as out at Winthrop Lake to keep everyone fed! Stay tuned for specials.
They will have a very limited run of hand-dyed Slow Play discs available featuring the new 2022 stamp.BONUS: All players, pros, and event staff/volunteers will receive $5 pours in the taproom all week!
Or check out a local event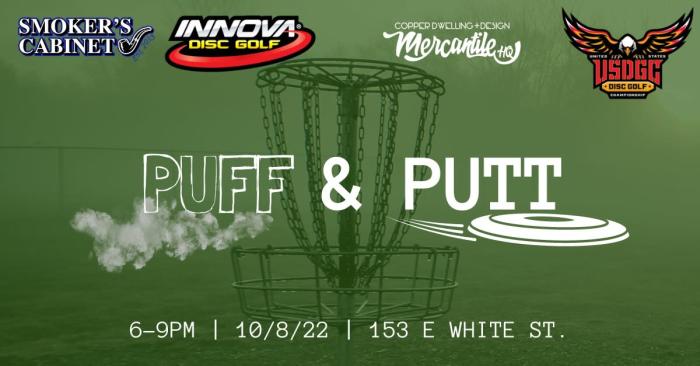 The Mercantile will be hosting their first-ever Puff and Putt! Join them on October 8th at 6 pm to celebrate the USDGC tournament in Rock Hill! You can enjoy three putting games with a chance to win cash prizes, cigars & drinks.
Cigars & Drinks
Enjoy cigars & drinks provided by The Mercantile while you play!
Innova Discs
A special thanks to Innova Discs for sponsoring theevent.
Smokers Cabinet
Enjoy prizes from Smokers Cabinet.
Games
Pay $20 to enter to play all 3 games during The Mercantile's Puff & Putt. Winners of individual games will take home the cash pot at the end of the night.
The Alley Putt
Showcase your distance by entering our long putt challenge! Each player gets one chance to win the cash pot for this game.
The Triple Shot
Showcase your consistency by making 3 25-foot putts in a row. Each player gets one chance to win the cash pot for this game.
The Trick Shot
Showcase your skill by making our elevated trick shot. Each player gets one chance to win the cash pot for this game.
Fun Facts About Disc Golf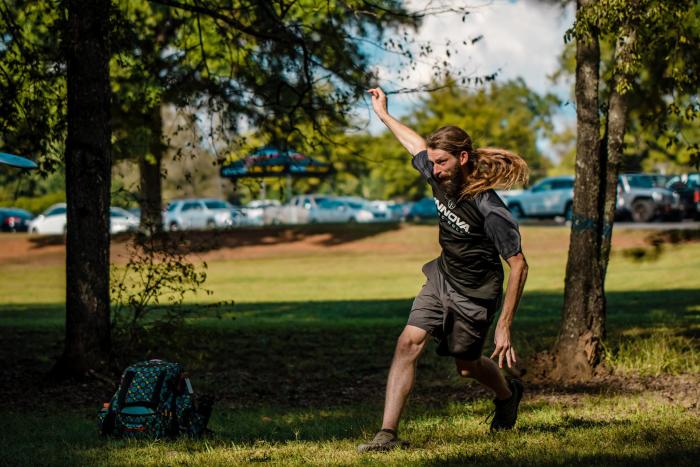 In the United States over the past few years, disc golf has been the fourth fastest-growing sport.
With more courses being open to the public as well as a lot of places being free to play, it's no surprise that many are picking up disc golf right now. It's always fun playing with others so grab someone new and introduce them to discing, or even join a club or team!
The game of disc golf was invented in the very early 1900s by a group of elementary school friends.
Ronald Cain and his friends began playing a game where they would throw lids into circles drawn into the sand. This is the first known idea of disc golf and the first known game happened in Canada back in 1926.
75% of all disc golf courses in the world come from the United States (over 6000 courses), while 10% come from Finland and Canada.
The game has been increasing in popularity in other locations outside of the United States, but for now, the majority of courses remain in one location.
According to InfiniteDiscs, the most popular disc golf driver in 2020 was the Innova Destroyer, followed by the Innova Wraith.
Innova has been a top brand in disc golf for many years, so it's no surprise to see them at the top of the list. The Innova Destroyer and Innova Wraith are two of the best distance drivers on the market and are great discs to try if you haven't already.
Where You Can Play Disc Golf in York County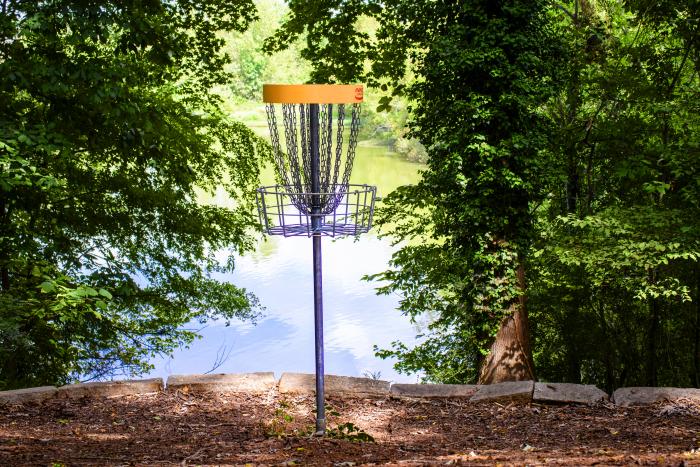 This beautiful disc golf course is set around a lake on a college campus environment. It's long and mostly open and as you would assume, water comes into play on many holes. There are several picturesque holes. This course was used for the 1997 World Championships. Many holes have water come into play. #4 has a mando to protect the parking lot (you must go right around the first tree).
Boyd Hill utilizes a lovely park setting to offer recreational professionals an enjoyable yet challenging disc golf experience. 18 holes beginning with some open ones and then upping the challenge by moving into the woods. Beautiful rolling terrain makes this a very popular course. You can follow the arrows on the bottom of each basket to the next tee, otherwise, you might end up getting lost!
Camp Canaan Disc Golf Adventures includes sixty holes on two Innova Disc Golf designed courses. The Sandhills Disc Golf Course is 20 holes and the Riverbend Disc Golf Course has 20 holes with 2 sets of tees.
Course Details
Both of their PDGA Disc Golf Courses are open to the public on Saturdays and Sundays. Players may purchase a single Day Pass or a Year Membership. Day Pass includes free parking and all-day access to all 60 holes. Players may tee off from 8:00 AM to 2:00 PM. Tee off times are first-come, first-served and all rounds must be finished by 5:00 PM. Players are encouraged to register online in advance for a faster check-in time.
Pricing
Day Pass – $6
Membership – $50
Hole Sponsorship (includes 1-year membership) – $79
Fewell Park is probably one of the smallest disc golf courses in the world, but don't let that turn you off. Instead, it is a great place to hone your short game or to introduce a beginner to the sport. Bring a couple of discs and see how many holes you can play in an hour, or play skins with a friend. See how many birdies you can sink in a row. Fewell Park is also an Aceplace course, one of Innova's brands that build short, beginner-friendly 9-hole courses. 
Join a Disc Golf League
Rock Hill Women's Disc Golf League plays every Wednesday at Fewell Park from 6:00 PM - 7:00 PM. It's free to play and prizes, donated by Throw Pink, are given away at the end! Roc Hill Disc Golf usually plays on Tuesdays around 6:00 PM switches courses weekly and they also do putting league every Thursday night at Slow Play Brewing!