From vine-to-cone ice cream fresh from the farms to some of the best family recipes around, York County is guaranteed to have an ice cream shop for you!  We've gathered the best ice cream places in York County to make your day oh so sweet! Enjoy our "scoops" of the day!
Rock Hill
Two Scoops Creamery offers over 32 homemade flavors year-round as well as seasonal specials. Their ice cream flavors are playful, freshly churned and there is no skimping on fillings. Their recipes are a family secret - made with love and amazing ingredients!
Located in the heart of Rock Hill is one of the longest family-run ice cream shops in York County. PW's Gourmet Ice Cream delivers a wide variety of ice cream to suit anyone's needs! Concretes, milkshakes, and sundae's, OH MY! Nothing says summer like ice cream from PW's! 
Ever heard of rolled ice cream? If not, check out Artic Roll Ice cream and Bubble Tea for a sweet treat that will make you roll with happiness! Inspired and brought over all the way from Asia, come to their store to get yourself a new way of eating ice cream. Topped with dozens of toppings, there's not one way you could go wrong! Check out the link to learn more.
Bajo Cero San Marcos is a local family-owned and operated paletería and nevería. They make popsicles and ice cream in-store from fresh ingredients to create a traditional Mexican flavor!
A perfect "backroads" kinda shop that will leave you feeling cool in the heat. T C's Shaved Ice has cones, cups, and splits! Perfect for kids with a variety of sizes.
Fort Mill/Tega Cay
With their homemade ice cream made fresh daily with their very own strawberries, you can't go wrong with a soft-serve at Springs Farm Market! They also offer the Fort Mill Famous, Cherry Lemon Sundrop Slushie!
Need a break from ice cream? Try Whit's Frozen Custard on a hot summer day! They only feature three flavors: Vanilla, Chocolate, and Whit's special weekly flavor because of how much love and care they put into each batch. There's an endless variety of flavor combinations when you consider all the fruit toppings, nuts, and candies that can be blended into a custard.
If you're craving more custard flavors, or maybe some other type of treat, stop by Abbott's Frozen Custard! You have to try their signature treat "the Turtle"- layers of frozen custard, peanuts, and fudge that have been frozen on a stick and then dipped in dark chocolate! They also have sundaes, pies, and other sweet treats!
At Scoop n' Swirl, their mission is simple. They strive to make the best homemade ice cream in small batches using the highest quality ingredients and serve that in a warm friendly environment. Scoop n' Swirl is under new ownership. Same location, same homemade ice cream, and same recipes!
Bruster's makes more than 140 recipes of out-of-this-world fresh ice cream and serves it up in crispy waffle cones and waffle bowls every day!
York
One of the most popular family-owned farms in York County serves some of South Carolina's best homemade ice cream with seasonal fruit flavors. Bush-N-Vine Farm locally grows strawberries, peaches, blueberries, raspberries, and fresh produce in season for any need. Stop by for a sweet treat or pick your own produce! Pro Tip: Try mixing the ice cream in with a peach slushie!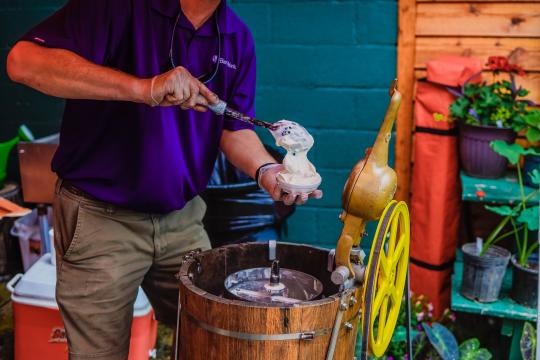 Black's Peaches in York, SC is your one stop shop for fresh, local produce, made-to-order lunch, pies, and more! They carry a variety of hand-dipped ice creams that are sure to satisfy your sweet tooth!
What's better than homemade peach ice cream? Peach Tree Orchard is an open-air market specializing in peaches and other local produce.  Step into the ice cream parlor where fresh peach ice cream is sold in abundance and your sweet tooth won't be ignored! Click the headline link to learn more.
Rainbow Donuts does it all! Get a fresh donut filled with crème and pair it with some delicious hand-scooped ice cream. Eat a full meal and then take the ice cream to go! With dozens of flavors, you can't go wrong.
Chill out in Downtown York when you stop by York's newest ice cream parlor- Scoop's Ice Cream! Whether you get a cup or a cone, there are 32 flavors that can satisfy your sweet tooth here - including low sugar and dairy-free options so EVERYONE can enjoy a scoop!
Lake Wylie/Clover
While the Bagel Boat may offer the best coffee for 4 years and counting in Lake Wylie, they also make creamy soft serve ice cream with their secret mixture of heavy cream and milk. It serves so well over homemade pound cake, fresh strawberries, creamy Vanilla topped off with Ghirardelli Premium Chocolate. You'll for sure leave full and happy!
Come grab a little "Scoop " of happiness in Clover! 40+favors, homemade waffle cones, delicious brownie sundaes, scrumptious different flavor cherries, frozen NY cheesecake.., these are just some of the goodies you can experience!
The Dreamery Creamery is Lake Wylie's locally owned ice cream parlor. The Dreamery Creamery is not your typical ice cream shop. They specialize in amazing, specially crafted, enormous sundaes that are served to you just like a full-service restaurant. They are a family-owned business that believes ice cream brings delight and happiness to all! We couldn't agree more!
BONUS: For National Ice Cream day they will be doing BOGO Sundaes!