You already know that York County has a thriving arts scene, but did you know that there are over 10 murals just waiting to be the backdrop for your next Instagram pic? We've organized them by location to make it easier to find! Check them out below:
Fort Mill
Crossings on Main
This "Love Where You Live" interactive mural is located on the side of the Crossings on Main shop off of Main Street Fort Mill. We love this mural because there are so many ways to take pictures with it!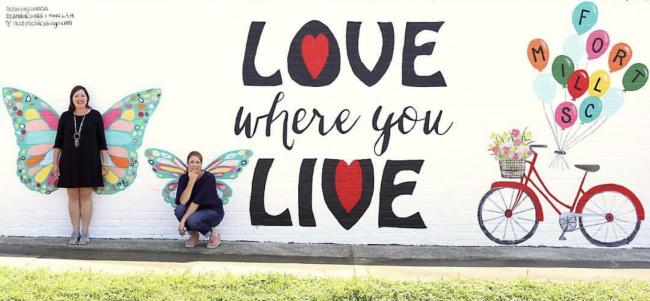 Credit: Caroline Simas, mural artist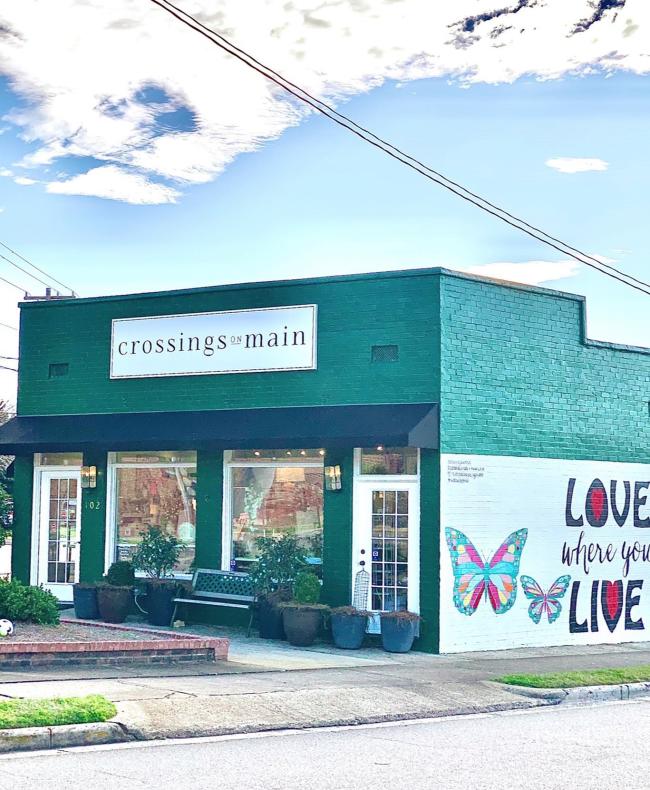 Credit: Crossing on Main
Spring Maid in Kingsley
The Spring Maid Fabrics mural can be found on the Brixx Wood Fired Pizza building in Kingsley! The mural is an ode to Springs Industries- a Fort Mill cotton textile company that became one of the leading textile manufacturers in South Carolina during the late 1800s and early 1900s. The history of Springs includes ownership being passed down from multiple generations, labor protests, and the multi-million dollar valuation of this company. You can read more about the interesting history of this company here.

Credit: Kingsley Town Center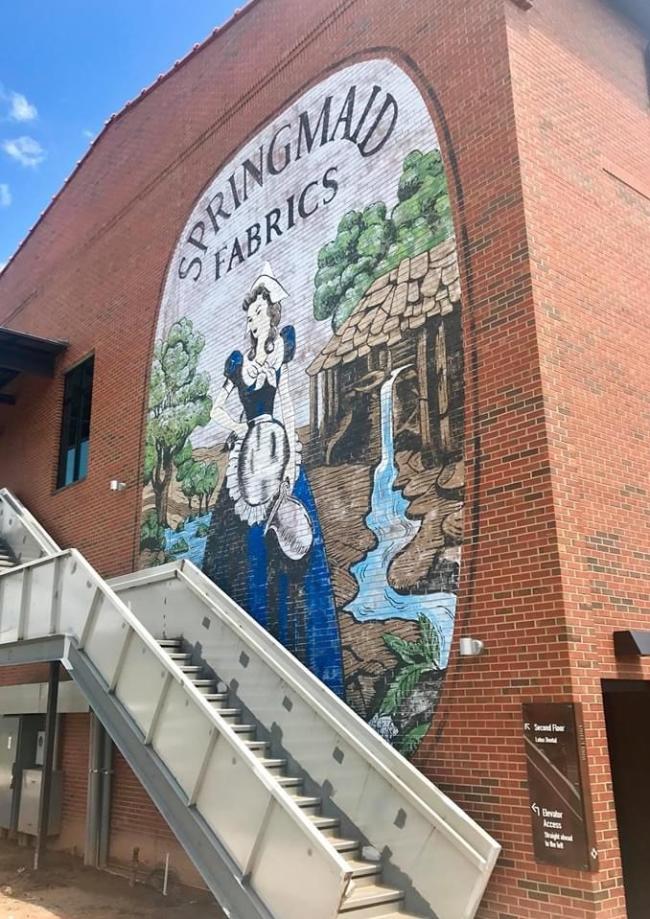 Credit: Kingsley Town Center
Rock Hill
Freedom Walkway
Located in Old Town Rock Hill, Freedom Walkway is an alleyway that represents and celebrates local heroes in Rock Hill's history who fought for equality and justice.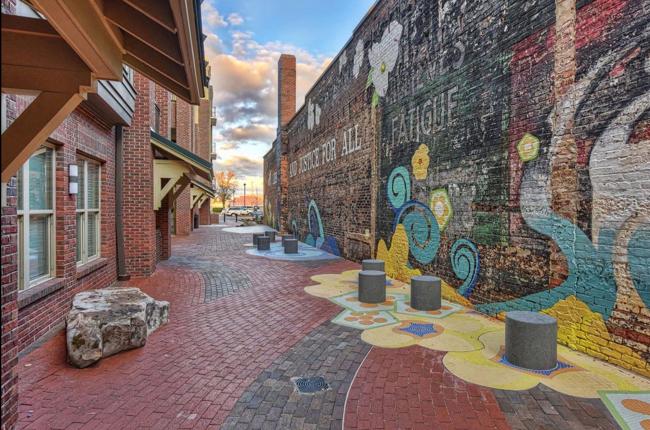 Credit: Mike Baker
Arts Council of York County
While you're in Old Town Rock Hill admiring Freedom Walkway, take a stroll down the block to the Arts Council of York County! The back of this building has an Art Deco mural with pops of neon colors to brighten up your day.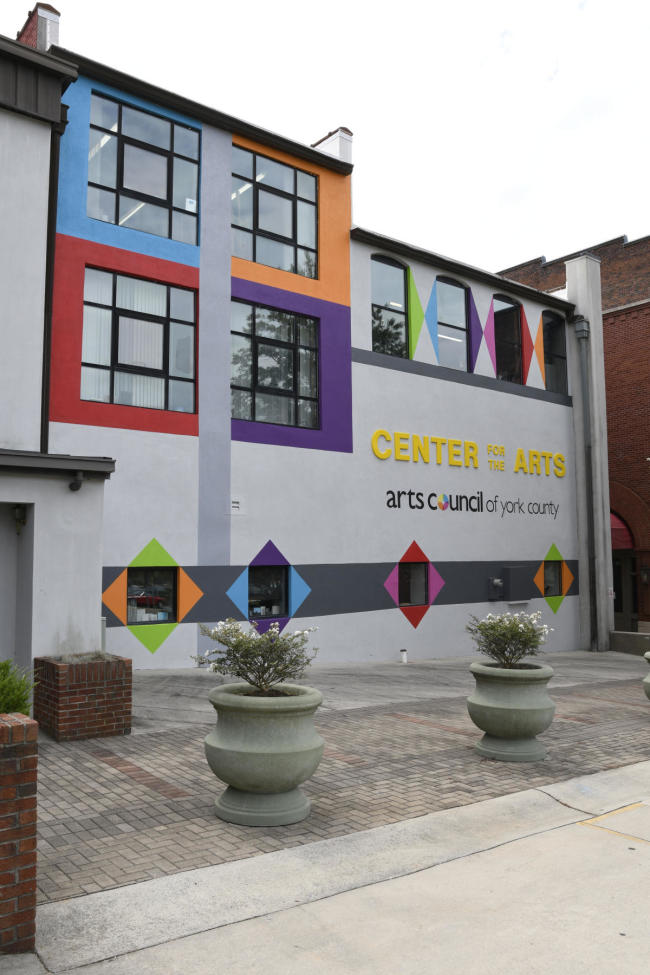 Drink Local
If you're out making progress on the YoCo Brew Trail, stop by Rock Hill's Dust Off Brewing and check out their "Drink Local" mural located in their back alleyway patio.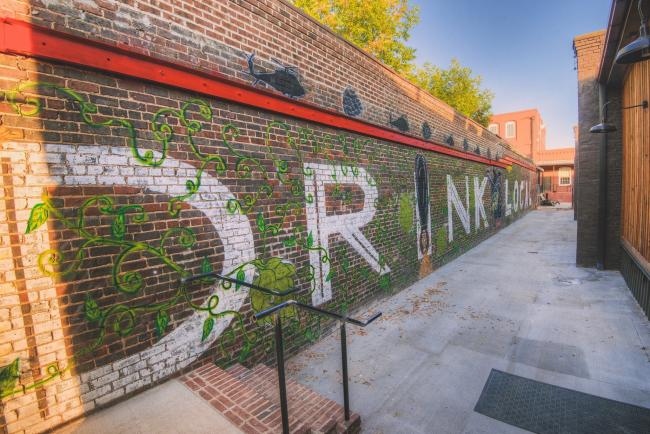 Credit: Dust Off Brewing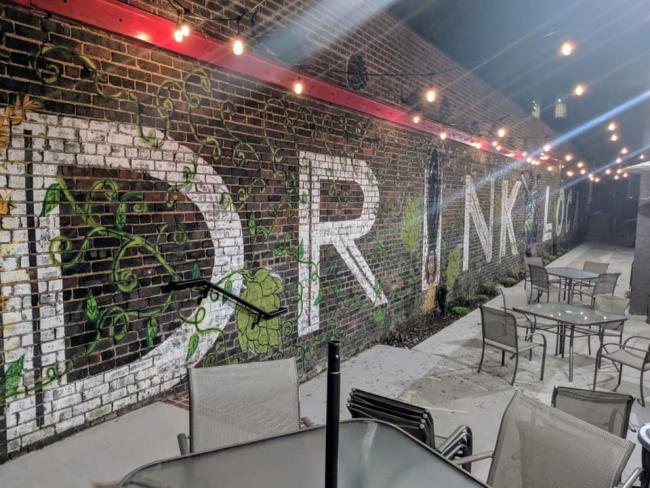 Credit: Dust Off Brewing
Warehouses on White
One of the newest murals to come to York County is at the Warehouses on White's Dust Off Brewing- the brewery's second mural! Located on the side of the building, there is a massive mural, painted by Osiris Rain, filled with faces and bright colors with "ROCK HILL" spelled across it.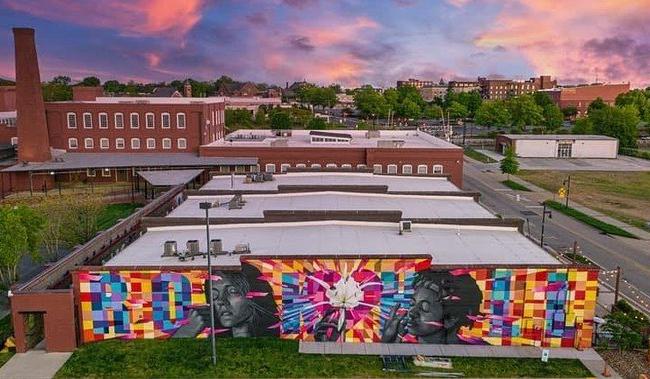 Credit: Only in Old Town
While you're at the Warehouses, be sure to check out the street mural directly out front. The last nine letters depict the faces of the Friendship 9 - you can learn more about them here: bit.ly/Friendship9. Due to the location of this mural, please be sure to use caution when viewing.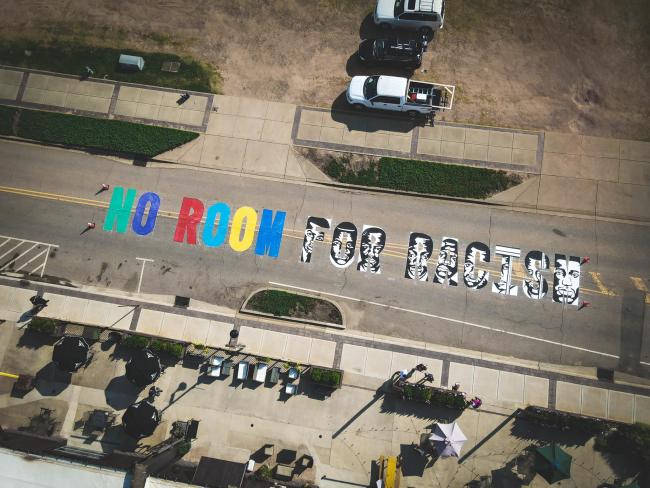 Credit: The Rock Hill Drone Guy
Las Americas Supermarket
This Rock Hill Supermarket is primarily known for their authentic 50 cent Taco Tuesday tacos, but now you can enjoy some art with your meal! Artist Alex DeLarge has painted a series of popular Mexican icons on the walls, such as Frida Kahlo and El Chavo. Five are up so far, with more to come- stay tuned!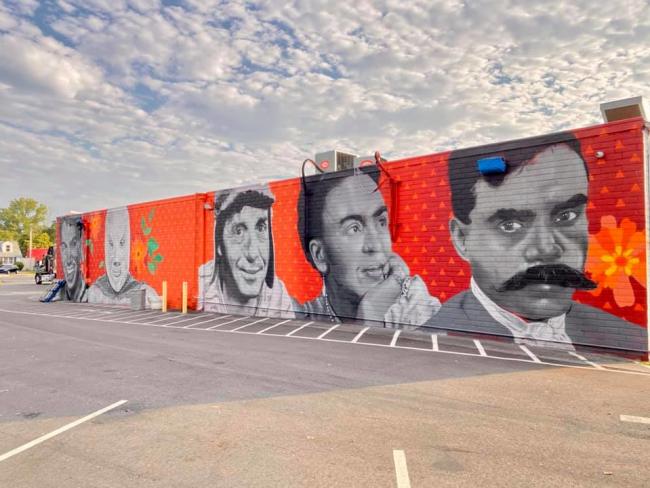 Credit: Las Americas Supermarket
York
Solutions Salon
The back of Solutions Salon in downtown York just got a recent makeover with the addition of this angel wings mural! The meaning behind this mural is to honor the salon owner's mother.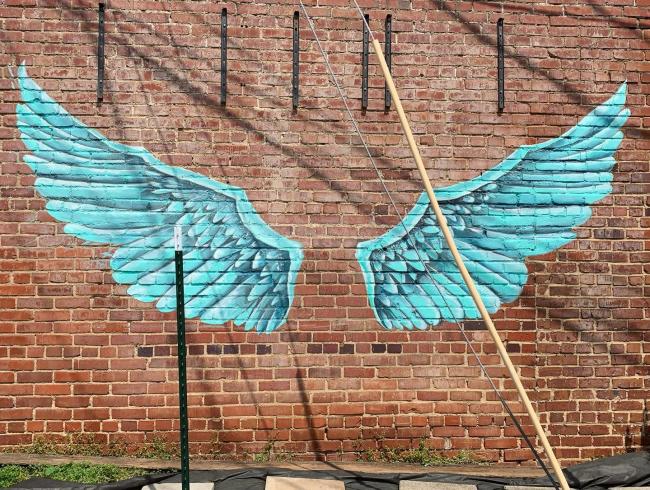 Credit: Kelsey Lane Nethken, mural artist
York Lumber Co.
In what is now occupied today by York Lumber Company in York, once was where the circus was housed during the winter quarters!! It may look ordinary during the day, but at night it becomes illuminated, giving it a whole new look.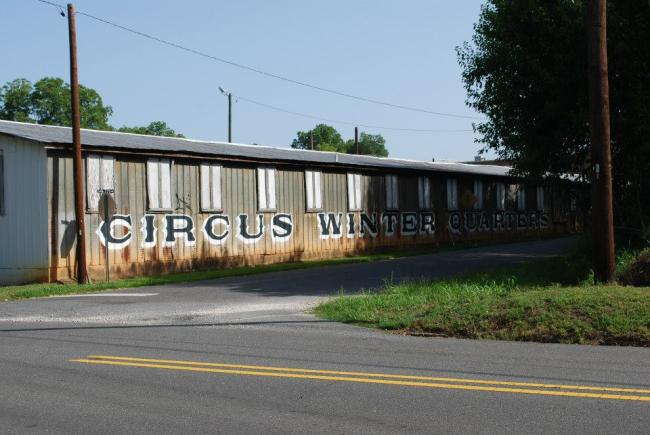 Credit: Yorkville Historical Society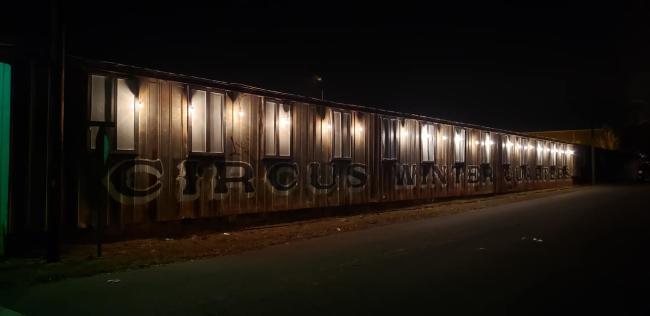 Credit: Domenic Manera
Clover
The Train in Clover
Before Clover was the Town of Clover, it was just a railroad stop. If you stop off of Main Street in downtown Clover, you'll spot this gem that pays homage to the town's history!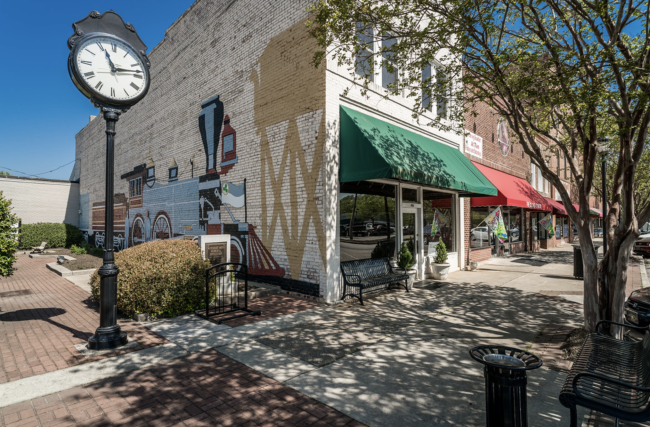 Boyd Tire & Appliance
While you're in Clover, stop by the Boyd Tire & Appliance store and check out the huge mural that takes up the entire side of the building. Featuring tall trees, plants, and bright red and yellow balloons, this mural is definitely one of the most unique ones on this list!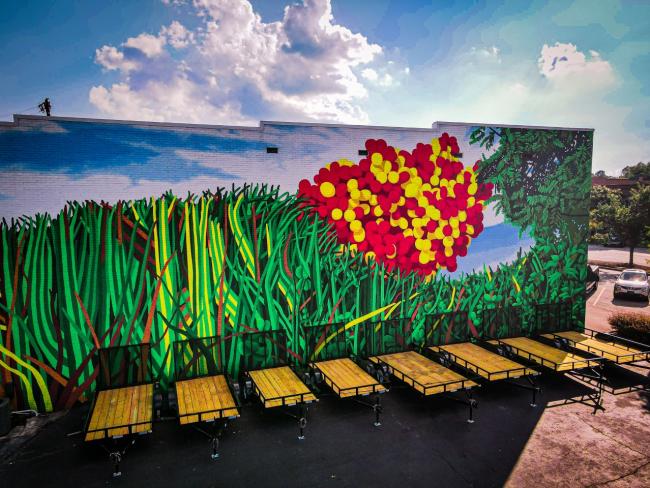 Credit: The Rock Hill Drone Guy
Lake Wylie
Map of Lake Wylie
This map of Lake Wylie mural has a "Where's Waldo?" vibe to it with the bright colors and with so much going on! Located on the side of Archer Automotive in Lake Wylie, this mural was done by Imre Nagy and his 11 year old son- so much talent!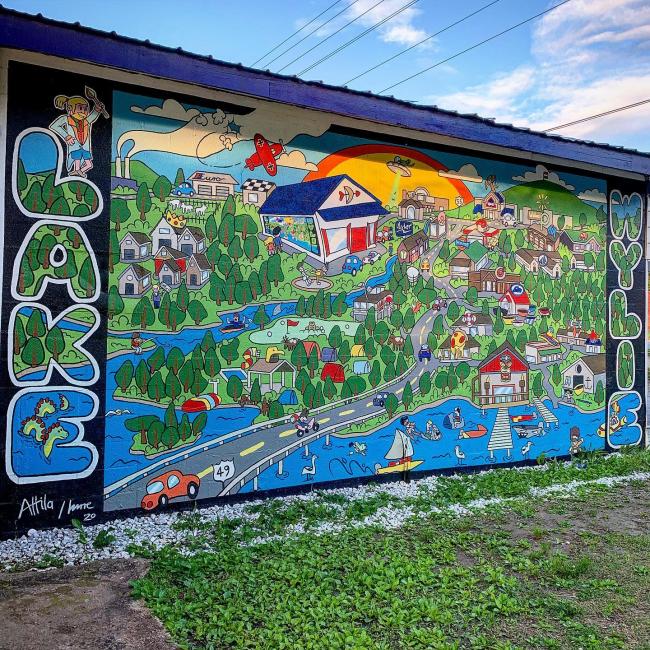 Credit: LakeWylie.com Facebook Page
There are even more murals to come in the near future to York County. As part of Old Town's Mural Mile, artist Shepard Fairey will be completing a mural on the side of the old Bike Town building in downtown Rock Hill. The scheduled date for this mural is late 2020 - early 2021.