Why stay indoors when you can experience the beauty around you? York County is home to some wonderful campsites that offer you an amazing adventure and the opportunity to reconnect with nature. Bring a tent, RV, or simply a sleeping bag and enjoy the Palmetto State at its absolute peak! 
Why Camping in the Fall is Awesome
Cool fall temps are so great for hiking and getting outdoors! You won't have to worry about beating the heat or waiting for the sun to go down before getting outside
Early campfires mean more time for stories around the campfire and opportunities to create memories
It's hard to avoid waking up at the crack of dawn while camping during the summer. Later sunrises in the fall make it easier to sleep in and recharge your batteries 
Where to Camp in the Fall 
Open year-round, their 55-acre, on-site cabin, and RV Park is nestled in a beautiful, natural setting and offers a full suite of modern amenities for lots of happy campers. With cabins sleeping up to 8 people and full hook-up sites, Camp Wilderness Resort is the perfect place for your next fall family adventure. 
Located less than a mile away from I-77, the KOA in Fort Mill offers tent and RV campsites with amenities like a pool, mini-golf, and Wi-Fi. Being located in Fort Mill, the KOA is also a short distance away from tasty restaurants like Greek Grill or Sabor Latin Street Grill.
Looking for a campground with lake views? Ebenezer Park in Rock Hill is located on the shores of Lake Wylie and has over 69 full hook-up campsites to choose from. Ebenezer Park is a great place to stay if you're looking for an authentic camping experience within city limits!
Situated on the border of North and South Carolina, Crown Cove RV Park has been an integral part of the community for more than 35 years. Offering 126 sites arranged amid mature trees and green grass, with a feel of the country in the midst of a thriving residential area. They offer a centrally located bathhouse and laundromat, as well as a dog run for pet-loving customers. The rental rate includes water, electricity, sewer, cable TV, and wireless internet access. Book a few days, a week, a month, as well as long-term commitments for three months or longer.
Encompassing 6,883-acres, Kings Mountain State Park offers outdoor recreation activities such as hiking trails, picnicking, fishing from a rental boat, seasonal canoe rentals, equestrian trails, and more. Guests can also re-live the lifestyles of early pioneers by visiting the Living History Farm. The park was originally built in the 1930s by the Civilian Conservation Corps and evidence of their stonework and craftsmanship is still present today.
Fall Camping Activities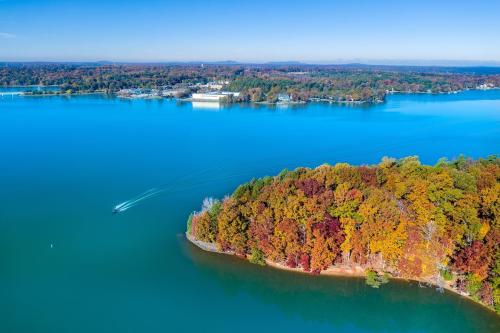 Photo by Sara Mcallister
Hiking 
Is it even really fall if you don't go leaf-peeping? Hiking is the perfect opportunity to participate in the most picturesque fall activity! Get up close and personal to the changing leaves with a hike around the campground. 
Kayaking or Paddleboarding
Just because summer is over doesn't mean the paddles have to be put away! Add a few layers to your camping clothes and get out on the water. Take in the breathtaking views of the fall foliage surrounding the water.
Collect Colorful Leaves for an Art Project 
Keep the kiddos entertained by making it a game to collect colorful leaves. Bring glue, paint, and other crafting items to make art projects with the leaves and then use the art to decorate for fall!
Roasting S'mores
Nothing says camping quite like roasting marshmallows over the campfire. Jazz up your s'mores by adding pumpkin butter for a fun fall festive twist!