It's that time! The sun is brighter, the air is warmer, laughs are louder, smiles are bigger, drinks are colder. We've curated a list of our favorite restaurants and bars equipped with patio seating. Grab some friends and beat the South Carolina heat.
Rock Hill
Take a seat at Burgers and Barley's outside space. Bring some friends and enjoy a delicious burger, craft beer, and their tasty sweet potato fries.
Dust Off Brewing is focused on making the brewery the center of neighborhood life! Dust Off has not only one, but two patios on-site making it the perfect sunny day hang out! 
Check-in at one (or more!) places on your YoCo Brew Trail when you visit these Rock Hill breweries! Come at night and be mesmerized by the twinkly lights that give these places all of the summer vibes.
From hand-spun milkshakes to their fine selection of beers from around the Carolinas, Hobo's provides a warm & friendly environment for everyone to enjoy! Play games on the patio while listening to live music and feeling the warm evening breeze. 
Legal Remedy Brewing is your local choice for beer, food & fun! From light seasonal Ales to rich and flavorful Stouts, you can enjoy any of their beers on their large outdoor patio!
You'll love the atmosphere on the patio at Slow Play Brewing! Additionally, Slow Play is home to the highly coveted food truck, Cibi Cibi!
Bonus: Dogs are always welcome on the patio so bring your fur baby for all the fun. 
Deemed the "Uncommon Convenience Store," The Common Market is an alternative and eclectic local gathering place that offers deli sandwiches, local craft beer, a curated wine list, coffee, ice cream from Two Scoops, and so much more.
The new Mercantile HQ frequently hosts live music in downtown Rock Hill. Enjoy coffee, tea, or specialty beverages from their Café & Deli while listening to local musicians, live concerts, live bands, and artists. 
Fort Mill
Napa Kingsley's exquisite patio has plenty of space for dining and drinking with a view of the LPL Financial Pond. 
Another Kingsley favorite is the Taco Molino patio -- right in the middle of the action, get great views while enjoying great food!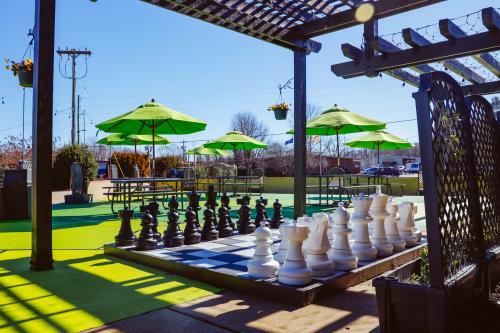 The Green Room Café serves coffee, sandwiches, paninis, pastries, and more. Equipped with a pool table and giant chess on the patio, you can enjoy delicious food in a fun atmosphere with plenty of room to spread out. 
Located in Baxter Village, The Fish Market is home to some of the best seafood in York County! Take a seat and relax on their newly expanded patio.
Tega Cay
Stop by Model A Brewing for great beer and easy bites on not one but two patios! 
SC Shore Club offers breathtaking views and outstanding service. The menu features a variety of dishes ranging from seafood, steaks, and sushi to sandwiches, burgers, and salads.
Lake Wylie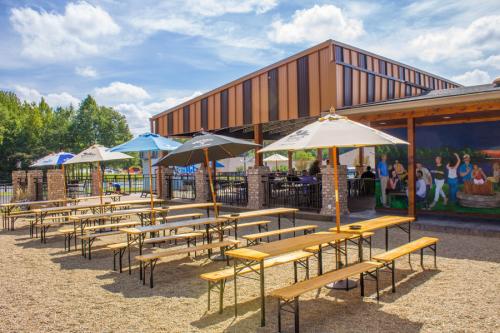 Copper Premium Pub is one of the perfect places to enjoy the weather on its scenic outdoor patio area and TV wall. You can expect a wide variety of menu items from craft burgers to specialty pizzas.
At Lily's Bistro, you can experience a meal that showcases strong northern Italian influences as well as country French -- all while dining on their picturesque patio!
Conveniently located on Lake Wylie, Papa Doc's Shore Club is the perfect spot for family and friends to dock and dine or break up a day at the lake.
York
York's Garden Café has an enchanted patio straight out of a fairytale. Be sure to check out their gift shop for unique finds!
Chill out and soak up positive southern vibes on the patio at Hoof & Barrel! Enjoy their elevated twists on American classics along with their carefully designed libations.
Introducing YoCo's largest beer garden! Grapevine Wine Bar & Beer Garden - York offers a unique and distinctive mix of wines and specialty beer.
Clover
Clover's newest patio!  Located on Main Street in Downtown Clover, The Vault is not your ordinary brewpub. This cozy, but modern and industrial bottle shop offers:
- A curated list of 20 craft beers on tap including local favorites and well-regarded regional breweries 
- A wide variety of local and out-of-state brands available in cans and bottles
- 32oz Crowlers to-go 
- Four different wines on tap
- Rotating food trucks Thursday-Saturday
- Live music every Friday from 8-10 pm
- Gluten-free and non-alcoholic beverage options