YORK COUNTY, SC, August 15, 2023— Rob Masone of Kounter and Kre8 Xperiences will expand his Rock Hill restaurant with a new lounge concept to be called Kounter Lounge. Masone will renovate the two-story, 3,000-square-foot space currently occupied by Edward Jones at 135 East Main Street.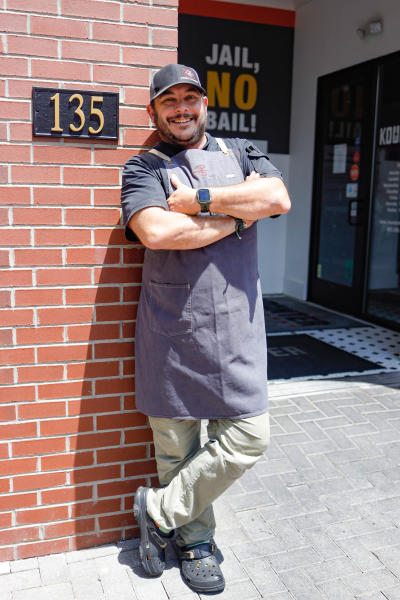 Kounter Lounge will offer charcuterie, dessert, and an extensive cocktail menu featuring locally sourced ingredients.
"The goal is to bring a much-needed, elevated experience to Rock Hill's Main Street," said Masone. "I envision Kounter Lounge to be a space for upscale client meetings and that generates more foot traffic in downtown Rock Hill after typical dinner hours."
Plans for downstairs include private seating with partitions and bar seating overlooking Main Street. The upstairs space, dubbed Elsie's, will function as a speakeasy with an unexpecting entrance, dim lighting, bold wallpaper, and high-end finishes.
Named in honor of Masone's grandmother, Elsie, the décor will feature keepsake items and personal memorabilia from Masone's family including an heirloom piano which will provide live music.
Patrons can expect a vast selection of liquors, bourbon, herbal infusions, and mocktails.
"We will make our own dry ice, smoked cocktails, and offer herbal infusions with locally sourced ingredients from Innovation Gardens, among other South Carolina vendors," said Masone. "We'll even have a large-scale herb garden display for bartenders to pick from."
Elsie's will be open in the evenings, Tuesday-Sunday. Patrons will have the opportunity to purchase a membership to Elsie's with expanded hours and various other perks.  
Vinyet Architecture is overseeing architectural plans for the project. Copper Dwelling and Design is leading the interior design.
Construction will begin this October. The project is expected to be complete by Spring 2024.
About Chef Rob Masone
A York County native, Chef Rob Masone was born and raised in Rock Hill. Following many successful years as an Executive Chef throughout the Carolinas, Chef Masone ultimately planted roots in Rock Hill with the opening of Kounter. In addition to Kounter, Chef Masone owns and operates Kre8 Xperiences, a funky, full-service events and catering company. Kre8 Xperiences continues to flourish with a highly successful food truck, Twisted Eats which you can find at the recently opened Hoppin' in downtown Rock Hill. Chef Masone currently serves as a 2023 South Carolina State Chef Ambassador.