There's nothing better than catching up with friends over brunch. Whether you're into sweet or savory, or just on a mission to discover the best patios to sip mimosas on, York County has quite a few options for brunch! Check out these York County restaurants to satisfy that brunch craving!
The Lucky Duck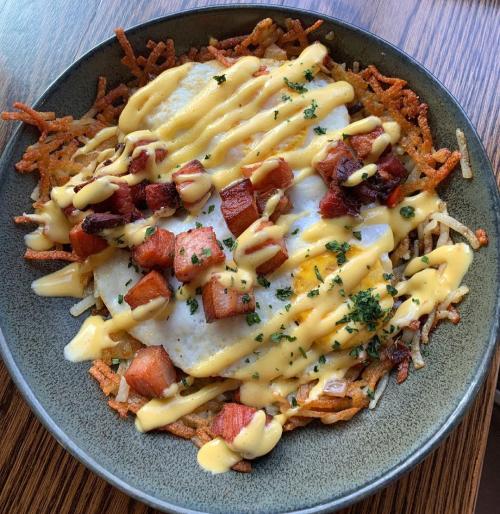 Photo courtesy of YelpEliteChick
The Lucky Duck, located in Baxter Village, has an incredible brunch and drink menu. From their loaded hash browns to their chicken and mini waffles, The Lucky Duck is a savory fanatics paradise!
Pump House
Not only does the Pump House offer dining with a riverfront view, they also offer a delicious brunch menu. Their signature dish is the shrimp and grits and their brunch menu also includes some classic favorites such as chicken biscuits and French toast. They also have some cool dishes to try such as the crab cake benedict and the short rib hash.
The Flipside Café
The Flipside Café prides itself on being the perfect place for brunch. We recommend their highly Instagrammable biscuit board to start the day! They also offer other items like breakfast bowls, omelets, sandwiches, and sweet brunch treats like pancakes and waffles.
Kounter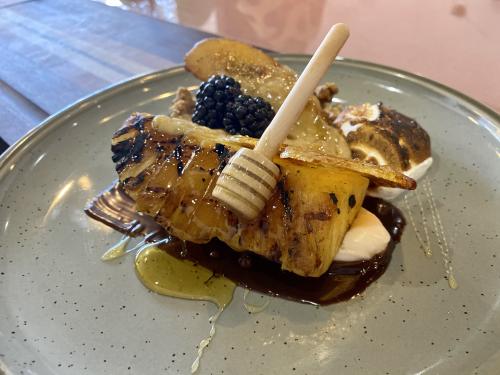 Photo courtesy of Kounter Dining
From classic items like the breakfast sammie to to elevated twists like the smoked salmon avocado toast, Kounter offers a diverse lineup of brunch items sure to satisfy any appetite! Kounter offers brunch on Sundays from 11am-3pm and reservations are highly encouraged. Did we mention they also offer a bottomless mimosa option for two hours? Kounter is a 2021 Taste Trail location. Don't forget to check-in while you're there for a chance to win a $25 restaurant gift card!
Fish Market 
Looking for brunch with a seafood twist? Fish Market is the place for you and your friends! With dishes such as the lobster wrap, salmon tacos, and a crab & lobster omelet these are sure to make you feel as if you are dining near the sea. 
Napa
Napa's weekend brunch is a dining experience that you don't want to miss! Their brunch menu includes short rib hash, steak & eggs, and vegetable frittatas to name a few. Brunch ends at 3pm, so grab a seat at their patio, enjoy the view and relax.  
Ay Papi Tacos & Tequila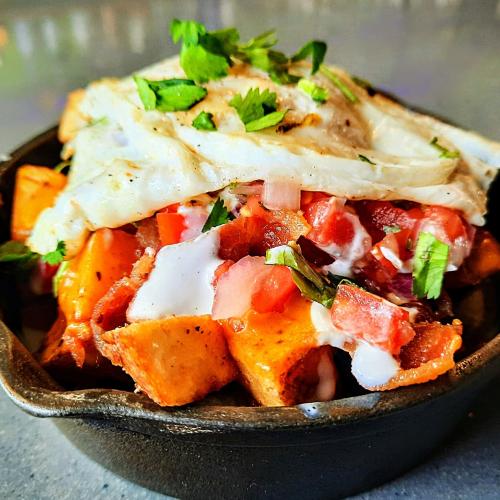 Photo courtesy of Ay Papi
Starting Sunday, May 2 Ay Papi will be offering brunch every Sunday, all day starting at 11:00 AM! You have to try their Papi's Papas Bowl - a hearty portion of our seasoned papas topped with their housemade chorizo queso, crisp bacon, pico de gallo, crema, cilantro, and a fried egg. 
Z Bakery and Café
The cinnamon rolls at Z Bakery and Café roll fresh out of the oven at 9am, so get there early to enjoy their delicious brunch treats! This café is also serving other sweets like their croissant French toast and strawberry cream cheese pastries. Indulging in a brunch here is a must!
Amelie's
Amélie's French Bakery & Cafe is not only a French bakery but it is a great spot for brunch with a great selection of new and old brunch favorites! Stop by and try their Quiche Du Jour or their Pain Perdu, a savory bread pudding made in-house!
The Sweet Tea Café
At Sweet Tea Café they believe their southern cuisine mixed with a little New York flair is the right mix of old and new. From their fried chicken cheddar biscuit to their shrimp and grits, there's no lack of southern charm or delicious food at Sweet Tea Café.