Welcome to Rock Hill, SC!
Rock Hill, the largest city in York County, is the fifth largest in the state of South Carolina. As the commercial center of this region, this city is home to numerous businesses and institutions, including the renowned campus of Winthrop University. Some 66,000 people live in greater Rock Hill, which is in the midst of numerous dynamic projects, from the greening of Cherry Road to the establishment of a fifth business park.
Free Bus Transportation
---


The My Ride Transit System is one of the best ways to get around Rock Hill! The bus system, which launched in July 2019, is free to ride, has mobile charging ports and free Wi-Fi, and is outfitted to be ADA compliant. Need a break from riding your bike? The bus even has bike racks on the front! With four fixed routes, the bus runs along the key corridors of the city, taking you from one end to the other, allowing you to visit almost any place in Rock Hill. You can download the My Ride mobile app to track where the bus currently is, preview routes, find nearby bus stops, and more!
The downtown loop, called Route 1: Knowledge Park Loop, has a bus stop right in front of the Rock Hill Sports & Event Center.
 
Comporium Bikes
---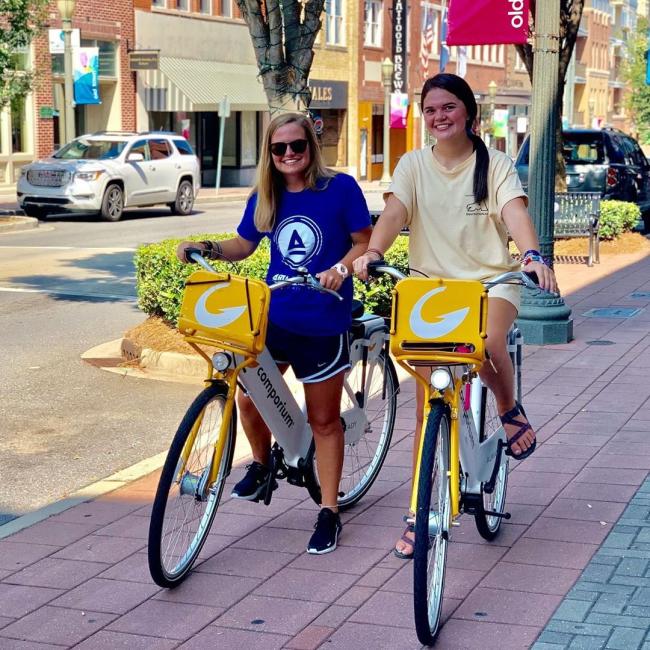 Comporium launched a Bike Share program in Old Town Rock Hill in 2018 as an eco-friendly way to maximize a sense of community while simultaneously reducing traffic and motor vehicle pollution. The bikes can be found at several different "hub" locations- at Fountain Park, Legal Remedy Brewing, The Anderson Apartments, and two spots on Winthrop's campus. The first two hours are FREE and each hour after that is only $6! Getting hold of one of the bikes is super easy. Head to the Bike Share page to reserve a bike by signing up online or via the free Social Bikes app, release the bike with the code you're given, ride, and return!

You can read more about the Comporium bikes here.