York County, SC breweries have joined forces to produce a collaboration beer dubbed Switchback –  a 5.6% India Pale Lager brewed with all Carolina Malt House malts and each showcasing a unique variety of hops. Following the release of the YoCo Brew Trail passport in Spring 2022, local craft brewers teamed up to create different variations of the collaborative beer.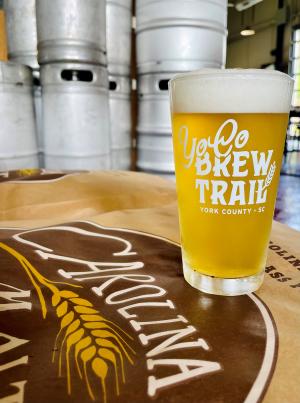 The following brewery pairings were selected at random:
1. Amor Artis & Slow Play
2. Carolina Brew Supply & Model A
3. Lake Wylie Brewing & Legal Remedy 
5. Replay & Rock Hill Brewing
The variations of Switchback will be made available to the public on Friday, July 22nd at the participating breweries. The Upper Palmetto Zymurgy Society and Pink Boots members will conduct a blind judging contest of the five variations to determine a winner before the end of the month.
Stop by one (or all) of the participating YoCo Brew Trail breweries to get a taste of Switchback before it's gone. Be sure to check in with the YoCo Brew Trail passport and get a stamp along the way!
Photo courtesy of Slow Play Brewing