Lake Wylie is now home to Zo.Ra, an inviting, tapas-style restaurant. Owned by Roshan and Samantha Singh, Zo.Ra offers an upscale dining experience with a menu featuring a variety of small plates that are perfect for sharing. The Singhs have put their heart and soul into creating a warm atmosphere that reflects their passion for good food and community. 
Meet Roshan Singh
Originally from Guyana, Roshan Singh moved to New York City when he was a young child. While there, he attended New York Technical College, where he began studying culinary arts, and met his wife, Samantha, who studied hospitality. Afterward, Singh studied cuisine in France, where he primarily focused on pastries. Twenty years ago, the Singh's moved to Lake Wylie, South Carolina from New York City. 
The Beginning of Zo.Ra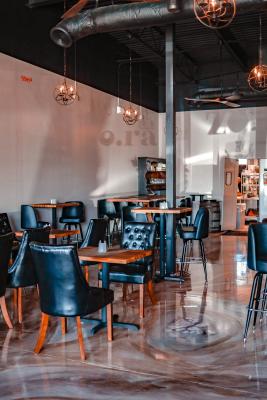 Throughout the years, the pair enjoyed dining at upscale restaurants in Charlotte and the surrounding areas. They began to notice a lack of elevated dining options in Lake Wylie. Thus, Zo.Ra was born. 
According to Roshan, Zo.Ra is a family affair. That's why he chose to name his restaurant after his daughters, Zoe and Leora. His wife, Samantha, focuses on the hospitality aspect of Zo.Ra, while Roshan is the lead chef.
From the comfortable seating to the soft lighting, every detail has been carefully chosen to create a space that feels like a home away home. Zo.Ra offers a unique blend of delectable cuisine and carefully crafted wine selections that are sure to satisfy even the most discerning palate. From the moment you step inside, you'll be transported to a world of culinary delights, where every dish is carefully prepared using only the freshest ingredients and the most innovative techniques. 
Small Plates, Big Taste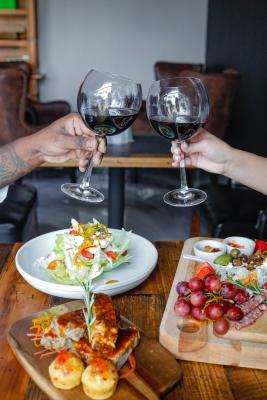 At Zo.Ra, Roshan takes pride in offering customers only the highest quality items. One of his standout features is his extensive wine selection, with over fifty options to choose from. All of the wines are sourced directly as Roshan aims to ensure that customers are getting the best possible experience. Say goodbye to supermarket wine and hello to a glass of something truly special! Whether you're enjoying one of the many shareables, small plates, soups, salads, or any other item on the menu, there's a wine pairing that will take your meal to the next level. 
Not a huge fan of wine? If Zo.Ra's immaculate collection can't persuade you to think differently, try one of the local craft beers instead! Mimosas are also available, and specialty cocktails such as espresso martinis are coming soon.
Roshan plans to rotate the menu seasonally, so make sure you get what you can before it's gone! A few of the current menu favorites include the Chef's Charcuterie Board and Zo.Ra Ribs. With cured meats, cheese, Bush-N-Vine jalapeño jelly, spiced candied pecans, and flat bread crackers, this charcuterie is perfect to share with friends. Or, if you're feeling more than snack-ish, the Zo.Ra Ribs are the way to go. Pick your own sauce to compliment these ribs - my favorite? Mango habanero! And, enjoy jalapeño cheddar cornbread on the side...delicious! 
Plan your Visit
Your new favorite restaurant can be found at 1201 Village Harbor Drive in Lake Wylie. Stop by Tuesday through Friday from 4:00 PM to 10:00 PM, and Saturday 12:00 PM to 10:00 PM. Reservations aren't needed but are highly recommended if you plan to drop in between 6:00 and 8:00 PM.