York County is home to numerous outdoor green spaces, waterways, and historic sites – but only one State Park and one National Military Park that rolls all of these things into one. Discover Kings Mountain State Park and Kings Mountain National Military Park for a day filled with nature's beauty, American Revolution history, and more!
While you're there, don't miss these three things you must see for the perfect Instagrammable photo-op – the State Park's waterfall feature, and the National Military's Park's monument + Ferguson's grave.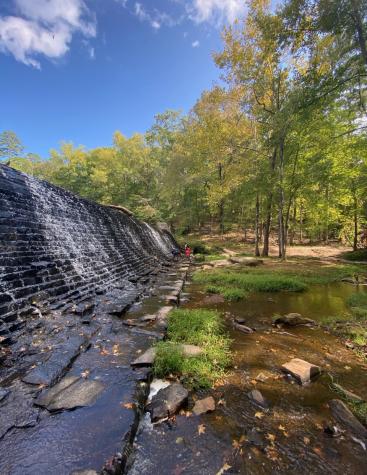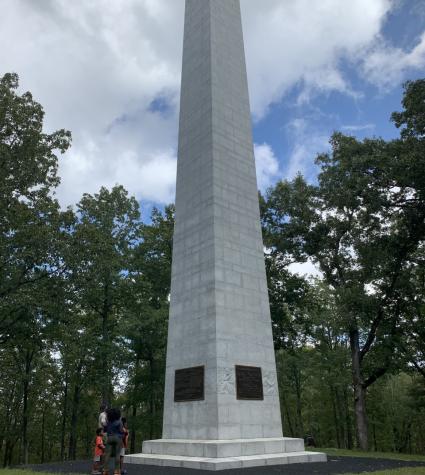 Kings Mountain State Park boasts over 6,000 acres of land that came to be by way of the Civilian Conservation Corp in the 1930s. Here you can participate in a wide variety of activities like camping, picnicking, hiking, and riding horses. You can even rent a boat for kayaking or fishing purposes on two lakes located inside the park, plus park admission is only $2!
Park Features
The park store & gift shop is open for visitors to stop by for souvenirs and select grocery items. The park also has playground equipment for the kids, and ping pong, basketball, and volleyball courts available to play on for people of all ages. Pets are allowed on a leash, except for in and around lodging facilities. One lesser-known feature of the park is the Living History Farm – where you can experience early pioneer life through different events held year-round! Follow the yellow diamonds on the trail to hike directly to the farm.
Camping
Whether you're into a more traditional experience with tents and sleeping bags or have an RV to bring, there are 115 standard campsites to choose from available to set up camp. There are also 15 equestrian campsites, with central water and bathrooms nearby, for only $12 per night!
Picnicking and Trails
Kings Mountain State Park is a great place to have a picnic, surrounded by trees and beautiful views. With five picnic shelters available for group rentals, in addition to the numerous singular picnic tables scattered throughout the park, just take your pick and enjoy your meal with a view!
The trails at the park are great for many activities – from hiking to biking to horseback riding – there are over 20 miles of trails perfect for walking or hiking, and over 30 miles of trails dedicated to equestrian use.
On the Water
Explore the park via water by getting on Lake Crawford or Lake York for fishing or kayaking/canoeing. Feel free to bring your own boat – or rent one of theirs for only $20. You can purchase a boat rental, paddles, and life jackets included, in the gift shop and it's yours for the whole day! Standard kayaks and canoes, as well as motorized Jon boats, are available to choose from. Please note: swimming is not allowed and you must have a permit to fish.
Experience History at Kings Mountain National Military Park
After you've gotten in a few hours' worths of water and land exploration, picnicking, and more at the State Park, head down the road for a trip back in time to discover York County's connection to the American Revolution. Not only is this park York County's only National Military Park, but it's also the site of an important battle – the Battle of Kings Mountain. Dubbed "the turning point in the American Revolution," here you'll learn about the battle that was one of few fought entirely by Americans with the exception of one person: British Major Patrick Ferguson. This battle was also one of the only ones fought with the American Long Rifle, which was instrumental in the Patriot's win. Park admission here is free!
Park Features and Activities
Visitors can stop by the park's visitor center to view a short film and explore the small museum. The film is a 26-minute History Channel production all about the Battle of Kings Mountain, its importance, key players, and more, and the museum is a state-of-the-art history lover's dream showcasing various exhibits and an original Ferguson rifle!
Explore the 1.5-mile-long self-guided Battlefield Trail, wayside trail exhibits highlighting significant battle events and several monuments. The monuments you must see include the Centennial Monument, U.S. Monument, and even Patrick Ferguson's grave! A tradition of most park-goers at this park is to grab a small stone or rock and toss it onto Ferguson's grave as a sign of respect – but rumor has it that the stones also keep his spirit from escaping!
If you've never been to Kings Mountain National Military Park and want to know what to expect, check out these 10 fast facts about York County's only National Military Park!
Grab A Bite Nearby
After a full day of exploration, surely you've worked up an appetite! Take a short trip into nearby Clover to see what this small but charming town offers. Courtney's BBQ' is a local favorite for all things barbecue – and beer! You can also grab a beer at The Vault or cool off with some ice cream at Scoops!