Whether you're just looking for a quick caffeine fix or something sweet to cool you down during these toasty temps, York County offers a wide variety of coffee shops that can provide you with that liquid lightning to get your day started off on the right foot.
You can't miss this coffee roasting company that has changed the coffee game for York County! One location is nestled in the heart of the Knowledge Park development in Rock Hill and the other is at Cross Roads Plaza in Tega Cay. This coffee shop is great for specialty coffees such as Burn Rate which is a heavy dose of rich, smooth Brazilian beans with spicy-sweet Sumatra Mandheling. Make sure you're following them on social media to see all of their specials!
Want to take a trip to France? Well, Amelie's French Bakery & Café in Rock Hill can make that happen. The Charlotte-based roaster is located in downtown Rock Hill right next to Fountain Park. The café offers Café au Lait, Café Crème, and Café Marcotter which is an espresso, with vanilla bean, milk, caramel sauce, and sea salt.
When you need to beat the heat, we recommend their Creme Brûlée French Soda – made with vanilla bean simple syrup, sparkling water, ice, salted caramel sauce, and a kiss of cream.
This roastery provides a variety of light roast coffees, medium roast coffees, and dark roast coffees. Why not support a good cause, while drinking coffee? York Coffee Roastery is a new member of the MaxAbilities family, formerly the York County Board of Disabilities and Special needs. In operation for over 40 years, they provide services to individuals in York County with disabilities, autism, and head and spinal cord injuries.
This is the quintessential coffee shop that you'll love to duck into off Main Street in Fort Mill. Try their nitro cold brew creations or try their drip coffee. Olive's Mud Puddle is a part of the community offering workshops, artist memberships, and kids' classes! Shop the art and pottery selection while you're fueling up on their brews. Our favorite cold beverage from Olive's is their twist on a classic - an iced vanilla honey chai latte.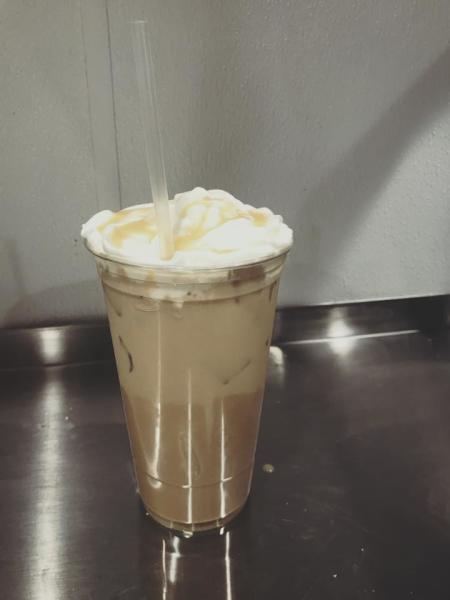 Photo by 
Southern Touch Bakery
This full-service coffee shop offers specialty baked goods and Hershey's ice cream. Does that not sound yummy to you or what? Southern Touch is located right across from the courthouse in York! Cool off while you caffeine it up with this Iced White Chocolate Mocha, it has an extra shot of espresso to make sure you stay awake!
Forte Legato Coffee specializes in coffee roasting, first and foremost but also provides coffee process consulting, mobile retail, kegged cold brew, and online/local retail coffee clubs. Grab a pastry or a bite to eat while you're there!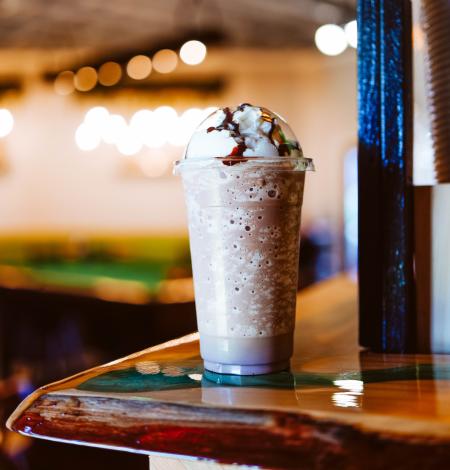 Fuel up, kick back, and stay a while at the Green Room Café in Fort Mill. Equipped with a pool table inside and giant chess on the patio -- you can enjoy coffee, sandwiches, paninis, pastries, and more in a fun atmosphere with plenty of space to spread out with the entire family!
Bagel Boat offers a variety of drip coffees including flavors like Southern Pecan. They also offer lattes, Cappuccinos, Café Americano, and their special 911, which is a combo of their Italian espresso with their Italian drip. Looking to cool down? Try their iced coffee with a complimentary shot of espresso!
Mado Bakery and Cafe strives to bring the finest in French Café cuisine to you to enjoy. Be transported to the streets of Paris as you snack on fresh-made pastries, muffins, and cookies and sip a fresh espresso!
This beautiful ranch-style house is nestled in the neighborhood just a few steps away from Heritage Lake and down the street from Nation Ford High School at the end of A O Jones Blvd. Chatty Cathy's is a vibrant coffee house that is quickly becoming a friendly community gathering place where you can enjoy the highest quality organic coffee, tea, freshly-baked muffins, quiche, or made-to-order sandwiches & salads.
Rock Hill Coffee Roasters strives to produce the best product they can for consumers like you. They source fair-trade coffee while bringing sustainability to families around the globe. You can get your Rock Hill Coffee Roasters fix at their new Brick & Mortar location located inside of the Mercantile at White Street Station!
Humble Cup not only strives to provide high-quality coffee but to build a stronger more connected community while doing so. Each created blend represents something as a company they are passionate about, drawing us closer to our community. You'll be able to find Humble Cup Coffee this fall at their new location at 414 Tom Hall St. in Fort Mill!
From coffees, lattes, and cold brews, to chai teas, Italian sodas, and chillers, Tega Cay Coffee Co. has got you covered with plenty of hot and cold options. Now open Monday - Friday 7:00 AM - 2:00 PM and Saturday - Sunday 8:00 AM - 2:00 PM.
BoCo Coffee Roasters is a full-service specialty coffee roastery that got it's start in the NoDa/Villa Heights community in Charlotte, N.C. Their coffees are sourced using Direct Trade, by which coffees are purchased directly from the farmers that grow it. This practice assures that the farmers produce a high-quality product for a guaranteed fair price. Pay them a visit at  1256 Red River Rd in Rock Hill Monday - Friday 7:00 AM - 2:00 PM.
Love a good Cup of Joe while you shop? You've got to visit The Mercantile HQ Jackass Cafe! Enjoy a delicious iced latte (pro tip: they are known for having the best Chai Latte in town). We also love their breakfast sandwich and their Cuc + Tomato Bagel, but you can't go wrong with any of their breakfast items!
Two Scoops might be known for their delicious homemade ice cream, but did you know that they also offer a full coffee menu? From their famous Honey Dirty Chai Latte to fall favorites like their Grumpy Pumpkin and Pumpkin Pie Latte, Two Scoops has something on the menu for every coffee lover!