With breathtaking views, calm waters, and easy access, the Catawba River provides the perfect day trip to get away from the hustle and bustle of the work week and experience some much needed rest and relaxation. Next time you're looking to plan your weekend with friends, consider tubing down the Catawba!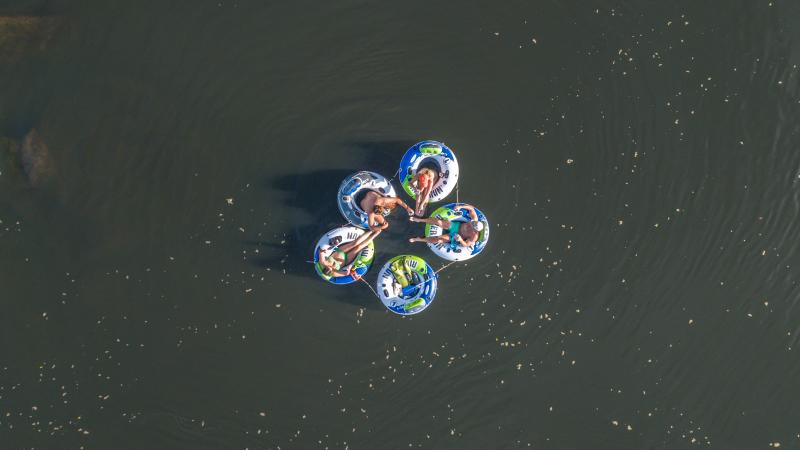 Follow along for the best tips and tricks on how to truly elevate your tubing experience! 
To gear up for our trip down the river, we bought our tubes from Academy Sports (don't forget an extra tube for your cooler!). We recommend the INTEX River Run as it comes with rope and clips to connect your tube to others. Then, we headed down to the water. We parked one car at Riverwalk Carolinas and took another car over to the Fort Mill Dam. Make sure to always have two cars so that once you "land" in Riverwalk you can safely get back to the dam!
Although these items aren't necessary, if you want the best tubing experience, we recommend bringing: water shoes, a waterproof cover for your phone, a wet bag for any items you don't want to get wet, a paddle, drinks, koozies, snacks, waterproof speaker, sunscreen, towels, hat, a cooler for your cold items and ice to keep them cold, and friends! Most of these items can be found at Academy Sports, making it an easy one-stop shop for all things tubing!
Floating from the Dam to Riverwalk Carolinas is about 3.5 hours depending on the river that day, so lather up the sunscreen! You will need to paddle every now and then to avoid fallen trees or stumps, so bring your sense of humor and water shoes in case you need to hop out – there's usually one brave soul who does!
Take a break from floating and hang out with snacks on the various rocks along the waterline, or take a shot at the rope swing! 
The dam release schedule can be found here, make sure to look at Lake Wylie, and check what time the flow will stop so you can plan your trip accordingly!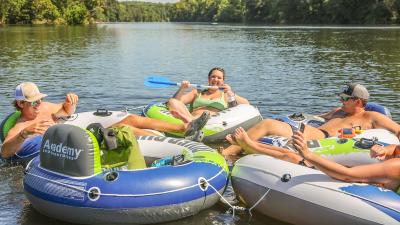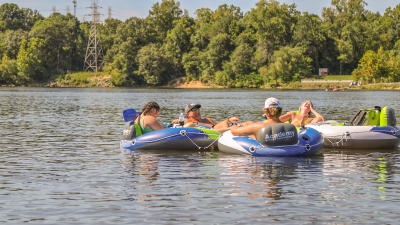 After a tubing adventure, we typically head to a nearby establishment for some grub. If you're craving Mexican, you'll definitely need to try Tony's Cantina. Looking for a healthier option? Blend offers build your own bowls and salads. Thirsty for a drink? Grapevine is the place to be. If you clean up well, Pump House is the perfect spot after a day on the river.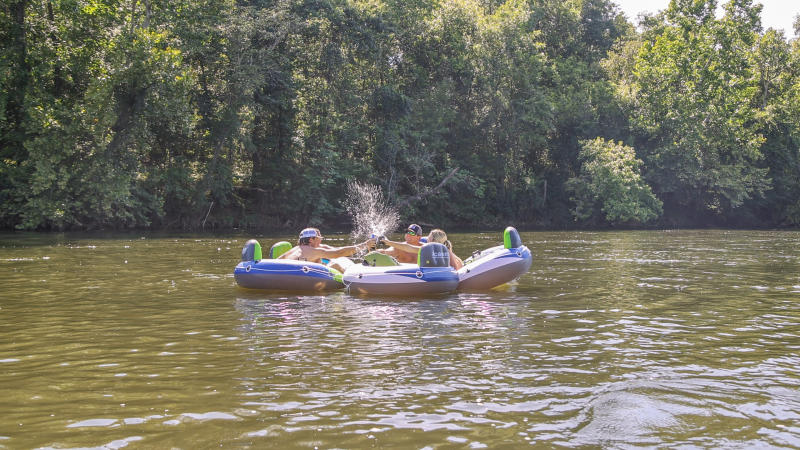 Safety Tips from the Tega Cay Fire Dept:
Life Jackets
ALWAYS wear a life jacket - South Carolina law requires ALL children under the age of 12 to wear a life jacket on vessels under 16ft in length
Make sure that you have the correct type of life jacket for your trip - find the best one for your age/height/weight here
If you're bringing a pet, make sure they also have a life jacket - even if they can swim!
 
Tube Safety
NEVER tie your floats/tubes together - if one device pops or gets stuck, this will then impact all other devices that it is tied to
Pool floats ARE NOT considered water vessels or safe for river use
 
Planning Your Float
Map out your route - be prepared by bringing enough water and snacks, a flashlight in case it gets dark outside, and a way to call for help
ALWAYS let someone know where you're going and how long it'll take you
Have a plan for pickup at your end destination
Have a plan in place in case of an emergency - whether you're stranded, get separated from your group, etc.
 
Route Distances
Lake Wylie Dam to Riverwalk: 3.5 miles = approximately 2 to 3 hours to float
Riverwalk to Catawba Nation: 10.5 miles = approx. 5 to 8 hours to float
Catawba Nation to Landsford Canal: 9.7 miles = approximately 5 to 8 hours to float
Riverwalk to River Park: 2.9 Miles = 2 to 3 hours to float