Despite Georgia being nicknamed "the Peach State," South Carolina actually produces more peaches- and oh do we do it well! Black's Peaches has been family owned and run since 1923 and has some of the sweetest peaches available in York County:
The first peaches that would launch this family into agricultural success were planted in 1920 by Arthur Lindsay Black. They weren't ready to be picked until 1923, and that's when the family farm that now spans four generations became officially established as Black's Peaches. When Arthur passed away unexpectedly, his son, "Punk" Black, took over and turned the family business into a packing house and shipping peaches. Below, you can see Punk standing in the fields of their farm: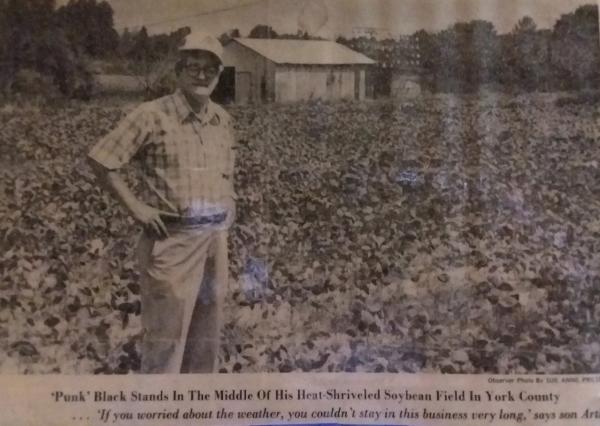 The farm changed hands once more when Punk's son Arthur Q. Black, the current owner, took over in the 1970's. Arthur transformed the farm from a packing house into the roadside market that it is today. He was also influential in the formation of the farm becoming an agritourism destination about 25 years ago. The goal of Black's Peaches becoming an agritourism destination is to provide education to students and other members of the public about where their food comes from.
Arthur's daughter, Beth, started managing the farm and market full-time in 2006. While it used to be an open-air style market that was only open during the summer months selling primarily peaches and strawberries, Black's Peaches later expanded to be open year-round and to include a variety of fruits and vegetables.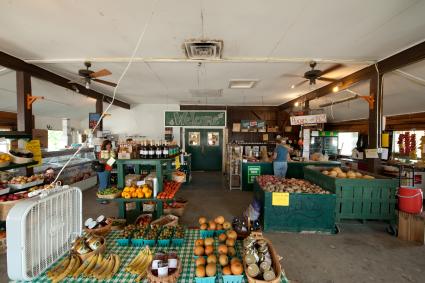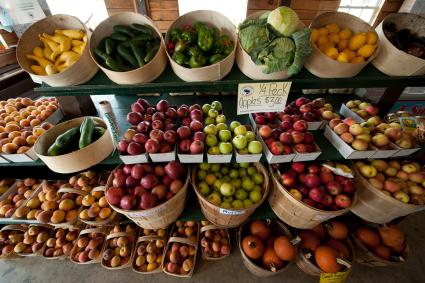 In addition to the market, they also have a grill that sells sandwiches, hot dogs, and hamburgers made from locally sourced meats. The grill is open for you to enjoy a bite while you browse from Tuesday - Saturday 11am - 2pm. While the dining room has not reopened yet, guests are welcome to order food and market items for curbside pickup and to-go, or to eat outside.
Peach season is heavily dependent on the weather, as you could imagine, and primarily runs from the middle of June through mid- to late September. Black's Peaches has over 50 acres of land preserved solely for growing peaches, and has over 20 varieties of peaches available. Pick-your-own peaches will begin around the last week of June or the first week of July, and will end around the middle of August. They recommend that you call the farm ahead (803-684-2333) of time to check for U-Pick availability. 
Other farms where you can find fresh juicy peaches available for picking or pre-picked include Springs Farm, the Peach Tree Orchard, and Bush-N-Vine.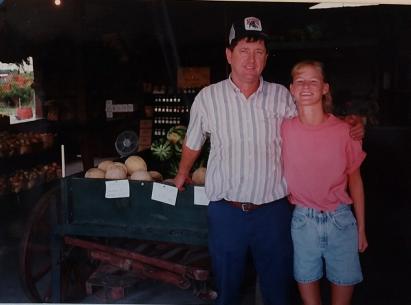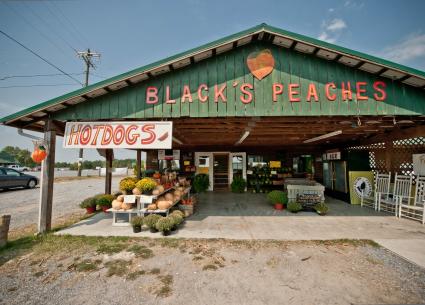 Left: Beth with her father, Arthur, at the open-air Black's Peaches market in 1993
Right: Black's Peaches as it is today