Less than 20 minutes from Charlotte is a destination for the ages – from a one-of-kind greenway, and a BMX Olympic grade center to world-class restaurants. Rock Hill, S.C., is two hours from Winston-Salem, and with its sister town of Fort Mill, it offers a perfect weekend getaway with plenty to see and do.
Ebenezer Park in Rock Hill  

History permeates this former textile region with manufacturing threads running throughout – streets in mixed-use developments carry the theme with names like Broadcloth Street and Textile Way.

Former textile mills weave the past with the present as modern gathering hubs for dining, drinking, shopping (and living) at Kingsley and – coming soon – the Power House and The Thread.

The city of Rock Hill has a story worth knowing and spaces worth exploring with a quaint downtown filled with shops, restaurants, and places to gather. Walking on brick-paved sidewalks is reminiscent of the charm of streets in the Old South and Charleston.

World-class outdoor attractions and assets bring visitors to the city and keep them connected to nature.

The 2,100-acre Anne Springs Close Greenway (at nearby Fort Mill) invites all ages year-round with peak time play time in the warmer months.

The sprawling nature preserve, inspired by environmentalist, Anne Springs Close, touts recreation on the water and land.

At the Haigler Lake entrance, nature and outdoor lovers are greeted by peach trees, appropriate for the peach-loving state that produces one of the largest fuzzy-fruit crops in the U.S.

Walkable downtowns invite locals and visitors to wander, browse and stroll scenic streets filled with plenty to see and do. Thoughtfully planned live-work-play developments built near green spaces and waterways take advantage of nature's assets while bringing big city amenities.

It will take more than one trip to see it all, but here are some must-see highlights in Rock Hill and nearby Fort Mill.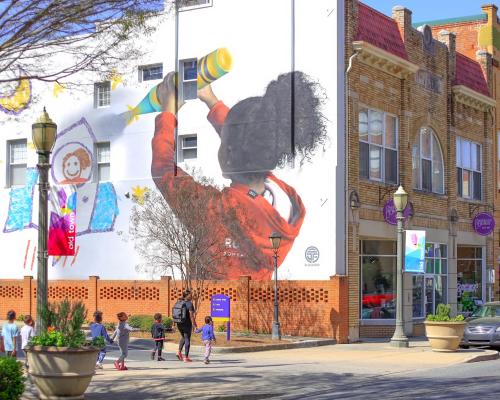 EAT
In a nod that York County (YoCo) is on the radar of restaurateurs, new food options will soon add to the already rich culinary scene with North Carolina favorites like Bossy Beulah's and Clutch Coffee, and nearly a dozen other hot spots set to open in 2023.
From fine dining, pizza, and eateries on the water, good eats are found on every corner. Go high-brow to low-brow, the choice is yours.
• Hobo's: Build your own lush burger, pair it with their signature boozy milkshake, and stay for music on the lawn.
• Kounter: Prepare for a culinary show of a lifetime with a seat at the counter that played a role in Civil Rights history (see adjacent The Jail, No Bail Exhibit). Rob Masone, a 2023 South Carolina Chef Ambassador, sets out James Beard quality noshes that delight and inspire all lucky enough to have a bird's eye view. Standout: The Smoking Tuna Poke salad that looks like a science experiment in a glass dome. Dessert: Try Masone's chocolate pie which comes with a "sweet" story tied to his culinary roots.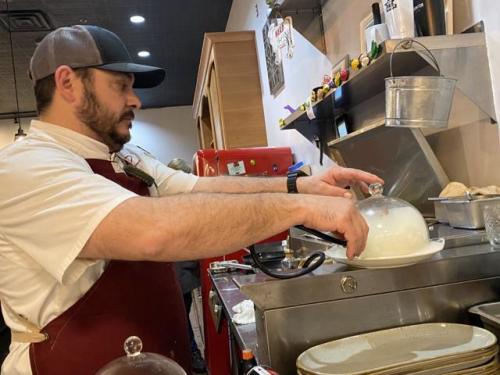 Lynne Brandon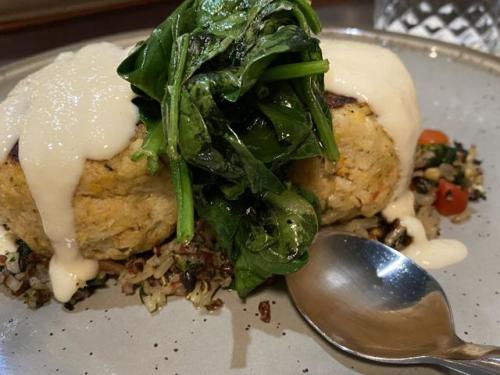 Lynne Brandon

• Epic Prime Chophouse: Epic is the perfect descriptor of the culinary sensation that checks all boxes. Décor is upscale and NYC style with bar seating. A cozy area with outdoor covered seating adds casual elegance. Start: Try the Wagyu meatballs and the "Angry Lobster," spiced North Atlantic Baby Lobster tails flash fried, followed by a petite filet and scallops. Finish off with a towering six-layer chocolate cake or the equally statuesque Sour Dough Bread Pudding.

• The Pump House: Have a cocktail on the water at the fun, five-story restaurant/bar that comes with a view of the Catawba River. Food-wise, start with fried green tomatoes, and shrimp bisque soup, followed by a crispy chicken salad and mixed greens.

• Amelie's French Bakery: The quaint bakery takes you on a fun trip to Paris (with many delectable stops on the way) from the chocolate eclairs to the playful macrons that dazzle with a rainbow of colors and tastes (pistachio is the best seller).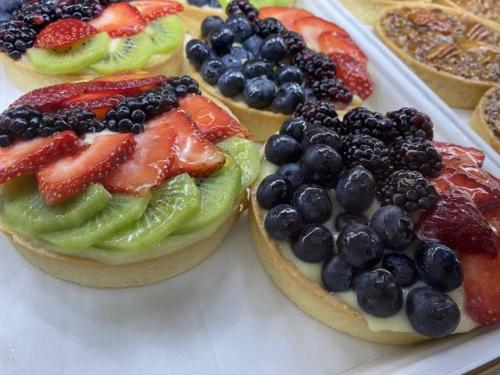 Lynne Brandon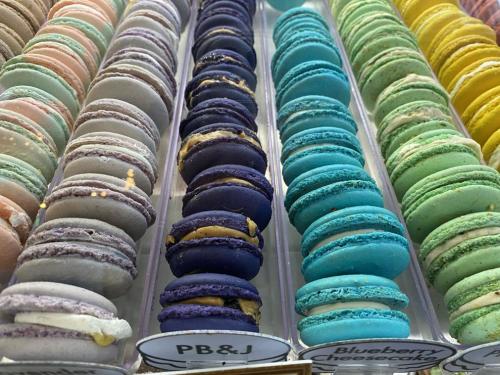 Lynne Brandon  
Grab & Go:
• For an upscale farmers' market, head to The Peach Stand for everything you could want and more – fresh produce, restaurant, bakery, ice cream, and more.
• Take home some heat with a bottle of some of the world's hottest hot sauces at PuckerButt Pepper Co. If you dare, try a taste of Smokin' Ed's Carolina Reaper, noted as one of the world's hottest peppers (grown locally in Fort Mill).
DRINK
From cocktails to brew, local bars and restaurants serve up adult beverages just the way you like them. York County is home to 15 craft breweries. Grab a YoCo Brew Trail passport to experience all the fun.
• Rock Hill Brewing: The open-air brewery is a favorite downtown gathering spot. Enjoy a craft brew with a slice of brick oven pizza for the perfect date night.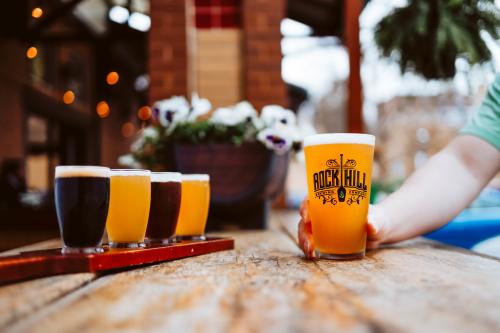 • Armor Artis: This small, friendly bar is like Cheers where everyone knows your name. The brothers behind Amor have opened two additional concepts in the last year that have taken the craft beer world by storm: The Print Shop (Fort Mill) and Off the Tracks (Rock Hill).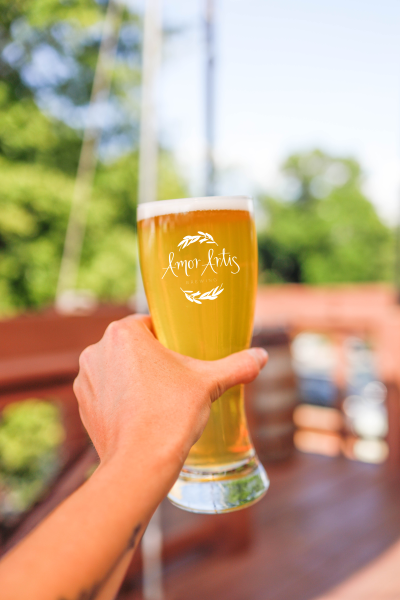 • Illumination Wines: Sip the perfect glass of vino at this mother-daughter-owned wine bar
• Humble Cup Coffee Co.: Service with a smile from an iced coffee to decadent cortados.
• Cambria Hotel - Rock Hill: Head to the rooftop for a pre-dinner cocktail at 354 SkyBar.
PLAY
• Anne Springs Close Greenway: Spend a day or the weekend at the region's kingpin for nature-based recreation for people and four-legged friends. Kayak on the Catawba River, ride a horse, or take the family canine to the Central Park dog parks. The popular 2,100-acre park features an off-leash portion (wait-listed). (ascg.org)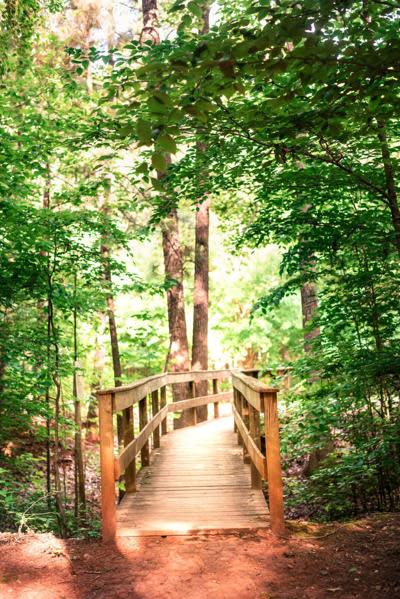 Carissa Rogers

• Lake Wylie: Take the boat out for a day on Lake Wylie – weekends are popular so plan ahead.

• Ebeneezer Park: Soak up some sun on the man-made sandy beach, take a swim, or take a swing on the pier – one of only a few of its kind with a covered horseshoe walkway on the east coast. Located on the shores of Lake Wylie, the 26-acre park boasts campsites, trails, basketball, beach volleyball, corn hole, as well as overnight camping.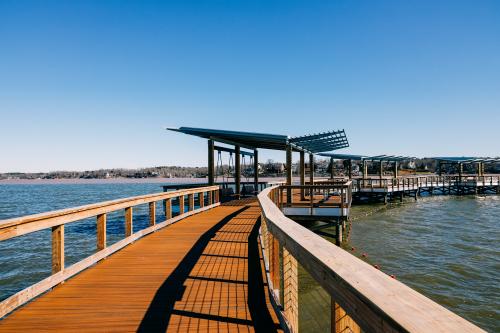 • Rock Hill Outdoor Center: Home of the Rock Hill BMX Supercross Track where the 2024 World Championship will be held. Looking for something less active?
• Piedmont Medical Center Trail: Dazzling views of the Catawba River.
• Coming soon: The thousand-acre Allison Creek Park will feature camping, hiking, kayak launches, and much more.ty, SC
SHOP & SEE
• The Mercantile: Pick up the perfect locally-made gift or attend a class to make your own charcuterie, flower arrangement, butter board, and more.
• Crossings on Main: From specialty home goods, and décor, to wedding and baby gifts, you will surely find something to treasure.
• Hickory Post: See artists' craft in real time and shop this curated gallery of transitional art and furniture.
• Baxter Village: Find an array of pedestrian-friendly specialty shops like Cupcrazed and clothing boutiques like Page 6 or LemonLime.
WANT TO GO?
The 14th Annual South Carolina Strawberry Festival: April 29-May 6 in Fort Mill, S.C. A treat with a week of strawberry-centric events: Strawberry Sprint & Stroll 5K, Strawberry Jam, Strawberry Festival Brunch, Strawberry Festival Golf Tournament, and more. scstrawberryfestival.com/
The Come-See-Me Festival: April 14th-22nd in Rock Hill, S.C. 10-day festival full of merriment and memories for all ages. Plan your visit to Come-See-Me this year and you'll see why we're recognized as one of the top festivals in the Southeast.
Source: Lynne Brandon, Winston-Salem Journal