Nestled "inn" the heart of Rock Hill, you'll find East Main Guest House, a charmingly updated 1916 Craftsman Bungalow turned Bed & Breakfast. Not only is East Main Guest House beautiful and welcoming on the outside, but the two people behind the scenes exude the same level of authenticity and warmth within the walls of the home.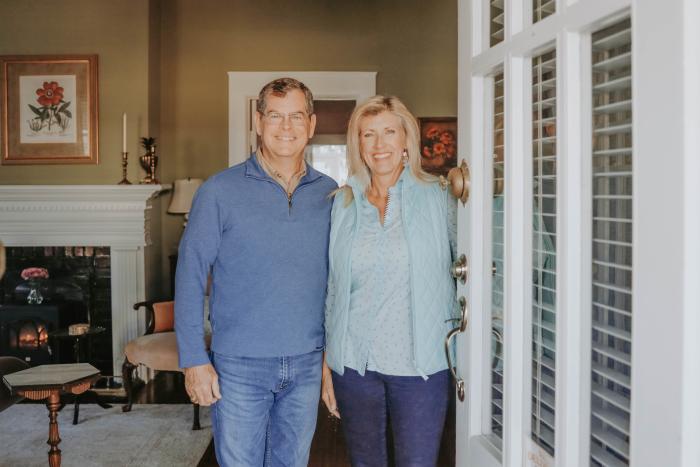 The Couple
After spending years living the country life and raising their three children, Scott and Heidi were faced with a tough decision. Remain as empty nesters in their country home in Lesslie on five acres – or move closer to the city and start a new chapter of their own.  At the same time, the Old Town Rock Hill area was starting to boom and it wasn't going unnoticed. After spending a lot of time in the area attending the local events and discovering what it had to offer – they decided on option two.
"The vibe reminded us of a couple of our trips to European towns where everything is local, you can walk everywhere and get to know everyone. With this in mind, we decided to start looking for a possible home in the area from Winthrop to downtown."
Combining Heidi's tremendous gift of hospitality and Scott's get-it-done attitude and financial background, the two decided to purchase East Main Guest House in May of 2020. They then spent three months working on the home until they officially opened their doors in August of 2020. 
When they're not busy running the inn, the two enjoy traveling together. The couple has been fortunate enough to do a lot of traveling together, but one trip in particular sticks out the most. They flew to the town of Tournon-d'Agenais in southern France for a friend's birthday and it was filled with picturesque views, delicious food, great wine, and even better company. 
Fun Fact: Heidi and Scott met on a blind date in July 1991, were engaged that December, and married the following May! They will be celebrating their 30th wedding anniversary this May!
The Inn
The home features three bedrooms – The Fountain Suite, The Charleston Suite, and the Garden Room; along with an English garden, and a pergola offer a tranquil setting within walking distance of Old Town Rock Hills restaurants and activities.
Guest rooms are located on the second floor offering an excellent opportunity to refresh, relax and renew.  The rooms feature no shared walls ensuring a private and quiet night's sleep. All rooms have recently been refreshed with new bedding and all bathrooms have new custom tiled showers. The Community Room is a gathering area on the second floor that features a sitting area, tv, games, complimentary beverages and snacks, and a small refrigerator for guest use.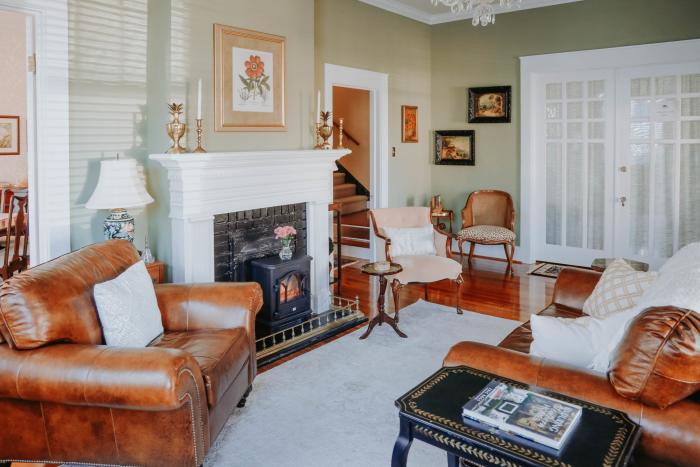 Living room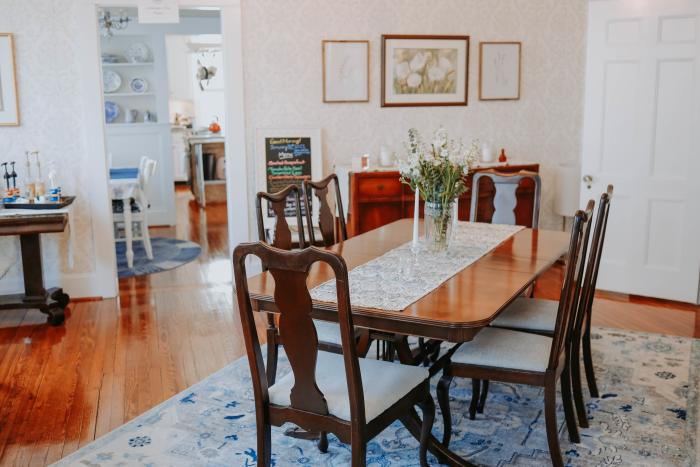 Dining room
The Charleston Suite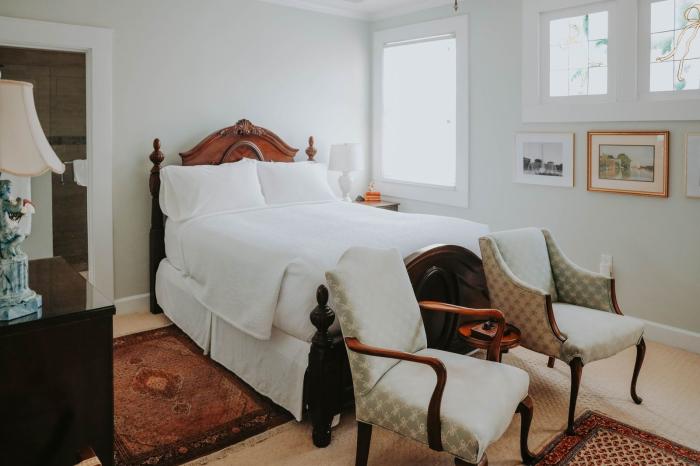 The Fountain Suite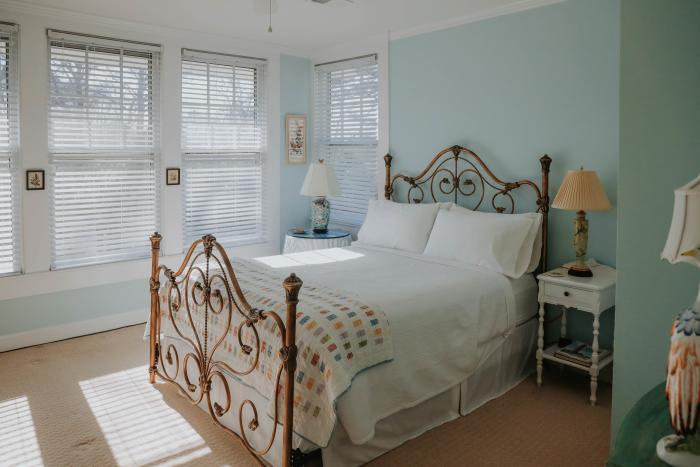 The Garden Room
Common area