Historic Brattonsville offers visitors a unique experience of a step back in time, by way of a living history farm. By using historic interpreters, they're able to share stories of York County from the 18th and 19th century. But they're not just telling the stories of the Bratton family that ran this former plantation, they're sharing the stories of the enslaved, from their influence on our cooking to the joys and pain they suffered while at Brattonsville. 
Between 1820 and 1840 the Bratton family dramatically increased the number of enslaved African Americans they owned. In 1820 the census shows that he had around 24 people enslaved, by 1840 there were 112 enslaved people on the property. Historic Brattonsville actively works to learn more about the enslaved population with this census information. 
There are seven sacred families that are descendants of the enslaved that share their ancestors' stories through an annual "By Sweat of our Brows" programming. The surnames of their families are Bratton, Crawford, Feaster/Femster, Lowry, Moore, Smith, and Thompson. 
While Historic Brattonsville is currently closed to the public due to Covid-19, their programming is continuing virtually. You can join in for their "By Way of the Back Door" series during the month of February. 
In honor of Black History Month, Historic Brattonsville takes a deeper look into the lives of enslaved African Americans in the Carolina Piedmont. by Way of the Back Door two more special Time Travel Tuesday programs:
February 16 - "Religion and Spirituality of the Enslaved." This is a 30 minute video exploring how enslaved African Americans interacted with religion and how West African roots heavily influenced the ways in which they worshipped and practiced Christianity. It goes live at 10 am on Zoom and you can register here or watch on Facebook Live.
February 27 - The finale will go live at 11 a.m. on their Facebook live and Culture & Heritage Museums YouTube channel. This virtual program will discuss how the system of slavery changed from the 18th to 19th centuries, family life, brick structures and restoration. 
Highlight on Oriana Moore, African-American Interpreter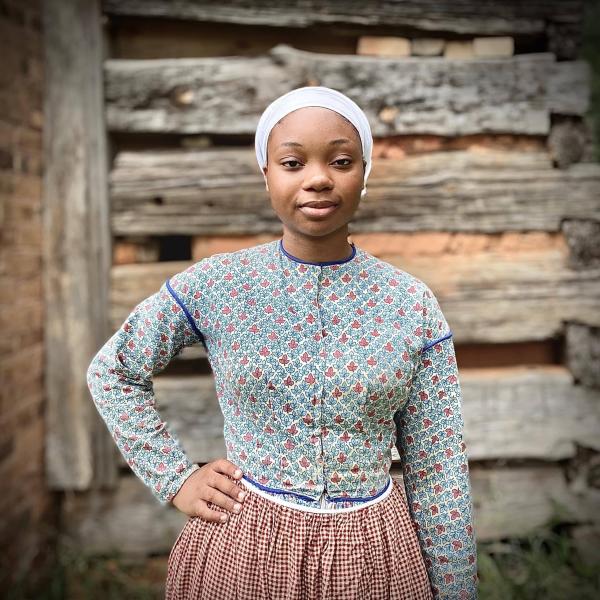 Photo by: Stephen Crotts  

As we continue to celebrate Black History in York County, we want to highlight Oriana Moore. Oriana works as the African American Interpreter at Historic Brattonsville to share stories for those who were voiceless.

A Rock Hill native, Oriana graduated from Winthrop University in May of 2020 with a background in Mass Communication and African American studies. Before joining Brattonsville as an interpreter, she was a communications intern here at Visit York County and with the Culture & Heritage Museums' marketing department.

As an interpreter, Oriana combines research, historical clothing and demonstrations to tell people about the lives, culture and experiences of enslaved African Americans in the Carolina Piedmont. She works closely with the descendants of the enslaved to help keep their stories alive. They often piece together old photos and stories to help put faces to all of their names. Oriana's main objective as the African American Interpreter at Historic Brattonsville is to do justice for the people that lived there and honor them by being the voice they never had." - Oriana Moore

"If there's one thing I'd want people to see Brattonsville for, is that our site is more than a museum; it's a piece of local history. I think Brattonsville is special because we collectively work together as an organization to tell the many perspectives and experiences of early York County. Our ultimate goal is to tell the full story of York County in the 18th and 19th centuries." -Oriana Moore
Learn from one of the Seven Sacred Families Descendants 
The stories of the enslaved on the Bratton family plantation also play a huge role in the American Revolution for the Backcountry. Watt, a young enslaved man is said to play an integral  in the "Battle of Huck's Defeat" in 1780. While British Captain Christian Huck had the Bratton farm under his control, it's said that Watt escaped to warn Patriot Colonel Bratton of Huck's whereabouts, giving Bratton the upper hand and the element of surprise to defat Huck. The "Battle of Huck's Defeat" is marked on Historic Brattonsville's property along with a headstone for Watt. A replica of the headstone sits at Historic Brattonsville for visitors to see. The stone reads "Sacred to the memory of Watt Who died Dec. 1837 During the War he served his master Col. W. Bratton Faithfully and his child WIth the same fidelty Until his death."