Summer isn't over yet, and there's no better way to make the most of it than by spending a day on Lake Wylie. Whether you prefer cruising on a boat or exploring the shores by land, we have curated the ultimate itinerary for you to create memorable moments with friends and family.
By Boat
York County is home to some of the best marinas in the region, offering a wide range of water activities to suit every taste. If you're looking for a day of boating fun, look no further than River Hills Marina, Tega Cay Marina, and Destination Water Sports. If you're looking for a slower-paced day, head to River Hill or Tega Cay Marinas for top-notch facilities and an extensive selection of pontoon boats for rent, available for morning, evening, or full-day rentals. If you want to fully experience the thrills of Lake Wylie, head to Destination Water Sports! Get ready to soak up the sun and enjoy the beautiful waters of York County!
If you're looking for a perfect day out on the lake, renting a pontoon boat is a great option. At Tega Cay Marina, each pontoon rental includes a full tank of gas, ensuring you can have an entire day of fun without worrying about refueling. In addition, you can customize your boat experience by adding food, floats, and tubes for an extra fee. 
On the other hand, River Hills Marina offers a similar experience with a full tank of gas included in each pontoon rental. However, River Hills Marina is also home to their on-site shop, Pier 88. With food, drinks, and all the supplies you need, Pier 88 covers all your boat day needs. 
Both marinas also provide fuel pumps that you can use, so you don't have to worry about running out of gas on your adventure. When it comes to renting a pontoon boat, both Tega Cay Marina and River Hills Marina can provide a fantastic experience.
Destination Water Sports offers a variety of powerboats for rent. Whether you're looking to explore the coastline, enjoy some water sports, or relax and soak up the sun, their speed boats are the perfect choice if you want to get moving. With power boats available for rent for 4 to 8 hours daily, there is plenty of time to enjoy yourself on the water. Boats are well-maintained, reliable, and come with all the necessary safety equipment, so you can rest assured that you'll have a safe and enjoyable experience! Destination Water Sports also offers kayak and paddleboard rentals 
By Land
Discover a world of possibilities with York County parks! If you're not in the mood for boating, we have a variety of parks that offer beautiful beaches for you to relax and soak up the sun. Our sandy banks of Lake Wylie provide the perfect opportunity to escape to the coast for the day. Whether you're looking for a peaceful day by the water or a place to gather with friends and family, our parks have it all.
Ebenezer Park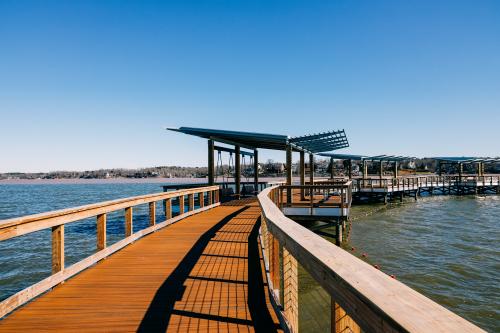 Located on the picturesque Lake Wylie, Ebenezer Park offers a swimming area as the perfect escape for those seeking peace of mind and a refreshing dip in the water. The swimming area is roped off from the rest of the lake, ensuring a safe and enjoyable experience for all visitors. Whether you're looking to cool off during the summer or embrace the refreshing waters in the colder months, their swimming area is open year-round. Please note that there will be no lifeguards on duty, so it is important to swim at your own risk and exercise caution at all times.
Rock Hill Park
Escape the hustle and bustle of city life and immerse yourself in the quiet beauty of Rock Hill Park. This 21-acre park boasts a serene cove on Lake Wylie, complete with 5 fishing stations, a kayak/canoe launch, and a pristine beach and swim area. With its tranquil setting and convenient hours from dawn to dusk, Rock Hill Park is the perfect place to unwind and reconnect with nature. Don't miss the chance to experience this hidden gem for yourself!
Windjammer Park
Located in Tega Cay, Windjammer Park features a beach, a lake swimming area, and a small playground. Windjammer Park is accessible by permit only. Permits may be obtained at the City Administration Office and are free for residents/ $100 for non-residents.
Allison Park (coming soon)
Coming soon to York County is the revamped Allison Creek Park! With 160 acres of land, the park offers a wide array of day-use recreational opportunities, including 4 boat ramps, a kayak/canoe launch, a fishing dock, 4 miles of trails, a playground, and picnic shelters. Additionally, the newly established campground at Allison Creek offers 33 full hook-up RV campsites and 16 primitive tent sites, all available for booking for overnight stays in the park. Enjoy these last few weeks of summer at Allison Creek Park, open 7 AM to 9 PM through August. 
Goat Boater
If you're looking for a relaxing, affordable way to spend a day on Lake Wylie, look no further than Goat Boater's paddle board rentals! You can now rent paddle boards for $10 per person for the first hour, and additional add-ons are available for a small fee. Bring your friends and family and enjoy the beautiful scenery of Lake Wylie while getting some exercise on the water. 
Things To Do
Papa Docs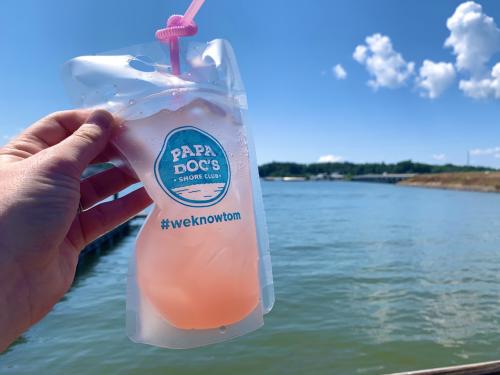 Hungry from your day on the lake? Head to Papa Doc's Shore Club! With delicious food, refreshing drinks, and a beautiful view of Lake Wylie, Papa Doc's is the perfect spot to dock your boat and take a break! With an extensive menu of items prepared fresh every day, there's something for everyone. Sip on a cocktail while you enjoy time with friends and family.
Sandbar
Anchor down at the Little Allison Sandbar located right outside of Allison Creek! As the summer dwindles down, expect crowds of boaters listening to music, playing water sports games, and reveling in the scenic views of Lake Wylie. Spend a few hours gently rocking with the breeze and enjoy a snack or drink with friends. 
Exploring after
Bagel Boat
If you're craving something sweet after your day on the lake, head to Bagel Boat. Located not even a block away from Papa Doc's, Bagel Boat offers soft-serve ice cream, cookies, donuts, cheesecake, and more! 
Dreamery Creamery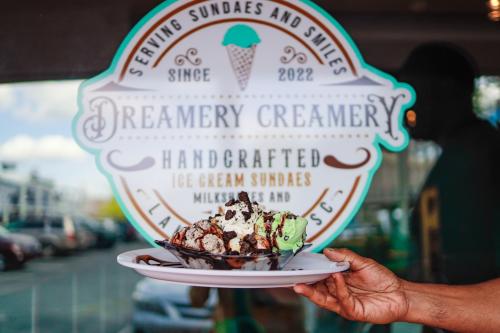 What better way to cook down from a long, hot day on the lake than with Dreamery Creamery? With a variety of ice cream options from cones to milkshakes, or a delicious sundae with all of the toppings, there's a sweet treat option for everyone!