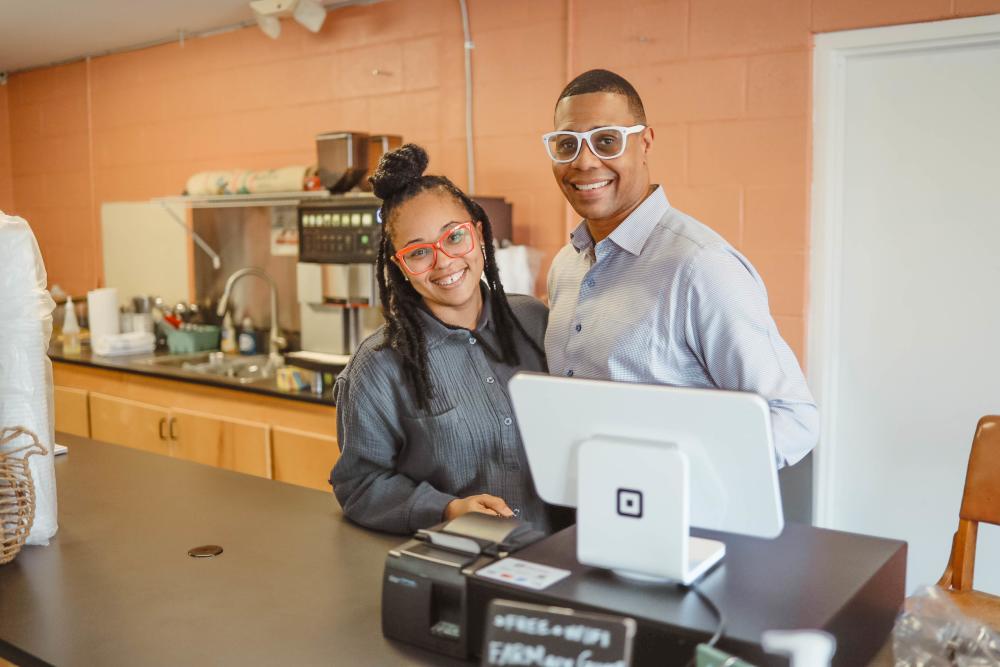 Husband-and-wife-duo, Jonathan and Crystal Nazeer are committed to transforming communities through urban farming, food production, food access, and job creation starting with their hometown of South Rock Hill, SC.
A Family Affair
A Carolina native, Jonathan Nazeer spent 25 years working in radio and television. Throughout his marriage to his wife, Crystal, the pair and their four children always enjoyed and prioritized gardening. What started as a beloved hobby for The Nazeers blossomed into something much bigger at the start of the Covid-19 pandemic in 2020. 
"At that time, we realized that many of our neighbors were suffering behind closed doors with food insecurity," said Jonathan."Victory Gardens began as a community project that really snowballed into something bigger." 
In 2020, Jonathan left the radio and television world to focus full-time on their new venture. With Jonathan's experience and Crystal's background in banking and accounting, Victory Gardens International was born. Today, Victory Gardens seeks to help the ongoing issue of food apartheid by offering fresh produce to lower-wealth residents.
"We are trying to instill a sense of self sufficiency in people and that you reap what you sow," said Jonathan. 
With deep roots in South Carolina and York County, the Nazeers looked no further than south Rock Hill to start and grow their business. 
"The South is something special and there is a new migration back to the South and back to the farm and we are excited to celebrate that," said Jonathan.
The FARMacy

Located at 641 Crawford Road, the FARMacy Community Farmstop brings local farmers and their goods to South Rock Hill where there is currently no anchor grocery store. Beyond that, FARMacy offers fresh produce, dairy, artisan goods, books, records, gardening supplies, and everything in between. With indoor-outdoor seating, the cafe provides the perfect atmosphere to connect, unwind, or attend one of Victory Gardens' monthly events. 
"FARMacy is about feeding the mind, body and soul," said Jonathan. "Everyone wants to support local farmers, but it's difficult to find them beyond only the Saturday morning seasonal farmers market."
The FARMacy Community Farmstop will host roughly fifteen events each month that celebrate the African American spirit through culture, arts, literature, and music. Beginning in May and running through October, FARMacy will also host the South Side Rock Hill Farmers Market on Saturday mornings from 8 am- 2 pm. 
Pro tip: Don't miss FARMacy's stunning mural designed and painted by a native of South Carolina who is currently attending York Technical College. The mural, "Remember Our Roots," honors the diaspora of Black farmers and agriculture in the state of South Carolina. 
Innovation Garden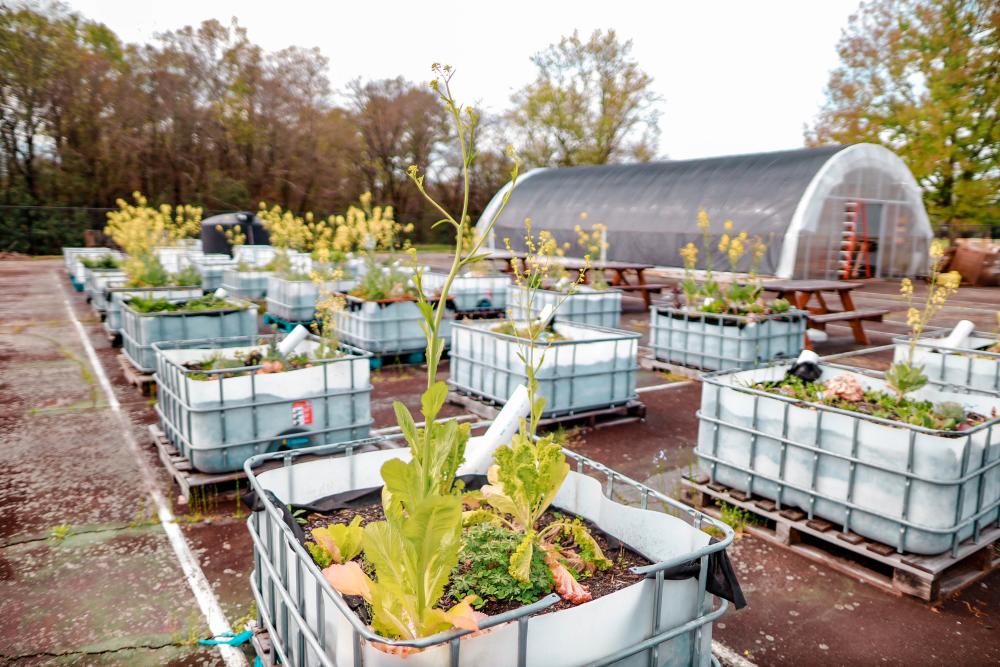 Victory Gardens Tower Farms— the first in the state of South Carolina bring a new meaning to urban farming. The growing systems are designed to flourish in urban environments despite surrounding elements.
Currently, underway, the Cropbox is a controlled environment agriculture system similar to a shipping container that produces gourmet mushrooms and microgreens year-round. From seed to harvest in just 29 days, Victory Gardens will produce about 1,900 heads of lettuce.
"We are growing the equivalent of a 4.5 acre farm and we can grow year-round," said Jonathan. "This is the future of agriculture and this is something that the next generation gets excited about."
The best part? Everything grown at Victory Gardens stays local supporting five area restaurants. the FARMacy, and at various South Rock Hill locations. 
Victuals
Say goodbye to Hello Fresh and hello to Victory Gardens' Victuals. Carefully crafted in conjunction with Winthrop University's Nutrition Department, Victuals single-serve nutrient-packed meals are made from local ingredients. These delicious, plant-based meals are ready to simply heat and serve.
"Rather than grabbing fast food or a bag of chips, we're aiming to provide an alternative," said Jonathan.
Victory Gardens will be scaling up production of Victuals, but for now, you can find them at select local retailers including the FARMacy Community Farmstop, The Mercantile, and Sunset Convenience Store.
Social Programs
Food Skills Programs
Victory Gardens' hands-on cooking and gardening programs bring people together and help them build the skills, knowledge, and habits to build a healthy lifestyle. From the Silver Gardening Club which serves seniors to programming at Pathways Community Center, there is something for everyone of all ages and income levels.
VICTORY GARDENS COMMUNITY GARDEN AT EMMETT SCOTT
801 Crawford Road Rock Hill, SC 29730
VICTORY GARDENS AT PATHWAYS
546 S. Cherry Road Rock Hill, SC 29730  
Youth Workforce Development
In the spirit of teaching self-sufficiency, Victory Gardens provides young people with the opportunity to participate in workshops, serve at local food distribution, lead volunteers in the gardens, and work hands-on both in the gardens and in the community. 
"This year, we will have 16 students from the community who will work in the store, in the garden, and participate in college visits," said Jonathan. "We also work with the Anne Springs Close Greenway to train individuals with intent for future full-time placement." 
Looking for a summer job? Ninth through twelfth graders can stop by the FARMacy to pick up an application for Victory Gardens' Youth Workforce Development program. 
FOOD FIT
FOOD FIT is a 6-week program for individuals living on low incomes who experience barriers around healthy eating and physical activity, but who are motivated to make lasting changes to their health. Victory Gardens, FOOD FIT Jr. engages children and youth in everything from cooking and gardening to riding a bike that blends up smoothies. Through FOOD FIT programming, children and adults learn about nutrition and how to implement practical solutions in their daily lives. 
Currently underway, the "Eat Well Be Well Series" engages a group of ten students over the course of six weeks in partnership with Winthrop University's Human Nutrition Department. 
Can't Miss Upcoming Events 
Field Fest
Growing Hearts and Gardens: York County, SC is a local initiative to bring awareness to food accessibility, healthy eating, and community gardening in York County, SC. Through a partnership with the YMCA of Upper Palmetto and in conjunction with its Healthy Kids Day, the Leadership York County Class of 2023 will host the first annual Field Fest on Saturday, April 29, 2023. The event will raise funds and increase awareness of the impact of Victory Gardens and Tender Hearts. 
Field Fest will be held on Saturday, April 29, 2023, from 9:00 am- 12:00 pm at the Clover School District/Lake Wylie YMCA. 
This is a free event that will feature activities and learning opportunities for the entire family. 
The South Carolina Ag + Art Tour is a free, self-guided tour of farms and markets featuring local artisans at every stop! During the tour visitors have the opportunity to see first-hand where their food comes from, watch artists in action and purchase their works, enjoy the melodies of local musicians, and learn more about rural life. The tour is the largest free farm and art tour in the nation with over 45,000 visitors participating since 2012.
With more participating farms than ever before, Victory Gardens joins the Ag + Art Tour of York County on June 10-11, 2023.
Learn more about the Ag + Art Tour here. 
Get Involved
To learn more about Victory Gardens including donation opportunities, head to VictoryGardens.com.