Coming soon to downtown Fort Mill, Illumination Wines is an urban winery and tasting room offering an intimate gathering place, both for locals and visitors who want to slow the pace of their everyday lives. Co-owners and mother-daughter duo, Linda Calloway and Amanda Tellier have big plans for the women-owned business scheduled to open later this month at 201 Springs Street.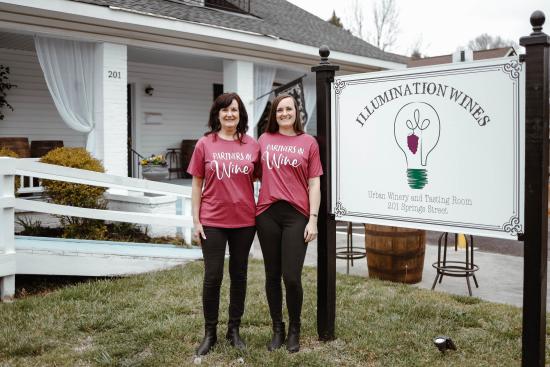 Over the years, Linda and Amanda enjoyed frequently traveling to wineries around the country and, as with any good idea, the Illumination Wines concept came about over a bottle of wine. 
"We were enjoying the views at one of our favorite vineyards when Amanda looked at me and said, 'We could do this, mom.' Not long after, I put my house on the market and it sold in one day," Calloway said. "Talk about a kairos moment."
Why Fort Mill?
Having lived in the Carolinas for the better part of their lives, Linda and Amanda originally liked the concept of a destination winery that was more off the beaten path in South Carolina. The pair's plans quickly changed when they fell in love with Fort Mill's Main Street and opted for a more urban setting to begin their venture.
"We stumbled upon Fort Mill and immediately fell in love with the small-town feel that you don't find in most cities," Calloway said. "The town's support of small businesses was a major draw for us and the Whiteville neighborhood, in particular, has been incredibly welcoming."
To start, Illumination Wines will offer retail wines with 50-60 domestic and international rotating varieties. An assortment of beer, wine flights, and in-house charcuterie shareables from Brie's Boards' will also be available. Charcuterie sliders, brie bites, and a chocolate ganache torte are among the food menu options that will leave patrons wondering how to choose.

The Chemistry of Winemaking
Having previously worked in the scientific community, the name, Illumination Wines is a nod to Linda and Amanda's backgrounds and the gifted inventors before them. The lightbulb associated with their logo references Thomas Edison's invention and, to further the science-based theme, the pair will offer wine-based cocktails, called Elixirs. 
As a women-owned business, the front hallway of Illumination Wine's space features photos and educational content to preserve the legacy of many female inventors throughout history.
What's Next for the Mother-Daughter Duo?
Linda and Amanda describe phase two for the business as the "Funkatorium" stage. 
"We are most excited to begin making and offering our own wines with locally sourced fruits and out-of-the-box flavor profiles," Calloway said. "We have a peanut butter and jelly recipe that sounds odd, but is delicious and we are ready to share."
As Illumination Wines grows, Linda and Amanda are committed to purchasing from local farms and they plan to expand their wine selection to offer retail and their own line of traditional, non-sweet, and sweeter wine varieties. 
While there are certainly challenges that come with owning a business as a mother-daughter duo, Linda and Amanda say the experience has taught them a great deal about each other.
"It can be easy to let emotions and our personalities get in the way, but we communicate effectively, and ultimately this experience has brought us closer," Calloway said. 
Illumination Wine's Grand Opening is tentatively scheduled for May 25, 2022. For details and to learn about the latest updates from Illumination Wines, visit their Facebook page.