This content is powered by US Foods®, one of America's great food companies and a leading food service distributor. 
Nestled in the heart of Clover is a restaurant with a lot of "love in the middle." Clover Harvest emphasizes a "farm-to-table" concept in their dishes, sourcing local businesses to stay authentic to their roots: giving love to a community that loves them.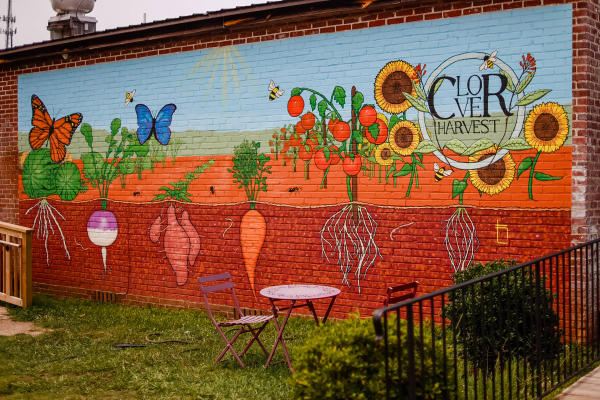 A Taste of History
Since opening in May 2023, Clover Harvest has brought an upscale yet homey vibe to Clover, South Carolina. Owners Alison Kim and John Paoloca have combined their knowledge of food and their business expertise to introduce fresh meals to the community.  The concept of healthy, field-to-plate food came to Alison after experiencing her father's stroke and subsequent years in and out of doctor's and dietician's offices. Since then, Alison has spent countless hours curating vegetable-forward meals that aim to move the needle on both heart disease and diabetes in a way that tastes good and is healthy for you.
Vintage and Vibes
When you walk into Clover Harvest, you're immediately welcomed with a friendly face and a smile. The natural lighting flowing through the large windows emphasizes the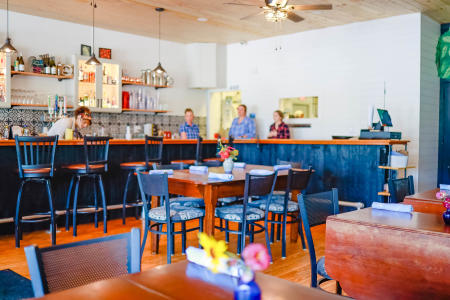 open and airy vibe of the restaurant. Take a seat at the fully stocked bar and try one of their specialty drinks such as the Harvest Margarita — my favorite? Strawberry! Or, get comfortable at one of the many resurfaced tables and church pews lining the dining area. Feel like sitting outside instead? There's a three-season patio waiting for you! With fans, heat lamps, and covers, the patio area is readily available whenever! Make sure you try the gourmet root beer from Legal Remedy at the mini bar outside. ​
Beyond The Plate
Talking with Alison and John, it is evident that one of the main concepts Clover Harvest implements in their company is giving back to the community. The power duo exudes the mantra, "When one succeeds, we all succeed." This is why they choose to partner with local businesses to bring awareness to others in the communi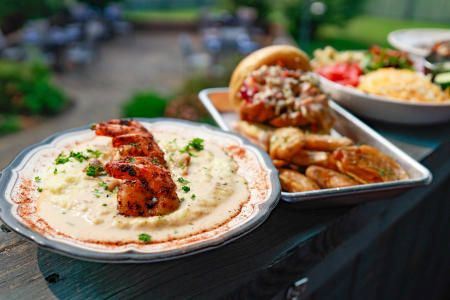 ty. Indigo Iris Farms, Sam's Homegrown, Smith Farm and Table, Bush-N-Vine, The Farmstead at Sunset Grove, Saltwater Markets, Tega Hills Farm, and Breadsmith all help Clover Harvest commit to building a healthy community from the inside out. There is a garden on site that not only provides fresh produce used in the restaurant's various dishes, but it is also donated back to the community. Also, at the end of the night, all leftover food is donated to the community fridge in downtown Clover. Clover Harvest also partners with Rideability, a therapeutic riding center for children and adults with disabilities. This sponsorship allows individuals taking part in Rideability to gain real-world experience working with others and in the food industry. 
Location and Hours
Want to check Clover Harvest out for yourself? Find them at 1007 Old N. Main Street in Clover, South Carolina! Enjoy their company every weekday for dinner from 4:00 P.M. to 9:00 P.M., weekends on Saturday from 4:00 P.M. to 9:00 P.M., and Sunday from 4:00 P.M. to 8:00 P.M. Clover Harvest observes Tuesdays as a day to spend with friends and family, so they are closed. 

​YoCo Taste Trail Week
This year, Clover Harvest will be partaking in YoCo Taste Trail Week! Executive Chef Lynsey Comalander, along with her team of brilliant chefs, has curated a menu containing hand-crafted meals worth savoring every bite. With a pre-fixe, $35 per person, three-course menu, enjoy a night out with friends or family! Choose an appetizer, entrée, and dessert to get a full flavor experience. 
Get in touch! 
Phone Number: 803-810-6082
Facebook: @cloverharvest 
Coming Soon
Weekend brunch will be coming soon. Chef Lynsey and Alison have worked tirelessly to create a range of items that will make Clover Harvest the brunch spot in York County! Starting July 29th, head to Clover Harvest between 10:00 A.M. and 3:00 P.M. Saturday and Sunday to enjoy a mix of your favorite breakfast and lunch foods.
View all participating YoCo Taste Trail Week menus HERE.