From August 7-14, let the YoCo Taste Trail Week be a guide to exploring the unique restaurants' York County has to offer. Powered by U.S. Foods, this is a fun opportunity to discover new dishes, step outside the box, and experience local flavors. Try a restaurant you've never been to or order a dish that isn't your go-to.
Jon and Amy Fortes of Salmeri's Italian Kitchen have curated a menu full of flavor and authenticity. From cajun flavors and seasonal pizzas to simple pasta, their casual-inspired Italian food is fresh, local, and consistent, just like their friendly service.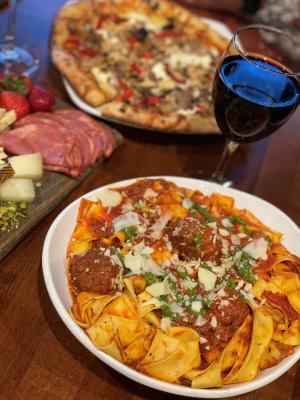 Their Taste Trail menu is 3 courses for $30, which includes a starter, entree, and dessert. From this week's menu, some of our favorites are:
• Strawberry Burrata Salad
• Caesar Salad
• Brennan's Bolognese
• Jason's Baked Penne
• Mushroom Ravioli
• Cajun Shrimp Fettuccine
Jon and Amy are passionate about their culinary dream and do their best to share their love of food with you. Read more about the local power couple, and where you can try more of their delectable dishes around town.
Make plans and reservations now to enjoy specials and prix fixe menus from your favorite York County restaurants or discover somewhere new.
View all participating YoCo Taste Trail Week menus HERE.