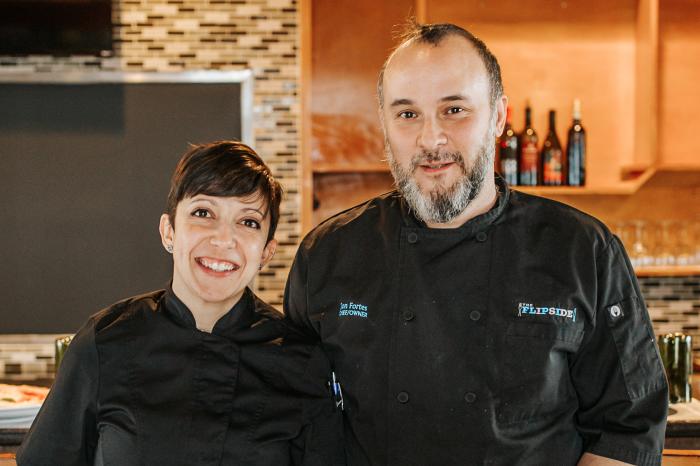 This content is powered by US Foods,® one of America's great food companies and a leading foodservice distributor.
Meet the Chefs
Chef Jon and Chef Amy Fortes first met back in 2008 while working in a restaurant together. Between their combined 30+ years of experience working in a kitchen and their love for people, the two decided to go out on their own. Fast forward and the two now own three restaurants together – Flipside Restaurant, Flipside Café, and Salmeri's Italian Kitchen.
The Restaurants
Located in historic downtown Rock Hill, The Flipside Restaurant serves to bring you locally inspired comfort food in an upscale southern hospitality dining environment at a great value! The upscale dining concept, yet laid-back, neighborhood restaurant is the perfect place to stop by for a delicious lunch in the middle of the day or a nice relaxed dinner with family and friends.
Located in Fort Mill, The Flipside Cafe serves to bring locally inspired fare to great local people! Considered their more "low-key dining concept," this friendly neighborhood cafe is the perfect place to stop by for some hearty pancakes and a cup of coffee in the morning before getting your day started or a relaxed dinner with family and friends.
Inspired by Amy's Italian roots, Salmeri's Italian Kitchen serves casual-inspired Italian food, using only the best ingredients available. Our bar will have fantastic Italian wines, local and Italian beers, and a seasonal cocktail list.
Fortes Mill
Coming Early 2023
Flip Out Burger
TBD
Each year, the Chef Ambassador program selects four chefs from across the state to promote South Carolina's culinary heritage and local food culture. During their one-year tenure, these representatives appear at events to conduct cooking demonstrations, promote healthy childhood nutrition and spotlight the state's rich agricultural bounty. In 2017, Amy held the honor of South Carolina State Chef Ambassador.
"You know, one of the biggest things that guide me in the kitchen and in our restaurants, in general, is the way I speak to and treat people. I have worked in some places that were all about screaming and hostility, and front-of-house against back-of-house. When we thought of opening our own place, it was a big discussion between my husband and myself. We would not be like that; we never wanted to cause or allow that type of atmosphere in our places of business. I care about my staff. I get called "Kitchen Mom" a lot because of that, but I am happy when my people are happy. Even more so, guests can tell when someone isn't happy at their job, no matter how hard people may try to hide it. People can SENSE it, so I have always tried to put positivity in the forefront of how we run our kitchens." - Amy Fortes
Flipside Signature Dishes
Shrimp & Grits
Loaded with roasted shrimp, andouille sausage, spinach, caramelized onions, charred peppers, and tomatoes – The shrimp & grits are a fan favorite at this Rock Hill staple. 
In fact – in 2019, the shrimp & grits were even named as a USA TODAY honoree.
In the Midlands of South Carolina, Jon and Amy Fortes of Flipside Café in Rock Hill start with a smoked tomato base with andouille sausage, spinach, caramelized onions and charred peppers over South Carolina grits, all served in a cast iron pot.
Pimento Cheese Dip
"I am especially known for "Amy's Pimento Cheese," made with sharp white cheddar instead of the traditional mild yellow. It has a lot less mayonnaise than most recipes, with a few other secrets of course! We serve that as a hot appetizer with crispy fried pretzels but also use it on our burgers, Sloppy Joe sandwiches and charcuterie boards. You can put that stuff on everything!"

-Amy Fortes
Short Ribs
These out-of-this-world short ribs are braised for 24 hours and served with toasted farro risotto, port jus, crème Fraiche, honey-roasted carrots, and buttermilk fried onions. 
Salmeri's Signature Dishes
Brennan's Bolognese
This is not your traditional Bolognese, it is filled with meatballs, fennel sausage, short ribs, sauce, pappardelle, and pesto. This hefty dish is one to brag about to your friends with multiple different types of meat and two different sauces you can't go wrong with.
Seasonal Pizzas
There are multiple different options when it comes to picking your pizza from the menu such as their Artichoke and Goat Cheese Pizza and the Margherita Pizza which both have fabulous reviews but our favorite is their Fennel Sausage and Ricotta Pizza. 
Seasonal Ravioli
The two kinds of ravioli that they have on the menu consistently are the Lobster & Shrimp Ravioli which has spinach, roasted tomatoes, corn, vodka tarragon butter, and Evo crumbs. The second one is the Urban Gourmet Farms Mushroom Ravioli which has tasso ham, oven-roasted peppers, basil, and garlic cream. These two flavorful dishes are fan favorites and highly recommended! 
Learn more about Jon and Amy and how they manage to balance their work and personal life here!