ROCK HILL, S.C. September 27, 2022— Rock Hill's "Mural Mile" continues to grow with the addition of a new mural that will celebrate the life of the City's beloved artist, Vernon Grant. Upon completion, the mural will serve as the largest mural in York County located on the side of the York County Library at 138 East Black Street in Rock Hill.
Mayor John Gettys commented, "I'm extremely proud of the partnerships that led to this homage to Vernon Grant. His work is at the core of our community's two most beloved festivals, Come-See-Me and ChristmasVille, and now will be on display for year-round enjoyment. Rock Hill Economic Development Corporation's Mural Mile initiative continues to draw people to Old Town, contributing to the vibrancy and growth of Rock Hill." 
Vernon Grant was a nationally acclaimed illustrator, best known for his creation of Kellogg's SNAP! TM CRACKLE! TM AND POP! TM characters and his whimsical designs which influenced the work of Walt Disney and Dr. Seuss. Grant spent more than 40 years living in Rock Hill and while he passed in 1990, his legacy lives on through the City's annual Come-See-Me and ChristmasVille festivals, in addition to other local exhibits.
"As we considered the growth of Rock Hill's Mural Mile, it was important to create a piece of art that paid tribute to our city's most famous artist," said Allan Miller, Managing Partner of WRHI and member of the ChristmasVille Board, and Rock Hill Economic Development's Quality of Life Committee. "It is exciting to celebrate our community's two largest festivals and showcase the impact of Vernon Grant through this new, visual collaboration."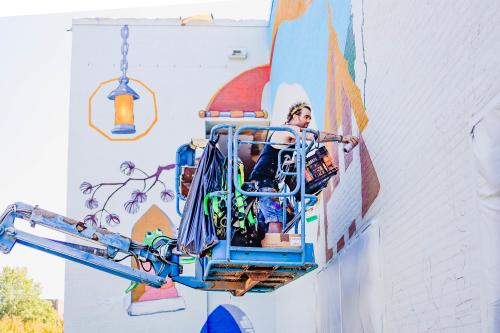 The mural was designed by Jill Pratzon, a renowned art restorer and illustrator from New York City, and is inspired by Grant's most popular characters and illustrations. Osiris Rain, an international muralist, and post-contemporary figurative painter is applying and painting the design. The Vernon Grant mural will be the second Old Town Rock Hill mural completed by Rain, the first of which is located at the Warehouses on White Street.
The Vernon Grant mural will feature Grant's signature whimsical designs including Glen the Frog, ChristmasVille's Santa, and his popular gnomes. A mosaic "Selfie" area is also planned.
"I've enjoyed stepping respectfully into Vernon's shoes - and into the curly-toed slippers of his gnomes," said Jill Pratzon, Owner of Pratzon Art Restoration. "Creating these scenes has deepened my respect for Vernon's artistry, and working with the folks in Rock Hill has been a pleasure. I feel fortunate that I was able to escape into a world of humor and whimsy for the past few months. What could be better than that?"
The Vernon Grant mural is made possible by contributions from the ChristmasVille and Come-See-Me festivals, the Vernon Grant Family Foundation, and a National Endowment for the Arts Grant through the York County Library.  The Vernon Grant Committee, Rock Hill Economic Development's Quality of Life Committee and the City of Rock Hill are directing the project.
The Vernon Grant mural is expected to be completed by mid-October. An official dedication will be held during the 17th annual ChristmasVille festival, held December 1-4, 2022.
Learn more about Rock Hill's Mural Mile here. Additional information about the life of Vernon Grant can be found here.
###
About Visit York County:
As the Destination Marketing Organization (DMO) for York County, South Carolina, Visit York County exists to raise the profile and boost the economy of York County through tourism and destination marketing while also contributing to the quality of life for residents.
For additional information, visit www.VisitYorkCounty.com.