You just got engaged and you're already making plans for the big day. Make York County your one-stop-shop for your perfect wedding. York County is home to a wide array of wedding venues that will host any size party and be unique for any bride. If you're needing help for ideas to keep your wedding guests busy during their visit, let us know! We can help plan the perfect trip to York County.
Happy Planning!
What's the perfect accessory for the perfect white dress? The White Home. This property holds the two oldest homes in Rock Hill and packs the charm for your vintage themed wedding. Not only can you take your bridal portraits inside this 1800's home, your guests can be charmed under the market lights on the back patio. A wedding planning service the Hospitality Butler also works with the White Home if you're looking for a one stop shop!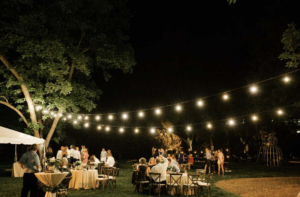 Looking for a barn wedding that will leave your guests blown away? Look no further than the Dairy Barn at the Anne Springs Close Greenway in Fort Mill. The 1940's dairy barn still has two milking stalls and the prettiest hay loft to perfectly separate your ceremony from your reception. Not only is the Dairy Barn the perfect backdrop for your photos, you've got 2,100 other acres to roam packed with horses and nature. The best news? The Greenway is running an end of year special for their last remaining Saturday's in 2019. Not looking for a venue that big? The Greenway can host any size wedding, check out their other venues as well.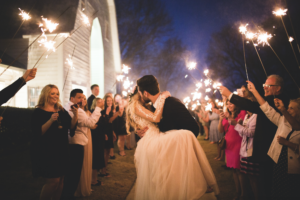 The Lodge at Cherokee Farms in Clover is 2500 square feet and is nestled in the Cherokee Farms subdivision.  It's charming rustic look adds a southern charm to your wedding. The facility can seat 125 people comfortably but can accommodate much larger parties if using our outside space. Tenting onsite is allowed as well. Sitting on 17 acres with beautiful old trees and horses running in the pastures, the Lodge at Cherokee Farms was once a dairy farm in the 1940's.  The dairy barn was converted to the Lodge in 2007 and has been the host to many events in the Clover area.
This restaurant and adorable vintage filled gift shop transforms into the most magical wedding venue. Large twinkle lights with white fabric draped from the rafters transforms your venue into the dreamiest spot. This venue can hold hundreds of people and can be paired with delicious food from the Garden Cafe. Vintage theme brides will love this location with the old windows and rustic feel that surrounds the venue.
This Winthrop University spot is a stunner. From the moment you walk into McBryde Hall, the rafters will pull you in. Their architechure is the perfect backdrop for any photo you're looking to take on your special day. This venue can hold the largest parties with plenty of room for a dance floor as well. The white walls mixed with the dark beautiful rafters make this the perfect blank canvas to make your vision come to life.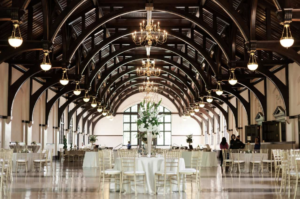 If you're looking for the perfect red barn to accent your day dressed in white, look no further. The Iron Gate Farm is just a few miles from the North Carolina line and is the perfect backdrop for your dream barn wedding. Have your wedding on the lawn with the barn as the backdrop or make yourself at home inside the barn in case of a rainy day.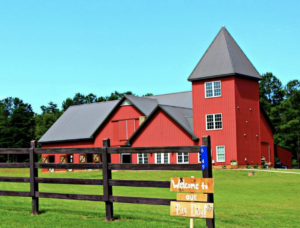 Tirzah Farm Venue is a stately country plantation on 44 beautiful acres minutes from Charlotte, NC. The turn of the century Southern Plantation home is nestled in majestic oak and pecan trees, exquisite landscaped gardens, a unique Bamboo forest, a stone barn foundation with preserved pillars, a rustic pole barn, and white-fenced horse pastures. The ambiance creates an idyllic and serene setting perfect for engagement photo shoots, weddings, rehearsal dinners, and so much more.
This venue is for the artsy bride. Located in the historic Downtown Rock Hill Cultural District, the Center for the Arts is housed in two restored 121-year old buildings. The Dalton Gallery features 7 – 9 exhibitions each year by local, regional, national, and international artists. The Center for the Arts offers space for weddings, receptions, meetings, and small performances. They also have a historic courtroom available to rent as well.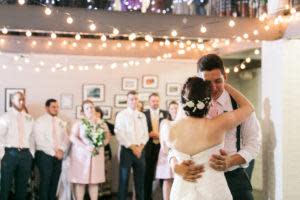 If you're searching for a historic home that will never go out of style, look no further than the Clebourne House. It was renovated in 2008 and is home to bridal suites and a large covered courtyard outdoors. The Clebourne house can hold more than 300 people and has more than an acre of parking space.
With a porch that seems to go on forever, The Belle Crane Inn is a gathering place for weddings, receptions, and events of all kind. With a bed and breakfast available, this Southern home and grounds are charming.
The Chantilly, located on over 100 acres, was once the working barn of a thriving cattle operation in York County, SC.  The venue is complete with chandeliers in the main ballroom and surrounded by wooden trim built from 120 year old reclaimed pine beams off the property. This venue is perfect for the occasion – country charm with vast scenery of dry stream beds and rolling pasture land, huge oaks, covered porches and an inviting fire pit to lounge away your evening. Exterior lighting is upon demand to facilitate outdoor board games, and ample parking space is available.