York County has always held a special place in the heart of Phillip Spencer, a proud native of Smyrna, South Carolina. Now, along with his partner who hails from Rock Hill, the two are embarking on an exciting new venture that embraces the spirit of this tight-knit community.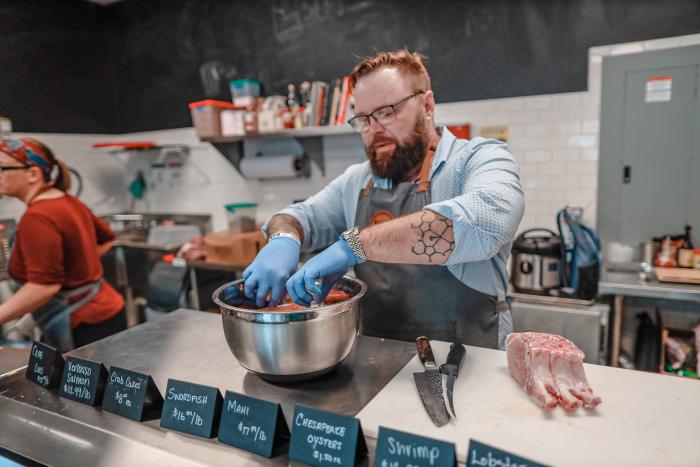 Rooted in Tradition, Sizzling with Innovation
Born and raised in Smyrna, South Carolina, Phillip Spencer has deep roots and a strong connection to York County. Similarly, his partner is a proud native of Rock Hill and holds a strong presence in the community as the owner of a successful construction business. Their shared love and commitment to York County has driven them to continue to both aid and support its growth and prosperity.
Phillip got his start in the food industry almost 25 years ago, and since then has dabbled in all areas of the business; buying, distributing, and even developing a local food delivery app. His ventures have since helped him to take over ownership at a long-time York County favorite, Palmetto Seafood.
"My partner, Nathan Siebert, and I took over last August and things have been great. Lots of people want us to open in Rock Hill. So, stay tuned!" - Phillip Spencer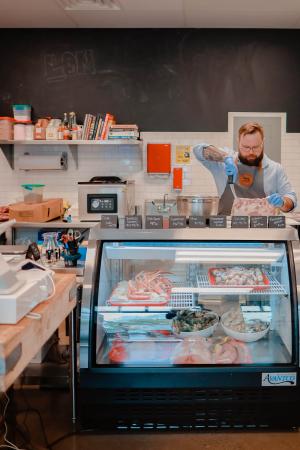 Opened in February of 2023, the idea of LongBottom Meats came to Phillip after noticing a lack of specialty shops in Rock Hill. The name of his establishment honors Phillip's great-grandfather, who ran a cow-calf operation in Smyrna and named all of his pastures. The "LongBottom" pasture was and is still currently one of Phillip's favorite places. 
Savor the Flavor, Taste the Difference
With a focus on sourcing from reputable companies and using sustainable practices, LongBottom Meats aims to provide customers with the freshest, finest meats available. Beef stock is rotated every week and seafood selections change every few days so nothing sits untouched! Their commitment to quality, sustainability, and reasonable prices has resonated with customers throughout all of York County. 
A Meat Lover's Paradise
LongBottom Meats offers a wide selection of meats, including various beef selections consisting of ribeyes, strips, and filets, pork derived from duroc or heritage, fresh, never frozen seafood, and more! Customers can expect top-notch service and expert advice on choosing the perfect cuts for their meals. Whether it's a backyard barbecue or a special occasion, LongBottom Meats has something to offer for every meat lover.
Next time you're searching for the highest quality meat, head to LongBottom Meats and take your pick of the freshest meats Rock Hill has to offer! We highly recommend the Zabuton, an American Wagyu. With a mixture of a well-flavored ribeye and a marbled filet, the Zabuton melts in your mouth in the most delicious way!
Plan Your Visit
Hours: Monday-Saturday 10 AM-7 PM, Sunday 10 AM-5 PM
Address: 502 Cherry Rd Suite 102, Rock Hill, SC 29730
Want to learn more? Connect with them on Facebook or Instagram!