What better way to spend a summer day than with wine, food, and friends? York County is home to some of the best wine shops around! Whether you're looking for urban, upscale, or something more casual, there's a winery waiting for everyone So, grab a friend (or a few) and check out these seven spots that never disappoint!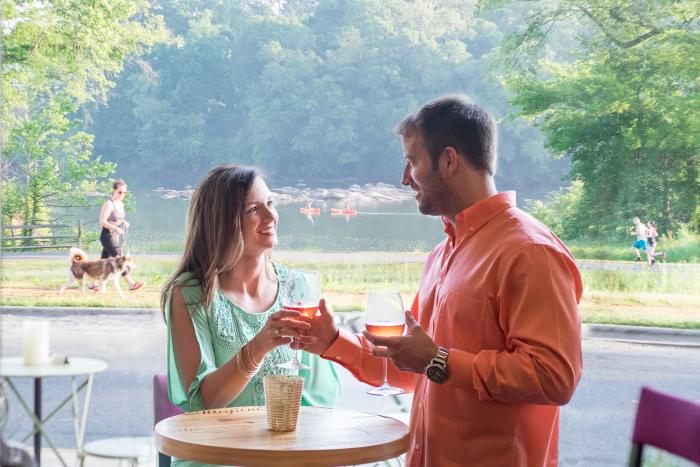 1. Grapevine - York, Riverwalk, & Baxter
Grapevine Wine Shop and Wine Bar is an inviting environment perfect for spending a day with friends and family. Grapevine offers over 30 wines both by taste and glass. Grapevine is also home to the Wine Shop, where customers can select between 400 wines and 150 specialty beers readily available by the bottle. This serene neighborhood wine shop also offers appetizers and desserts! Best of all, Grapevine has three locations in York, Riverwalk, and Baxter, so no matter where you are in York County, there's one close by!
2. Illumination Wines
Illumination Wines is an urban winery and tasting room that is sure to catch your attention. In the heart of Fort Mill, this mother-and-daughter shop offers over 30 assortments of wine, customizable flights, 10+ beers, and "wine-tails," which are wine-infused twists on regular cocktails. Sunday plans? Illumination Wines offers a Sunday brunch menu complete with waffles, salad, toast, and charcuterie boards. Check out their website to learn about their current events and all things Illumination.
3. The Social Cork
Looking for an upscale wine bar with a "homey" feel? The Social Cork meets those expectations! Those who enjoy wine, flights, and small bites will find that The Social Cork offers just that. With a combination of the best artisanal wines from around the world, local favorites, and cocktails, there's a specialty drink for everyone. Fur babies are welcome, so feel free to bring your best friend! 
4. Corkscrew Kingsley
Located inside Kingsley Town Center, Corkscrew offers a warm atmosphere perfect for spending a summer afternoon or evening relaxing with friends and family. With a collection of beer and wines ranging from classic to unique finds, Corkscrew aims to incorporate beverages for all ranges of tastebuds. Pair your glass with the variety of small plates Corkscrew serves, such as cheese and charcuterie, flatbreads, caviar, and dessert.
5. Corks, Cooks, & Books
A truly unique experience is waiting for you in Rock Hill! Corks, Cooks, & Books combines wine, food, and books in a fun spin on the average wine shop! Served in 2 oz., 6 oz., or bottle sizes, Corks, Cooks, & Books supplies York County with an assortment of over 20 wines. Not a wine drinker? Bubbles, beer, and nonalcoholic beverages are served as well! From appetizers to entrées to desserts, the wide range of food options will exceed your expectations. Corks, Cooks, & Books also accommodate those with gluten sensitivities, so feel free to ask about gluten-free options.
6. The Mercantile Jackass Café
An eclectic environment is waiting for you within Jackass Café! Located within the historical Coca-Cola bottling building, Jackass Café is home to over 20 wines. If you only want a taste, try the fully customizable wine flight! Artisan charcuterie boards and locally-made desserts are also available upon request. The Mercantile Café supports local businesses and breweries, so be sure to browse the items and drinks for sale.
7. Cat's Paw Winery
Voted #1 in the state by Choice Wineries, Cat's Paw Winery is York County's first winery! Sip wine while you snack on complimentary popcorn (or small charcuterie boards available for purchase), and play with cats. Cat's Paw offers a variety of 18 red and white wines that are all made the "true small batch craftsman style." While you're enjoying a "float the cat" (6 oz.), a "drown the cat" (9 oz.), a bottle, a wine assortment flight, or wine slushes, feel free to walk around the patio and merchandise area. Cat's Paw is 21+, so leave the babies at home but bring all your friends.