This content is powered by US Foods,® one of America's great food companies and a leading foodservice distributor.
If you were to drive past Legal Remedy on Oakland Avenue several years ago, chances are you would have seen a few cars in the lot with "For Sale" signs slapped on the windshields. But, in 2015, the brewpub's founders purchased the former car dealership and gave it a new look. With a 17-barrel brewing system, spacious patio, indoor dining space, and a lot of personality, the former car lot is now recognized as a Rock Hill staple and the city's first brewery.
What's brewing?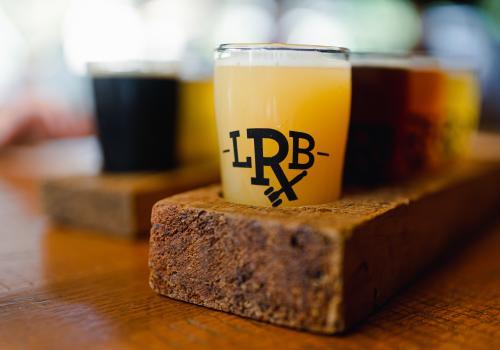 A legal remedy, in technical terms, is a process where people who believe they have been wronged or harmed can go after compensation for what they lost. In this case, the remedy is beer, and you don't have to be wronged to go after it.
On the menu, you'll find more than 20 beers to choose from, most incorporating clever legal jargon in their names. The draft list offers classics, like the OG Ale and the Probation Pilsner. Or, for those who prefer the darker side, the Pro Bono Vanilla Porter is another regular and is made using a variety of malts, Knowledge Perk cold brew, and vanilla. 
Seasonal beers also find their way into the brewing rotation. This summer's refreshing Whistleblower Watermelon Wheat, for example, is brewed with puréed watermelon, giving a subtly sweet taste. The Exhibit: Hazy Pale Ale is also a refreshing brew to beat the heat, offering notes of citrus and tropical fruits with each sip. Can't decide what to order? Don't sweat it; Legal Remedy offers flights with four different pours. 
Grab a cold one — or a few — and sip on the patio or inside the brewpub's dining room. Crowlers can also be purchased upon request if you want to continue your Legal Remedy experience in the comfort of your home. 
Order's up: What's on the menu?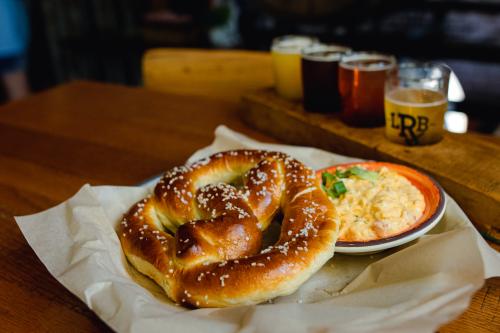 Along with craft beer, the brewpub offers a full menu with a little something for everyone. Come hungry, and start with a shareable, also known as a "Preliminary Hearing." The Southern Poutine is a local favorite — probably because it involves fries,  jalapeño pimento cheese, pepper jelly, and bacon. The Pub Nachos is another great contender; chips are piled with pulled pork, cheese, caramelized onions, pickled jalapeños, tomatoes, jalapeño chimichurri, a chipotle sauce, and green onions. For a brewpub classic, opt for the hot pretzel, served with a generous portion of pimento cheese.
For the main course, there are a variety of salads, sandwiches, and other entrés to choose from. A notable crowd-pleaser includes the Pork Schnitzel that is served with caramelized onions, a stout mustard demi-glace, and parmesan aioli. Other options include the Steak Frittes, a coffee-rubbed ribeye with truffle fries and chimichurri, and the Fish n Chips, which are beer-battered and fried to a crispy golden brown.
Specials and seasonal offerings can be found on the menu throughout the year. During the spring and summer, for example, Legal Remedy serves an elevated classic sandwich — literally.  The LRBLT is a double-decker sourdough BLT made with thick-cut bacon, tomatoes sourced from Bush-N-Vine Farm in York, lettuce, and Duke's Mayo.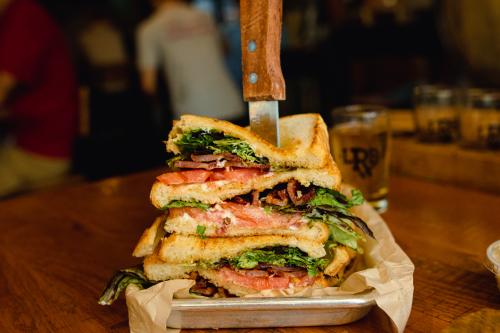 Plan your visit

Good beer, great food, and fun — that's what Legal Remedy is all about. Be sure to check out the brewery's weekly events, like its run group, live music, and local markets. Grab a pint and a bite, and let the good times roll. 
Legal Remedy is open on the weekends for lunch and dinner and on Wednesday and Thursday for dinner.
Legal Remedy Brewing is a 2022 Taste Trail Week location.
The YoCo Taste Trail is back with a new and improved way to enjoy York County restaurants. The first annual, YoCo Taste Trail Week, powered by US Foods will be held the week of August 7-14, 2022. Visitors and locals are encouraged to support York County restaurants by dining out during the week-long promotion. Specials and prix fixe menus will be offered by most participating restaurants.
Reservations or call-ahead seating is strongly recommended. Please check restaurant operating hours when making your plans. Days and hours of operation are subject to change.