Meet York County's first distillery, Sleeping Giant! With an aim to promote tourism in Rock Hill and the surrounding area, Sleeping Giant is the first legal distillery in York County since prohibition. Located at 122 Southern Street in Downtown Rock Hill, Sleeping Giant is officially open!

Family-owned and operated, Sleeping Giant was founded by brothers William and Patrick Bradner. Located in an old cotton grading building, the brothers were able to preserve as much of the early 1900s structure as they could while also bringing it up to code in order for it to allow for the production of spirits. Long-term plans for the business include producing a variety of premium handcrafted Rum in small batches, but to start, they are offering three varieties; a Silver Rum, a semi-sweet Coffee Rum using Knowledge Perk's coffee beans, and a sweet Lemongrass and Vanilla Rum Liqueur.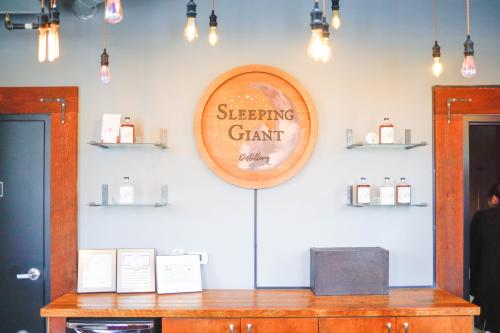 While many distilleries in the state are producing a large range of spirits, the Bradner brothers are focusing specifically on Rum because of its versatility and smooth characteristics. To start, the distillery will only be open on Fridays and Saturdays for tours & tastings. With current South Carolina laws requiring a tour in order to participate in a tasting, advanced bookings will be required in order to visit the distillery.