This content is powered by US Foods,® one of America's great food companies and a leading foodservice distributor.
Chef Rob Masone is hard at work behind the restaurant's pink laminate countertop, whipping up desserts, preparing appetizers, and putting his personal touches on main courses. Between preparing meals, he checks in on guests and shares his passion for food with those who walk into his restaurant. Kounter, located in downtown Rock Hill, is more than just a place to grab a bite; it is an immersive dining experience. Dishes are made using fresh, farm-to-table ingredients and are thoughtfully prepared with presentation top-of-mind.

The Friendship 9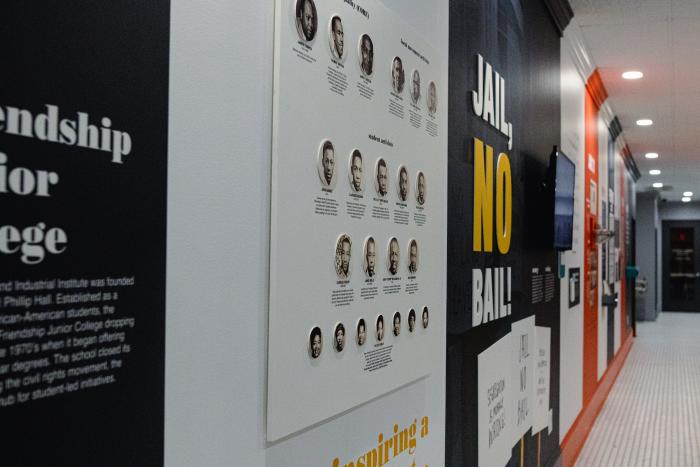 Though it is now known as a popular restaurant in York County, Kounter is also recognized as the Friendship 9 civil rights protest site. On January 31, 1961, 10 men — eight from the nearby Friendship Junior College — bravely staged a sit-in at the segregated McCrory's Five and Dime. 
The men were denied service and sentenced to serve 30 days in jail or to pay a fine. One chose the fine, while the other nine went on to serve 30 days in jail. Their bravery and unfair treatment attracted national attention and played a part in the Civil Rights movement. 
When Chef Rob discovered the building for his new restaurant concept, he strived to honor its history and the courage the Friendship 9 expressed. This included restoring the original pink laminate countertop where the men sat and listing their names on the back of its bar stools. Next door to Kounter is the newly opened Jail, No Bail Exhibit, where bypassers can learn more about the Friendship 9 through original letters, newspaper articles, images, and video. It is open Tuesday through Friday from 10 am-4 pm and Saturday through Sunday from 11 am-4 pm.

Drinks, Dinner, Dessert, and a Show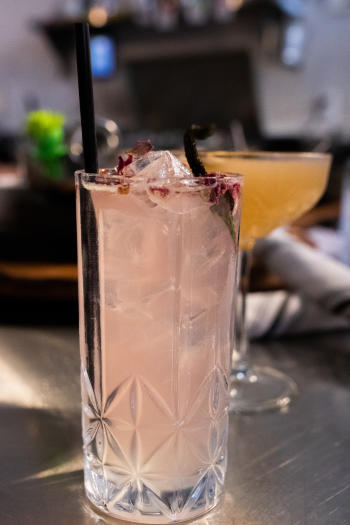 For a night out, start by settling in at the counter with a craft cocktail, beer on draft, or glass (or bottle) of wine. The Rose Colored Glasses cocktail — a popular drink pick — is smoky and sweet, made with mezcal, honey-serrano syrup, rose water, Cointreau, and a squeeze of lemon. The Pear Martini is crafted with pear-flavored Grey Goose, Saint Germaine, pear nectar, and bitters — simple yet bold. In cooler seasons, opt for the Twister White Russian, Taggart's Elder Fashioned, or Winter is Coming, which is made with Woodford, maple syrup, and lemon. Two craft mocktails (Pear + Lime Spritz and Hawaii Five-O) are also on the drink menu. 
If you start to smell something smoky, there's a chance it's coming from the Smoking Tuna Poke, a great shareable to kick off your night. This dish is prepared in the chef's corner behind the counter and is made with wood-smoked marinated yellowfin tuna, wonton crisps, cabbage slaw, ponzu, sweet peppers and wasabi aioli. It is covered with a glass dome until it arrives at its table, and once the lid is removed, the air fills with smoke. The Black Wings appetizer is another drool-worthy starter. Each chicken wing is packed with flavor, marinated in a citrus and ginger ponzu, and served with grilled pineapple.
Kounter's sliders double as a great shareable or an individual meal — for those feeling particularly hungry. They are served on cake stands and are sandwiched between pull-apart bread, an ode to Thanksgiving Day nostalgia. The beef sliders are topped with bacon jam, barbeque sauce, roasted tomato, arugula, and garlic-herb cheese, and the fried chicken sliders come with pickles, roasted tomato, and malt vinegar. All the cake stands were hand-picked from a variety of places, so each one presents a unique charm.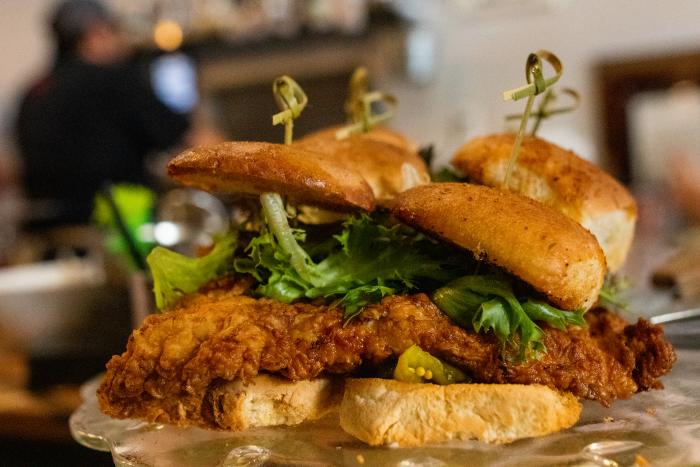 You can't go wrong with anything on the menu for your main course. The Steak + Potato features a seared hanger steak on top of a swirled potato puree, crab and brie butter, and flavorful snow peas. Kounter's Spaghetti-O's + Meatballs is nothing like Spaghetti-O's in a can you may remember from your childhood. Instead, the dish is served with lamb meatballs, anellini pasta, orange-scented ricotta cheese, mushroom cream sauce, and basil. Complete any meal by adding an a-la-carte side, like Crispy Asian Brussels or Sriracha Smoked Edamame. 
If you're in the mood for something lighter, the salads are anything but bland. They each come in a mason jar, topped with a tight lid. Your job: shake it up and pour it into your bowl. Salad options include Tuscan Caesar, Southwest Salmon, and Beet Down, which is prepared with a beet medley.
After all that, you'll still want to save room for dessert. The Whipped Key Lime is not only delicious, but its preparation is mesmerizing. It starts with a graham cracker crumble shell and is topped with a torched vanilla meringue. The garnish is a brûléed lime sugar, created by cutting a lime in half, pouring sugar on its open face, and torching it with a  flame. (Fun fact: The leftover limes are used for lime ice in the Cheerwine Sangria). For the chocolate lover, order Mom's Chocolate Pie, which comes from a recipe by Chef Rob's mom. As the recipe calls for, it is topped with store-bought cool whip, the only thing not made in-house.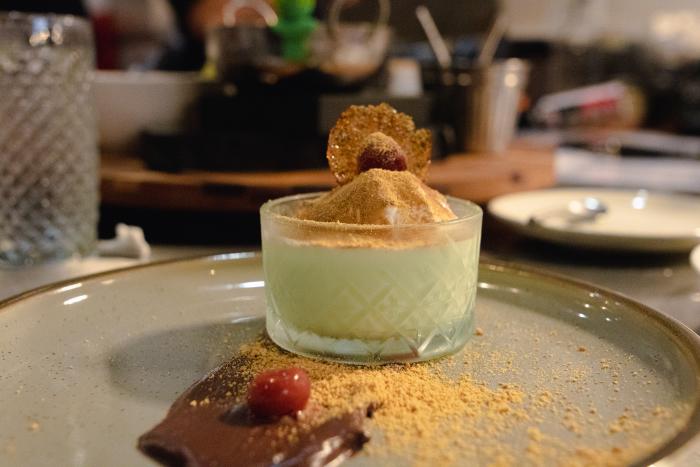 Kounter is a 2022 Taste Trail Week location.
The YoCo Taste Trail is back with a new and improved way to enjoy York County restaurants. The first annual, YoCo Taste Trail Week, powered by US Foods will be held the week of August 7-14, 2022. Visitors and locals are encouraged to support York County restaurants by dining out during the week-long promotion. Make your reservation today.