This content is powered by US Foods®, one of America's great food companies and a leading food service distributor. 
Powered by US Foods, this year's YoCo Taste Trail consists of amazing York County restaurants, with one of our favorites being FM Eatery, located in historic downtown Fort Mill.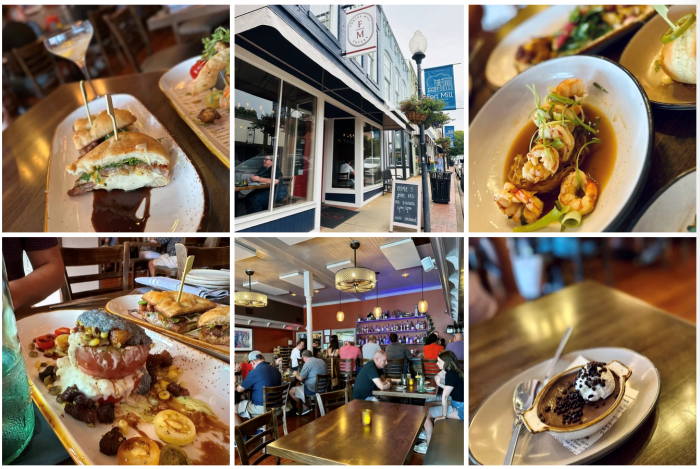 Officially known as Fortes Mill Eatery, this cozy Main Street establishment is brought to you by Chef Jon and Chef Amy Fortes, who also own The Flipside Restaurant, The Flipside Cafe, Salmeri's Italian Kitchen, and Flip Out Burger, their most recent opening in Rock Hill's Power House.
Open for dinner only, the stand-out restaurant shines for its globally inspired small plates. Although the menu is primarily tapas-style, they also offer large Southern dishes such as Shrimp & Grits, Fried Chicken Bog, Beef Tri Tip, and a Seafood Catch of the Day.
Each dish has a creative twist and is packed with flavor that is guaranteed to awaken taste buds and satisfy any cuisine curiosity; think blueberry BBQ sauce, chocolate-covered pop rocks, Worcestershire butter, and deviled crab cakes.
Combine impressive dishes and hardwood floors with Banksy artwork and fan-deliers, and you get a funky "where comfort meets charm" sort of feeling – a welcomed addition to York County!
Call (803) 396-0535 to make your reservation today!
Can't make it to FM Eatery during YoCo Taste Trail Week? Make sure you plan ahead and pick a day to take advantage of their weekly specials!
Monday: 1/2 Price Glasses of Wine
Tuesday: $10 Craft Cocktails
Wednesday: $5 Draft Beers
Thursday: 1/2 Price Bottles of Wine under $50
ABOUT THE YOCO TASTE TRAIL

Enjoy YoCo Taste Trail Week from August 6-13. Presented by US Foods, this week-long promotion encourages locals and visitors to explore the York County culinary scene. Whether you're checking out a new restaurant or trying new dishes at your favorite spot, it's a great week to schedule a get-together or date night while supporting local!
View all participating YoCo Taste Trail Week menus HERE.