Whether they're fresh off the vine or blended in with sweet treats, York County is home to some of the best strawberries in the state! Learn more about the history of this York family farm and how you can explore it.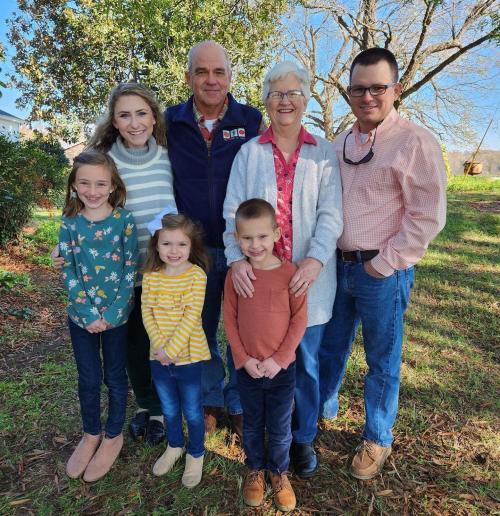 The Family Behind the Farm
The Hall Family has been growing fresh fruits and vegetables at Bush-N-Vine since 1979, but the farm has actually been in the family for 150 years! The farm was originally a peach orchard and the main building was actually used as a peach packing shed back in the 1950s and 60s. In 1979, Bob Hall reopened the doors using the space as an open-air market. After graduating from Clemson University in 1980, Bob decided to make farming his career. His son, Sam followed in his footsteps.
"I grew up helping my dad on the farm and fell in love with it.  I knew I wanted to be a farmer at a very early age. I guess you could say it's in my blood!  After high school, I went to Clemson and majored in Agriculture Economics.  I graduated in 2010 and began working full-time with my dad.  We've grown the farm a lot in the past decade.  We've started the CSA program, opened our new building, and diversified our crops.  Farming isn't easy, but it's what I'm passionate about and I can't imagine doing anything else. I married Lindsey in June of 2010, and we live on the farm with our three children.  I'm slowly but surely turning Lindsey into a country girl, and it is a lot of fun watching our little ones grow up here.  We have a lot to be thankful for, and I don't take any of it for granted!"
-Sam Hall, Owner
Strawberry Growing Season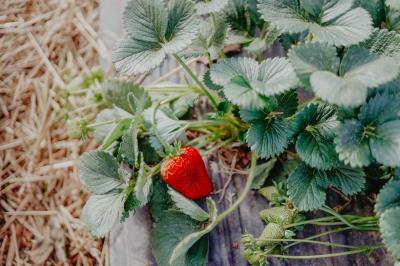 Did you know that Bush-N-Vine has the ability to grow strawberries 32 weeks out of the year? Though strawberries typically are only grown in the spring, Bush-N-Vine is able to produce strawberries 32 weeks of the year by using high tunnels and by growing different varieties of strawberries! The spring strawberries are sweet and very juicy and the winter strawberries are slightly firmer, but still very sweet. 
Fun Facts about Strawberries
Strawberries are the first fruit to ripen each spring
No other small fruit produces berries as quickly after planting as strawberries
It takes approximately 30 days to get from a flower on the strawberry plant to a red, ripe strawberry ready to be picked! Each strawberry has around 200 seeds! Strawberry plants grow from a runner—not from a seed!
Farm-Fresh Sweet Treats
You already know that Bush-N-Vine is well known for its fresh produce, but did you know that they also make the most delectable sweet treats? Take your pick of fresh donuts, ice cream, slushies, and our personal favorite – a blendie (ice cream and slush combo)!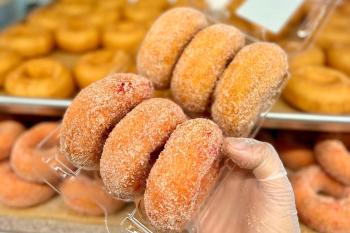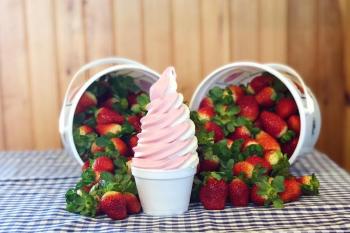 Bake at Home with Bush-N-Vine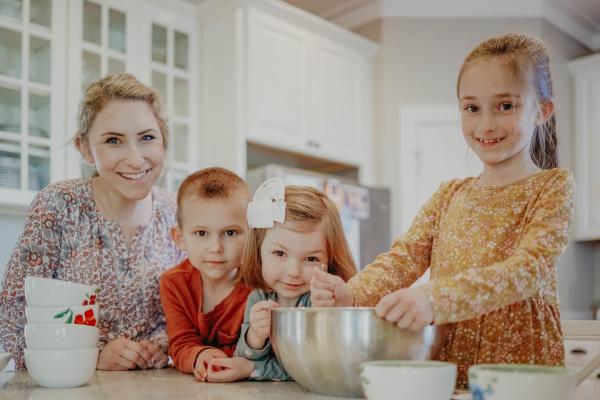 Strawberry Crumble Recipe
Prep time: 10 mins Process/Bake Time: 35 min
Filling
5 cups strawberries (hulled and quartered)
1/4 cup white sugar
1 tsp vanilla
3 tbsp cornstarch
Topping
1 cup all-purpose flour
3/4 cup old-fashioned oats
2/3 cup white sugar
2/3 cup brown sugar
1/2 tsp salt
3/4 tsp cinnamon
1/2 cup butter (melted)
Preheat oven to 350. Spray 9x13 baking dish with cooking spray
Combine chopped strawberries and sugar in a bowl. Mix until strawberries soak up the sugar. Add in cornstarch and vanilla and stir well. Pour into the baking dish.
In a separate bowl, combine flour, oats, brown sugar, white sugar, salt, salt, and cinnamon. Pour in melted butter and stir well. Sprinkle crumb mixture on top of strawberries.
Bake 35-40 mins and serve with ice cream.