Located just 17 miles south of Charlotte, The Anne Springs Greenway is exactly the place you need to be to reconnect with nature. Boasting 2100 acres of pristine land, the Greenway contains 36 miles of hiking trails, a 28-acre Lake, biking, and horseback riding trails. We've rounded up the top 10 things to do at the Greenway:
1. Eat at the Gateway Canteen
Enjoy a nice meal at the Gateway Canteen. Featuring a seasonal menu with local beer & wine, the Gateway Canteen is the perfect spot to dine after spending the day outdoors. Located at the Lake Haigler entrance, you can choose to either dine inside or eat al fresco!
For Their Seasonal Hours of Operation: Click Here! 
 
2. Live Music & Events (Seasonal)
In the spring, join the Anne Springs Greenway every Friday and Saturday from 6:00 - 9:00 PM for their live music series! Enjoy local live music on the Gateway lawn while cotton candy skies light up your backdrop. They also host a slew of annual events such as the Blue Star Blitz and Earth Day Weekend Celebration.
3. Yoga
Offering Yoga 2-3 times a week, the Greenway is the perfect spot to get in a workout. Break up your workday with lunchtime yoga at the Amphitheater or soak up a perfect South Carolina sunset while stretching during one of their sunset yoga sessions! Sessions are $12 for non-members whiles members get a 50% discount. Make sure to bring a yoga mat and some water! You can register here!
4. Hiking
Boasting 36 miles of trails and ranging from beginner to intermediate, there are numerous trails and points of interest within the Greenway. Their most popular hike, the Lake Haigler Loop features some of the Greenway's most beautiful scenery while the Blue Star Trail stretches more than seven miles from one end of the property to the other. While you're there — don't forget to walk across the iconic swinging bridge! 
5. Mountain Biking
Whether you're looking to break into the mountain biking scene or you're an experienced pro, the Greenway has a trail for you! Offering independent biking, beginner clinics, and private lessons, the Greenway makes it easy to grab your bike and go. All mountain biking trails start at the Adventure Road entrance and riders must be members of the Greenway or pay the $12 fee at the trailhead kiosk. 
6. Mary Warner Mack Dog Park 
Looking for some fun with Fido? Located on the Anne Springs Close Greenway, the Mary Warner Mack Dog Park features over 12 acres of enclosed natural space for dogs of all sizes to play and socialize. The park is conveniently located at the Adventure Road Entrance on Springfield Parkway and is open seven days a week. Currently, dog park access is open to dog park members only. 
Other amenities include:
• Mile-long, the off-leash trail leading to lakefront access
• Dog washing station
• Hydration stations
7. Kayaking & Paddle Boarding
Are you an adventure seeker? Look no further than Lake Haigler. Kayak and stand-up paddleboard rentals are available on weekends starting in June! Reservations are currently required and must be made online beforehand. It is currently $15 for non-members and 50% off for members. Time slots are two hours long with the first slot starting at 9:00 AM and the last slot starting at 3:00 PM. You can reserve your time slot here.  Already have your own paddleboard or kayak? No Problem! You're welcome to bring your own non-motorized boats, kayaks, and stand-up paddleboards to the Lake Haigler Kayak Launch at the Lake Haigler Entrance. 
8. Fishing 
They say good things come to those who bait! Looking to take up fishing? Fishing is offered exclusively to Greenway members at the Anne Springs Close Greenway 
Fishing guidelines include:
• A South Carolina fishing license is required
• There is no additional fee for members to fish
• Bass fishing is catch-and-release only
*Lakes contain catfish, bass, and bream* 
9. Horseback Riding 
Are you ready to get back in the saddle? The Greenway offers many options when it comes to horseback riding, including equestrian summer camps, group riding lessons, guided trail rides, and lead line rides. To learn more about guided trail rides, check out our blog on guided trail rides.
10. History
Nation Ford Road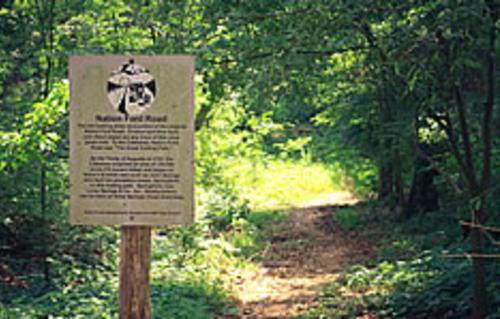 Photo Courtesy of Anne Springs Close Greenway  

Did you know that the trail between the

Dairy Barn

and the

Nature Center

runs parallel to a historically significant trail called Nation Ford Road? The road is one of the oldest documented travel routes in the southeast and became known as part of the "Great Wagon Road" that brought settlers from the north into the southern frontiers.
The Graham Cabin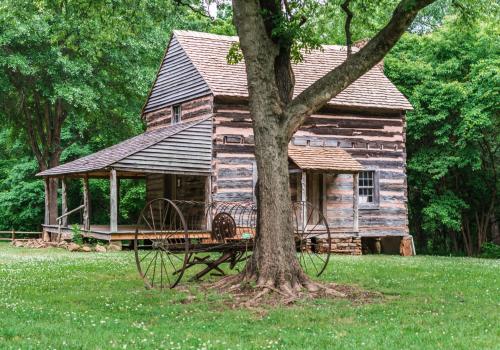 Photo Courtesy of Anne Springs Close Greenway  

The Graham Cabin was built over 200 years ago and an early 1800s census shows that Billy Graham's grandfather, Archibald Graham, was born in this cabin and possibly lived there for a time. The cabin is now lovingly referred to as "The Graham Cabin" and is easily accessible on the Greenway using the Nation Ford Loop.