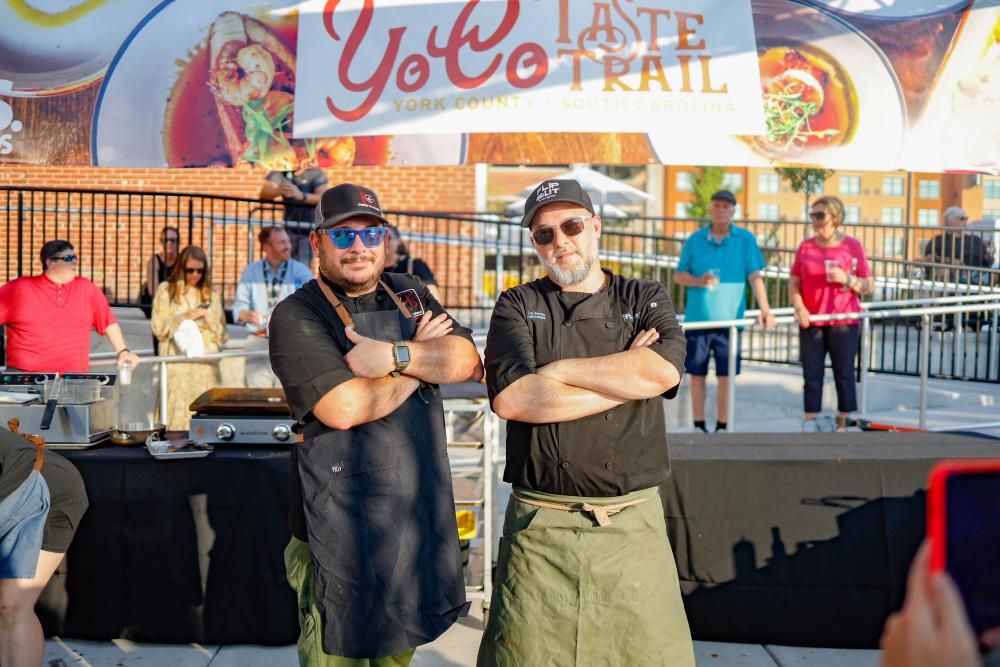 Chef Rob Masone of Rock Hill's Kounter and Kre8 Xperiences was declared the winner of Visit York County's first annual YoCo Taste Trail Kickoff Battle of the Burgers on Thursday, July 27, 2023, at The Power House.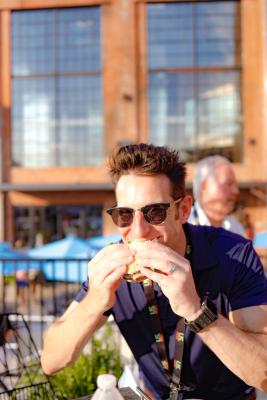 The event brought together culinary tyrants Chef Jon Fortes and Chef Rob Masone for a live-action cooking competition to raise awareness for Visit York County's YoCo Taste Trail Week.
Lucas McFadden of CN2 served as emcee of the highly anticipated event. 
Masone's winning 803 Burger featured ingredients sourced within 15 miles of Kounter including a short rib and chuck blend patty from SLC Farms. The patty was topped with shaved prime rib, blue cheese cheddar cream, steakhouse aioli, pickled rainbow chard root, towering arugula, house pink peppercorn, and asiago focaccia. Greens used in the dish were provided by Victory Gardens. Hand-rolled parmesan-rosemary tots accompanied the burger.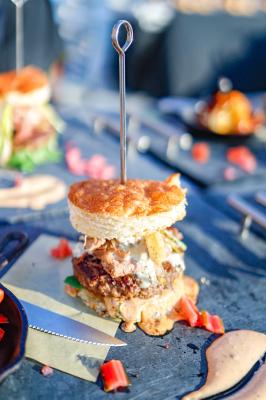 Chef Fortes presented the judges with a Carolina Burger complete with crispy pork belly chili and hatch chili cheddar topped with lusty monk slaw. Handmade salt and vinegar chips with trash cheese sauce accompanied the dish. 
A panel of five judges tasted and ranked each dish for presentation, creativity, and taste.
In the end, only two points separated the York County chefs with Fortes scoring a 68 and Masone a 70. 
Todd Hansen, Area President of US Foods presented Masone with an engraved champion spatula.
Battle of the Burgers Judging Panel
Brandon Guffey, South Carolina State Representative, York District 48
Brittney Kelly, Co-Owner, The Mercantile
Stacey J. Moore, Ph.D., President, York Technical College
Tori Gurley, former NFL player
Nathan Mallard, The Home Team

About the Chefs 
Chef Rob Masone
A York County native, Chef Rob Masone was born and raised in Rock Hill. Following many successful years as an Executive Chef throughout the Carolinas, Chef Masone ultimately planted roots in Rock Hill with the opening of Kounter. In addition to Kounter, Chef Masone owns and operates Kre8 Xperiences, a funky, full-service events and catering company. Kre8 Xperiences continues to flourish with a highly successful food truck, Twisted Eats which you can find at the recently opened Hoppin' in downtown Rock Hill. Chef Masone currently serves as a 2023 South Carolina State Chef Ambassador.
Chef Jon Fortes
Chef Jon Fortes is the Owner and Head Chef of The Flipside Restaurant Group including Salmeri's Italian Kitchen, Fortes Mill Eatery, The Flipside Restaurant, The Flipside Cafe, Flipside Catering, and most recently, Flip Out Burger. With Jon's travels around the country, he has grown to appreciate and recognize the importance of local cuisine and a strong commitment to farm-to-plate cuisine. Jon best describes his cuisine as an upscale southern style of preparing and presenting food. Jon won the Fire in the City culinary competition three years in a row, 2012-2014, and he was the overall champion in 2013. He has competed on various Food Network competitions including Guy's Grocery Games.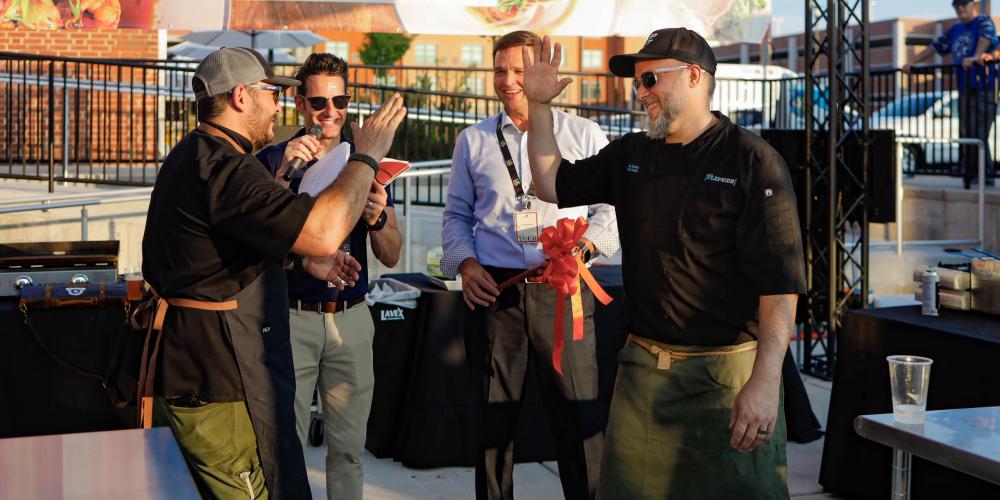 The second annual YoCo Taste Trail Week, powered by US Foods will return August 6-13, 2023. The week-long promotion encourages visitors and locals to dine out and take advantage of prix fixe menus offered by most participating restaurants. Reservations or call-ahead seating is strongly recommended during YoCo Taste Trail Week. Please check restaurant operating hours when making your plans. Days and hours of operation are subject to change. To learn more about YoCo Taste Trail Week, visit https://www.visityorkcounty.com/restaurants/yoco-taste-trail-week/.
"YoCo Taste Trail Week brings our restaurants a new level of exposure and puts York County's culinary scene on the map," said Chef Jon Fortes of the Flipside Restaurant Group.  "As a small business, we rely on support from locals and visitors, and this is an opportunity for us to connect with clientele during one of our slower times of the year."