Valentine's Day is right around the corner and love is in the air – at least for this Rock Hill power couple. Brittany and Michael Kelly are known for making big waves within the community and have made it their life's mission to make the city of Rock Hill a destination for everyone. Let's get to know these trailblazers and find out what makes them so special!

Meet Brittany & Michael
Brittany and Michael have been together for over 20 years and the couple is no stranger to hard work. After successfully running multiple businesses together, the duo planted roots on White Street in downtown Rock Hill. With their passion for community as their driving force, they opened up the original store back in 2018. The Mercantile has since moved up the street to its new 10,000 sq ft location and serves as a culmination of both of their careers in retail, spa, interior design, art, and real estate. 
"The mission was to create a culmination of all of our past businesses and passions in the 5000 square  foot space. We wanted a place where we could create a diverse culture and a sense of community." - Brittany
Keeping up with The Kellys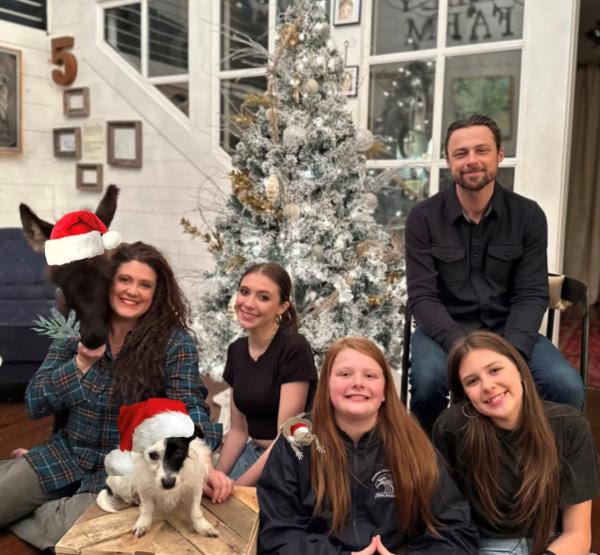 There's never a dull moment in the Kelly house. In addition to their three beautiful daughters, two dogs, and bearded dragon, Brittany recently snuck a miniature donkey into their home.
"I was not included in any of this." -Michael
Eloise, the miniature donkey is currently the store's mascot and makes an occasional appearance at the shop. Despite the chaos and the challenges of owning a small business, family is always at the forefront of the Kelly's daily grind. In true family-business fashion, you're bound to meet one of the Kelly kids working behind the register, or, if you're lucky, Eloise. 
"It's a ton of moving parts, so we both always have something going on and are always running in 100 different directions. We are not always on the same page but we complement each other. After almost 21 plus years together; were pretty good as a team." - Michael
Much More than a Gift Shop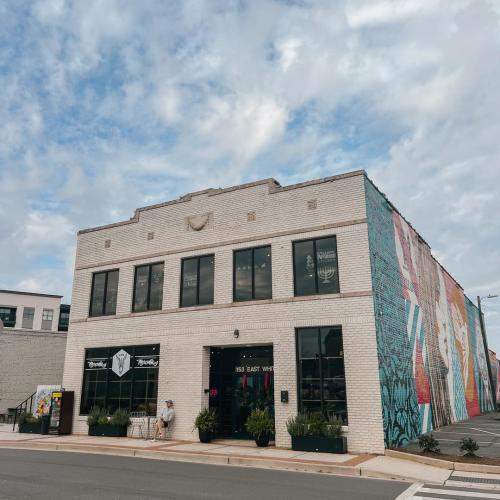 If you've walked into The Mercantile, you know it's much more than a gift store. The Mercantile is a breeding ground for community and entrepreneurship. The goal of The Mercantile has always been to be a destination for gathering and community. Not only is the Mercantile a store for all, it often hosts in-house workshops and workshops hosted by local entrepreneurs. You can check out their list of events here.
"We want it to be a destination for everyone. We are community first! We are safe spaces. We empower, grow, and cultivate! We aim to be a store for all!"  - Michael 
If you haven't yet had the opportunity to visit, here's what you can expect. You'll immediately be greeted by the scent of fresh-cut flowers, and if you're lucky enough, the most infectious smile from Katherine, their in-house florist and horticulturist. Once you start making your way through the shop, you'll notice the picture-perfect vignettes of carefully curated items assembled throughout. Seriously, no detail is spared when it comes to design. Before you start shopping, you'll need to head to the back and treat yourself to one of their delicious specialty coffee drinks. Our recommendation? Vanilla cold brew with sweet cold foam. We promise you will not be disappointed – just highly caffeinated. 
Rock Hill Roots Run Deep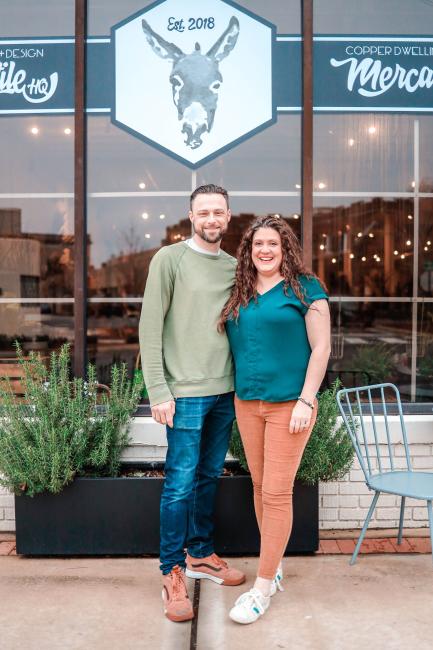 Brittany was born and raised in Rock Hill – five generations, on both sides, to be exact. In fact, her mom and grandmother owned a gift store for over 30 years on Ebenezer Road and her great-grandfather owned a general store on White Street – right across the street from the original Mercantile.
Like many Rock Hill natives, Brittany left for a while before returning to her hometown in 2004 with her new husband, Michael in tow. The two quickly planted roots boldly opening several businesses including a spa, a boutique, a wine bar, a Montessori school, an event planning business, interior design businesses, and a real estate practice. 
"We learned so much about how the city works, we learned from a lot of mistakes and we met so many amazing people who followed us through each journey. Rock Hill is home and I'm determined to make it cool." -Brittany
The Future is Bright in Old Town
Brittany and Michael have huge plans for the future! With the recent addition of a wine bar to the shop, the pair will host even more special events at The Mercantile and their dedicated event space dubbed, Burro Alley. In the coming months, expect The Mercantile's General Store to get even bigger with the addition of their Home Store which will create one centralized location in downtown Rock Hill. 
In 2021, the Kelly's organized Rock Hill's first Pride festival, bringing thousands of visitors to the heart of Old Town for a weekend packed with events, activities, and community. In 2022, Rock Hill Pride brought an estimated 10,000 people to town and the Kelly's have plans to make the 2023 event even bigger and better than before.