ROCK HILL, S.C. April 5, 2022— Mallory Snyder, Vice President of Communications and Strategic Development for Visit York County has been named one of Destinations International's 2022 30 Under 30 recipients.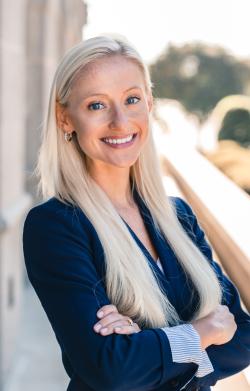 Snyder joined Visit York County in 2020 to lead business development efforts for the Destination Marketing Organization. Since then, she has created a corporate partner program to advance local destination development priorities and a workforce strategy to support the hospitality sector. Snyder also leads public relations and external communications for the organization. Prior to Visit York County, she worked in economic development in St. Petersburg, Florida. 
"Mallory's creativity and forward-thinking have led to the development of new initiatives and partnerships that not only elevate Visit York County but position our community for strategic future growth," said Andy Clinton, Interim President & CEO. "Mallory continues to be an integral part of Visit York County and we are fortunate to have her on our team."
Destinations International is committed to investing and preparing the leaders of tomorrow and developing future industry leaders that represent a diverse set of backgrounds and perspectives. Each year, 30 individuals under the age of 30, are selected to gain valuable industry networking opportunities and increased thought leadership throughout the year. The honorees originate from various destination organizations of all sizes and countries.
"The 30 Under 30 program remains critical to our organization's vision and mission," said Don Welsh, president and CEO of Destinations International. "As our industry moves toward recovery, we are especially excited to announce these young professionals as they are the future of the travel and tourism industry."
"We are thrilled to honor this year's class of emerging young leaders," said Mike Gamble, president and CEO of SearchWide Global. "As we continue to rebuild and re-energize our industry, our commitment to the 30 under 30 programs and the professional development of our future leaders will remain essential."
In its 12th year, the 30 Under 30 program is supported by its founding program partner, SearchWide Global, and sponsored by Fired Up! Culture, Northstar Meetings Group, and PCMA. For more information on the 30 Under 30 Program and the 2022 30 Under 30 class, please visit destinationsinternational.org/general-information/30-under-30.
About Destinations International:
Destinations International is the world's largest resource for official destination organizations, convention and visitors bureaus (CVBs), and tourism boards. Destinations International is about serving destination marketing professionals first and foremost. Together with more than 6,500 members and partners from over 650 destinations in approximately 13 countries, Destinations International represents a powerful forward-thinking, collaborative association that exchanges bold ideas, connects innovative people, and elevates tourism to its highest potential. For more information, visit www.destinationsinternational.org.
About Visit York County:
Visit York County, SC is the destination marketing organization (DMO) responsible for developing an authentic, unified identity for York County, SC. As a DMO, the CVB's goals are to promote the long-term development and marketing of their destination, focusing on convention, sports and leisure sales, tourism marketing, and services.