Whether you're looking for the perfect family-friendly parade or to end the night with a bang at a fireworks show, York County has a 4th of July Celebration for you. We've created a running list of the 4th of July celebrations happening in York County.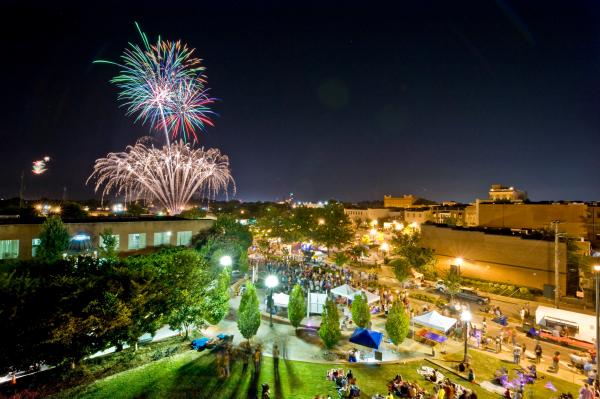 Tega Cay 4th of July Celebration
July 1st through July 4th
📍 Various locations
Join the city of Tega Cay as they celebrate the 4th of July! An array of activities including a concert, food trucks, a water ski and boat show, a parade, and a firework show will be taking place throughout various areas of Tega Cay. 
Baxter Village Parade
July 4th from 9:30 to 10:00 AM
📍 940 Market Street, Fort Mill, SC. 
The Baxter Village Parade features over 150 different entertainment factors including floats, bands, classic cars, and more. The parade route will begin in front of Killington's Restaurant and end at Sutton Road. 
Old Town's Red, White, & Boom
July 3rd from 5:00 to 10:00 PM
📍  Main and Hampton Street 
Enjoy live music, free inflatables, as well as food trucks and beverages. Fireworks are to begin at 9:30 on the east side of downtown. 
UPDATE: IMPORTANT UPDATE: As of 6/29/23, the fireworks display will no longer be on the Fountain Park side of downtown and will be launched from the WEST side, where it always has been, near the train tracks.
City of York 4th of July Celebration 
July 4th from 7:00 to 10:00 PM
📍 1010 Devinney Road, York, SC. 
Celebrate the 4th of July in a family-friendly environment, complete with live music and a spectacular fireworks finale!
Fort Mill Independence Day Celebration
July 3rd, 6:00 PM to 9:30 PM
📍 345 North White Street, Fort Mill, SC. 
Fort Mill's Independence Day Celebration offers a family-friendly environment complete with live music, food trucks, and activities for the entire family. The firework show begins at 9:15 PM. 
Also, don't forget to make it out to the 51st annual Firing of the Cannons at 10 AM on July 4th! 
Lake Wylie Annual Fireworks Display
July 4th from dusk until 9:30 PM
📍 Lake Wylie by the Buster Boyd Bridge, SC. 
Gather around Lake Wylie's Buster Boyd Bridge this 4th of July for a range of fun perfect for the whole family! Enjoy food, activities, entertainment, and best of all, a firework show that is sure not to disappoint!
Town of Sharon 4th of July Celebration 
July 1st from 5:00 to 9:30 PM
📍 Sharon Road, York, SC 29745. 
BBQ, burgers, hot dogs, snow cones, funnel cakes, and more! Live music starts at 6:30 PM with fireworks to follow. 
Independence Day Celebration at Historic Brattonsville
July 1st from 10:00 AM to 4:00 PM
📍 1444 Brattonsville Road, McConnells, SC. 
Come out to Historic Brattonsville for a blast from the past! With your family or friends, enjoy various activities inspired by the 1850s, as well as witness a reading of the Declaration of Independence and "Brattonsville's African-American Community and The Pursuit of Liberty."
July 4th and July 5th from 9:30 PM to 10:00 PM
📍 14523 Carowinds Blvd., Charlotte, NC ​
Carowinds will be lighting up the night sky on July 4th and 5th! Either stick around after your day at the park or come along afterward and enjoy the show!