If you've ever been to Glencairn Garden in Rock Hill, you'll know it's a magical place. Here are 8 fast facts about the park.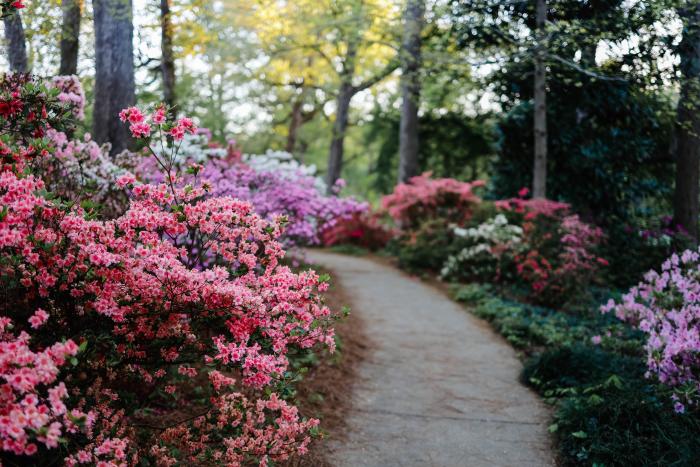 1. Glencairn Garden started out as a backyard garden. David and Hazel Bigger, who lived in the house now serving as the park's welcome center, started the garden in 1928. With lots of love and year-round care, the park has transformed into 11 acres of pure aesthetic.

2. Glencairn Garden was the original inspiration for Rock Hill's annual Come-See-Me Festival! Come-See-Me is a 10-day-long festival celebrating music, frogs, and fun. The park's welcome center also doubles as the festival's administrative office.
3. The Bigger's garden was a gift to the city of Rock Hill. What started as a friend of the Biggers's gifting them a handful of Azaleas quickly turned into 12,000 azaleas and camellias. After Mr. Bigger's death, Mrs. Bigger deeded the garden to the City in 1958.
4. The peak blooming season is from the end of March to the middle of April. This is a short window, but with so many colors and different types of flowers in bloom- you don't want to miss it!
5. There is a Veterans Garden at the park. The American Legion Post 34 and the Veterans of Foreign Wars Post 2889 partnered with the City to create this garden that honors women and men from the past, present, and future who served in the armed forces of the United States.
6. The family of Vernon Grant gifted a permanent stage to the Garden. If you've ever heard of or been to Christmasville, you should recognize his name! The brick stage is surrounded by beautiful flowers and plants to create the perfect atmosphere for outdoor performances.
7. Glencairn Garden offers fun outdoor learning for students! Many schools bring their students here to learn about nature topics such as plant life cycles and classification & food chains!
8. While the peak blooming period may be in the spring, there is something spectacular to see every season of the year! During spring time you can find colorful azaleas, pansies, and wisteria. Crape myrtles and daylilies are the stars of the show during the summer. In addition to the leaves changing colors, you can find color in blooming sasanqua and dogwood trees here during the fall. Last, but not least, winter brings the blooming of daffodils and camellias, and the smell of winter honeysuckle.