Family Friendly
Apples for days, and Friday Nights
Twenty miles west of Rock Hill's downtown, we started looking for the apple farm welcoming families. On a fall Friday, Windy Hill Orchard & Cider Mill is the place to be. 
"I think he's hungry," observed Ree as we filled our bags with apples. Initially, I thought she was referring to her little brother. But then I had the pleasure of meeting one of Windy Hill's pot-bellied pigs.
"The chickens and pigs roam freely in the orchards," explained Fritz, the orchard owner and hayride wagon driver. "They help us keep this place clean."
"Cleaning" meant eating fallen apples, and pining for our leftovers, but we didn't happen to have any.
After apple picking, it was time for a sweet magic trick. Within seconds of getting their hands on the piping hot discs of dough, the kids made their apple cider doughnuts disappear.
"You must have learned that from your dad," I joked, pointing at the crumbs in the corner of Jeff's mouth.
I saved my calories for an apple-themed first for me: a hard cider flight. Even after the confection, Jeff was more than happy to help me drink the six taster glasses of hard cider. On weekend nights, the family-friendly cider bar is the orchard's watering hole. My top pick was Rusty Gold—spiced with a touch of Christmas in the form of nutmeg, cinnamon and orange peel zest.
Following the map, falling for the menu
The next day we spent more time outdoors. The Lake Haigler Nature Walk map led us through a grove of towering poplar trees the Native Americans used for canoes and to the base of the American beech whose leaves they used for healing frostbite.
It was a brisk morning in Anne Springs Close Greenway, but not cold enough that we didn't consider renting kayaks. In addition to hiking, biking and horseback riding trails, the Greenway is full of waterways—perfect for exploring and fishing. But, the post-hike round of "I'm hungry's" sealed our fate. We headed back into Rock Hill for lunch, or better put, breakfast for lunch.
I read the line—out the door and growing by the minute—at The Yolk as a good sign. Because we didn't mind sharing, we quickly scooped up seats at the large community table. Our neighbors were regulars from Charlotte.
"You commute down here every weekend for brunch?" I asked, surprised.
"Try the Tennessee fries, and you'll see why 45 minutes on the road is no biggie," one of them answered.
Roasted banana pancakes with walnut butter spoke to the kids, and a meat-and-veggie-packed omelet got Jeff's vote, while I seriously considered the vegan bowl—quinoa, roasted acorn squash, French radish and sweet potato greens with roasted apple mustard.
But since The Yolk was a breakfast fixture, I decided on brown butter biscuits smothered in smoked chicken gravy, along with a side of those Tennessee fries.
"Mom, you're in the clean skillet club," Aaron said laughing when I'd finished.
"I couldn't have done it alone," I confessed. Jeff and the kids had helped me polish off the fries.
The regulars were right. The seasoning brought the spuds to life with smoky and sweet bursts of flavor.
"My taste buds would totally travel for those," Jeff remarked, saying aloud what I was thinking.
A fine art with humble roots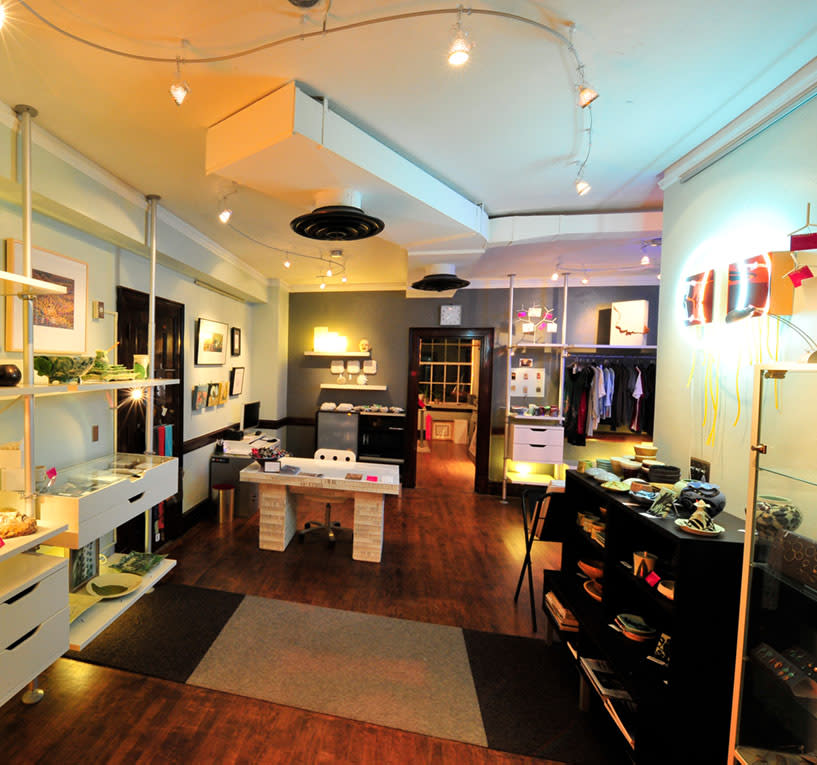 "Potatoes?" Ree asked after the Blue Rose Pottery shop owner explained how the 16th-century pioneers of Polish pottery used stamps carved out of potatoes to transfer designs onto stoneware. This folk art had come a long way over the years—they no longer use potatoes, and the stoneware is now dishwasher-safe and microwave-friendly.
"It's like looking at a kaleidoscope or an adult coloring book," Jeff said, mesmerized by the collection's combination of shapes and colors. Between the display cases and discount racks—stacked to the ceiling on open shelving—I couldn't tell if we were in a museum or an outlet store.
I helped each of the kids pick out a souvenir. I wanted them to have something unique that might even turn into an heirloom. Aaron confidently chose a jack-o'-lantern, and Ree decided she needed a piggy bank.
"What about your souvenir?" Ree asked.
"Dad and I have our eyes on those flower pots, but we need help deciding which one," I said.
"We got this," Aaron assured us. "Get two. I'll pick one, and Ree will pick one."
Just like that, they turned what would have been a simple purchase into gifts. It's like each one forever wears a thumbprint.
As the cashier wrapped up our treasures, she said, "If you're into art, you should check out the Arts Council of York County's anniversary calendar—forty events throughout the year celebrating 40 years of the arts."
I hadn't even spent 40 hours in York County and was already sold on coming back. I was also pretty sure Jeff and the kids wouldn't mind returning. There are some things you just can't, and shouldn't, outgrow. An idyllic family getaway is one of them.
Find more ways to get back to basics in Rock Hill/York County, SC.