"YoCo" Brew Trail Collaboration Series
A collaborative project between Visit York County and breweries along the YoCo Brew Trail designed to highlight the use of locally-sourced ingredients in craft beer while promoting tourism in York County and local, small businesses.
YoCo Buzz
5.3% ABV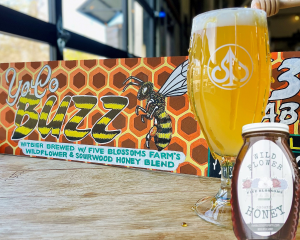 This Witbier was brewed in collaboration with Slow Play Brewing in Rock Hill and Five Blossoms Farm in Clover showcasing their local honey. YoCo Buzz is light and refreshing with a soft mouthfeel from the oats and wheat used in the brew. 50 lbs of added local wildflower & sourwood honey blend results in lingering honey aromas and flavor. You can try it on tap at Slow Play Brewing. 
Berry Buzzworthy
6.5% ABV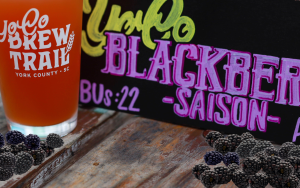 This Saison was brewed in collaboration with Legal Remedy Brewing in Rock Hill and Bush-N-Vine Farm in York. We added 80 lbs of their mouthwatering blackberries to a refreshing Saison. The result? Drumroll, please... A Berry Buzzworthy Beer! Now available on tap at Legal Remedy Brewing and YoCo Brew Trail breweries.
Experience York County, South Carolina through our booming craft beer scene! Get a taste of our local flavors with over a dozen breweries to choose from. Pick up your free YoCo Brew Trail passport at any participating brewery and get started on your next beer adventure today.