Holiday Events 
3327 Highway 51, Fort Mill, SC | 803.802.2300
November 1 - December 22 | times vary | The Real Christmas Story
Why not enjoy two shows in one? Hear your favorite Christmas songs, then watch in awe-stricken wonder as NarroWay re-creates "The Real Christmas Story." Also, you can enjoy a traditional Christmas dinner at select shows. As NarroWay calls it the most fun Christmas show ever, the show guarantees snowfall at every performance. Book seats now as show dates sell out quickly. 
December 2, 10, and 19 | The Nativity Set (Matinee)
Every year at Christmas, the old life-size nativity set is assembled at the front of the church. It's a tradition most would like to forego. Fifty years ago, when Mrs. Howerton donated the nativity set, hoping it might, "Breathe new life into the church and bring to focus the real meaning of Christmas". This year, it will. You'll never look at the nativity set the same again. Approximate 50-minute showing time.
December 5, 12, and 17 | A Stranger for Christmas (Matinee)
Based upon the book written by Carol Lynn Pearson. "Call your children. Ask them if they'll take in a little old lady who needs a family for Christmas. Go on, call them." And with this challenge, the heartwarming and humorous story of "A Stranger for Christmas" unfolds. An approximate 2 ½ hours screening time for this classic story, performed in a unique NarroWay style.

288 Dairy Barn Lane, Fort Mill, SC | 803.547.4575
November 30 | 9 – 4pm | Winter Wonderland Holiday Market
More than 150 artists and crafters from the region will offer unique holiday gifts and decorations at the Winter Wonderland Holiday Market. All items are handmade and includes jewelry, quilts, handbags, woodwork, gourmet foods and more. Enjoy a Sip and Shop bar on the grounds where hard cider, wine, and beer will be available for purchase from 11am – 3:30pm. Vendors are currently operating on a waitlist.

Select Dates November 24 - December 31 |14523 Carowinds Blvd., Fort Mill, SC | 803.548.5300
Carowinds comes alive with holiday spirit during WinterFest. Friends and families are treated to an ultimate Christmas event as they transform the park into a winter wonderland - full of enchantment, cheer, and classic family fun. This larger-than-life holiday event showcases dazzling lights, extravagant floats, talented performers and a special appearance by Santa Claus.
WinterFest is packed with all the sights, sounds, food and experiences of the holiday season. The state line shines bright with over 5 million shimmering lights, a 70-foot tree and lavish displays. Live shows and strolling performers delight guests and spread Christmas cheer for all to hear. Festive fun and hands-on Christmas activities are located throughout the park, and sweet aromas from special holiday dishes and desserts fill the midways. Plus, a selection of your favorite rides will be open to complete your night of memory making.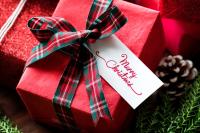 December 7 | 7725 Tega Cay Dr. | Christmas Tree Lighting & Candy Cane Hunt
It's Christmas time in Tega Cay!  The City's 2019 Christmas Tree Lighting will be held on Saturday, December 7th.  The event features Christmas Carols sung by the Fort Mill High School Chorus, as well as the tree lighting, cookies, hot chocolate and a visit from old Saint Nick! 
Christmas in Fort Mill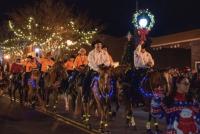 Join the Town of Fort Mill for their Christmas celebrations!
December 5 | 7pm | Main Street Band  Stand | Tree Lighting
Join Mayor Guynn Savage and Town Council, along with Santa, in lighting of the tree beside the Bandstand on Main Street. Celebrate the sounds of the season presented by the children of Fort Mill, hear the bells of the holidays by First Presbyterian Church of Fort Mill and see the dancers of Momentum Dance bring the beauty of the season together.
After the ceremony, children of all ages are invited to bring their wishes to Santa in the Bandstand. To complete your evening, enjoy the warm taste of hot cocoa, cider, and cookies by Fort Mill Allen Tate Realty.
December 7 | 11am | Tom Hall | Christmas Parade
The Fort Mill Christmas Parade is becoming widely known for embracing the holidays with grand decorations and unique Christmas styles. Everyone in the family will enjoy the sights and sounds of the holidays with grand floats, bands, and creative entries.
December 14 | 10am - 4pm | 107 Clebourne St, Fort Mill, Sc | Historic Home Tours
Join the Fort Mill History Museum for the 5th annual Historic Homes Tour. Experience some of Fort Mill's most unique properties all decked out in their holiday finery! 
The unique collection of properties included with the base ticket are the Belle Crane Inn, an Academy Street Mill House, the James Young House, Flint Hill Baptist Church, Flint Hill School House, the George Fish Memorial, and home to the Fort Mill History Museum, the Wilson House. Be sure to stop in the gift shop located within the Wilson House to find the perfect gift for the history lover in your life!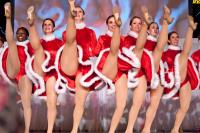 December 5 - 8 | Old Town Rock Hill | ChristmasVille
Once again, Old Town Rock Hill will come alive as a charming, picturesque holiday village and outdoor festival. The 14th annual ChristmasVille will take place December 5 – December 8, 2019. This award-winning festival has over 70 events including horse drawn carriage rides, historic tours, strolling Dickens carolers, art, theater, dance, music, a gingerbread house contest, multiple Santa activities, and an ice-skating rink. Click here for the full ChristmasVille itinerary.
Throughout the duration of the festival, the time and locations of the events will vary. Events will be housed at different locations in Old Town Rock Hill.
December 6 | 6:30pm | Old Town Rock Hill | Rock Hill Christmas Parade
The Rock Hill Christmas Parade is a great way to ring in the season. This evening parade showcases thousands of colorful lights and ends with a special appearance from the Big Guy himself. The parade will begin on Oakland Ave. near Winthrop University, making its way down White St. and Main St. before ending at Fountain Park.  Expect bright lights, creative floats, bands, and cheers lighting the night.
December 14 | 1 - 4pm | Riverwalk Carolinas | Riverwalk Holiday Pop-Up Market
Join Riverwalk for their 1st Annual Holiday Pop-Up Market in Riverwalk! Get some Christmas shopping in (or buy a little something for yourself) from the incredibly talented artists and vendors of the Rock Hill area! 
Christmas in Clover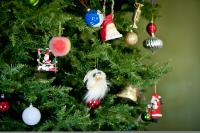 December 1 | 3 – 4:30pm | Main Street | Clover Christmas Parade
Join us in Downtown Clover for this 49th annual Christmas treat. Contact the Greater Clover Chamber of Commerce for more details.
December 14 | 10am – 12pm | Clover Community Center | Grinchmas Craft Day
Celebrate an annual Clover Grinch-mas tradition with your family and friends. Stop by the Clover Community Center and enjoy a variety of Christmas arts & crafts, face painting, holiday music, yummy cookies & some delicious hot cocoa. Let's start working on spreading that Christmas cheer!
Christmas in Olde York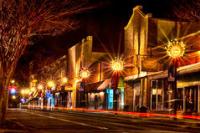 It's Christmas in Olde York. Don't miss out on any of these fun holiday events.
December 6 | 4 – 9pm | 43 N Congress St. | York Christmas Parade and Tree Lighting
York's 80th Annual Christmas Parade and Tree Lighting is brought to you by The York Entertainment Society and the City of York, SC. This year York is celebrating the history of the Circus from our Great City's past with traditions of Christmas and the Holiday Season. Over 2,000 participants led by York's Greatest Showman will usher in bands, circus performers, animals, floats, local businesses and organizations marching through the streets. They will be followed by the brigade of horses as they guide Mr. and Mrs. Claus in their horse-drawn carriage.
After the Parade, there will be a stage show with local and regional talent. Be sure to stop by Santa's workshop for photos with Santa and enjoy local food and beverages from local food trucks, restaurants, and vendors. This one of a kind event will light up the evening with festivities and thousands of Christmas lights while reflecting back on our proud history. 
December 8 -9 | 3-7pm | Yorkville Historical Society | Christmas Tour of Homes and Sites
The Yorkville Historical Society will be hosting their annual Christmas tour of homes and sites in the beautiful Historic District of York, SC. This favorite holiday tradition showcases private homes, a church and a business, lovingly decorated for the holidays.
This year's tour will feature homes at 110 East Liberty, 16 West Liberty, 9 and 229 Kings Mountain Street as well as the York A.R.P. Church and Downtown Music at 70 and 71 North Congress Street in downtown York. Most locations are private residences and have stairs so this would not be considered a handicap accessible tour. Be sure to check their website for details and other events during the holiday season tour.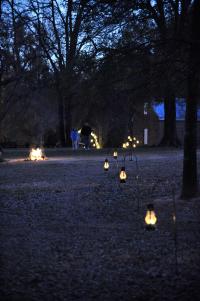 December 7 & 14 | 3 – 9pm | 1444 Brattonsville Rd., McConnells, SC | Historic Brattonsville 
Celebrate the spirit of the holiday season in traditional Carolina Backcountry Style at Historic Brattonsville's annual Christmas Candlelight Tours.
Christmas Candlelight Tours presents the way Christmas was celebrated on the Brattonsville Plantation during two eras of time, the American Revolutionary War and the Civil War. Five candlelight scripted scenarios will bring to life the holiday traditions of early settlers, plantation owners and enslaved African Americans with historic interpreters dressed in period clothing as guides.
Special Information: Historic Brattonsville will be closed the day of the events until 3 p.m. Brattonsville Road will be closed from 2:30 p.m. to 9:00 p.m. Please look for and follow detour signs.
Christmas by the Lake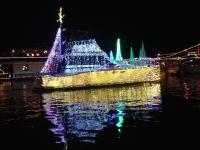 November 30 | 5 - 8pm | Paps Doc's Shore Club | Papa Doc's Shore Club's First Annual Lake Wylie Tree Lighting
Papa Doc's Shore Club will be hosting its First Annual Lake Wylie Tree Lighting with free hot cocoa, a special visit from Santa Claus, a bake sale, and holiday games. Bring the whole family down to enjoy this family-friendly holiday event. Guests are encouraged to bring lawn chairs to relax and enjoy the festivities. The event will be rain or shine and free parking will be available. The Christmas Tree Lighting will take place at 7:30pm. 
December 14 | 6:30 – 7:30pm | Buster Boyd Bridge (Lawn by Papa Docs Shore Club) | Lake Wylie Boat Parade
One of the highlights of the Christmas season in Lake Wylie is the annual "Lights on the Lake" boat parade. Launched from Papa Docs Shore Club, the brightly lit boats sail towards the Buster Boyd Bridge, circle around in front of Riverpointe, and pass by the Lake Wylie boat landing. Most of the crowds gather along the shorelines of Lake Wylie near the boat landing, and cheer favorites as they sail by.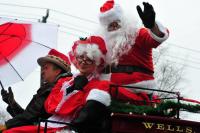 December 7 | 3pm | Main Street, Hickory Grove, SC |  803.925.2626
Welcome to Christmas in Hickory Grove!  Join Hickory Grove for their Christmas Parade down Main Street. The parade will start at 3 pm and feature lots of fun for the whole family!  Beware of flying candy, as parade-goers of floats will be tossing candy in the streets to kids.  
Christmas in Olde Sharon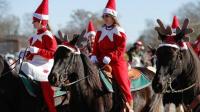 December 13 | 6 – 9pm | Woodlawn and York Street, Sharon, SC | 803.927.1927
There will be Christmas at the Fire Department from 6pm to 9pm.  They will serve soup, pizza and drinks.  There will be a balloon lady making free balloons for the kids and Santa arrives via Fire Truck at 7pm.  You can have your photo made with Santa as well.  They will have vendors for shopping.  There will be a hayride around Town to see the Christmas lights if weather permits.