York County is filled with iconic landmarks and incredible backdrops that are definitely worthy of the 'gram. From our breathtaking murals to trendy restaurant views, you can discover our favorite Instagrammable spots around the county! Don't forget to share your experience with the hashtag #VisitYorkCounty for a chance to be featured!
Anne Springs Close Greenway Swinging Bridge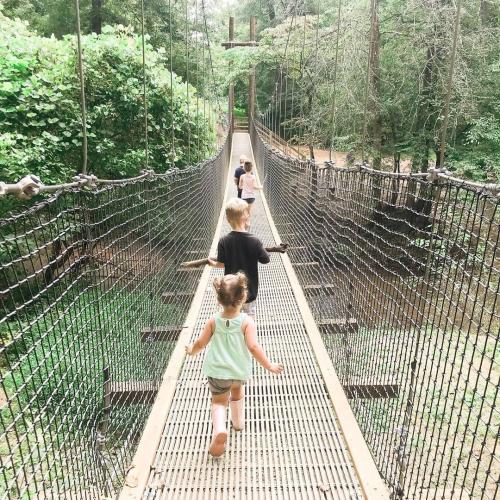 Photo by
IG user 
@her.holistic.home
The Swinging Bridge connects the Dairy Barn entrance with the Lake Haigler entrance, making it easily accessible for all those who wish to see it! The Swinging Bridge is just a short hike down from the Blue Star Trail or the Steele Creek Trail, that crosses over Steele Creek. This Anne Springs Close Greenway attraction is popular among Greenway members, and for those who are looking for that picture perfect Instagram moment.
Fountain Park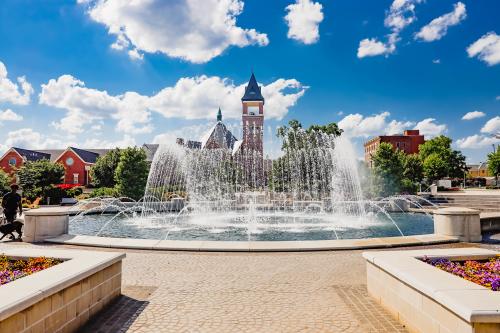 Fountain Park features an animated, interactive fountain on Main St. in the heart of Downtown Rock Hill! Perfect for family photos or quick selfies, this fountain is a must-see when visiting York County! 
Kings Mountain National Military Park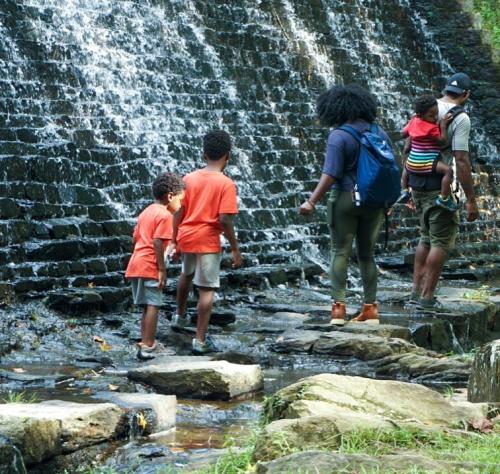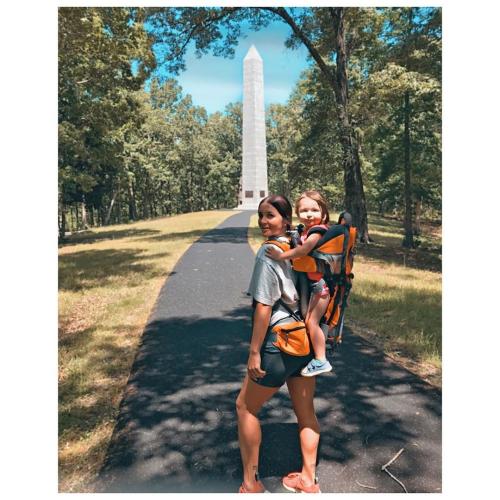 Photos by
 IG users
@Blackadventurecrew
and
@callafrnadreamn
Located in Blacksburg, Kings Mountain National Military Park offers something for everyone from families to history enthusiasts. Stop in to feel the history in the great outdoors while watching reenactments, or find more information on the battle in the Visitor's Center.
Draper Sunflower Fields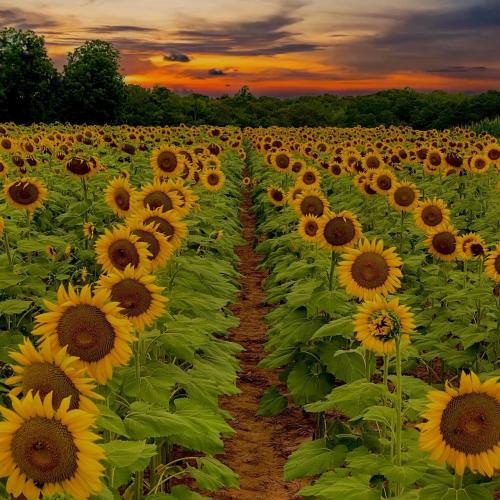 Photo by
Laura Reister
When visiting York County, the Draper Wildlife Management Sunflower Fields are a must-see destination. This 806-acre wildlife management has been around since 1995, and is located next to Historic Brattonsville in McConnells. By June every year, visitors are treated to a stunning display of Sunflowers blooming through early July. This stop is perfect for those looking for the ultimate summertime Instagram post.
Pumphouse Rooftop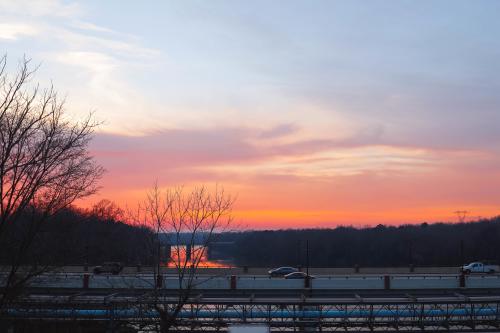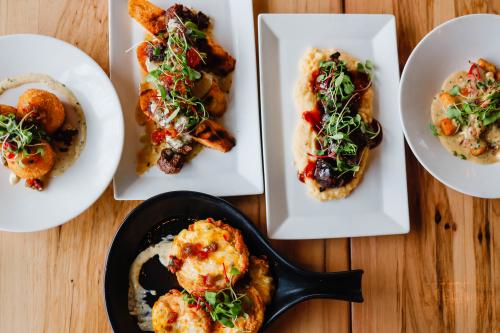 If upscale dining is what you are looking for, the Pump House Rooftop bar and restaurant provides all you need. Not only are the food and beverages picture perfect for all your Instagram foodie pictures, it provides a beautiful atmosphere overlooking the Catawba River. Situated between Rock Hill and Fort Mill off of Hwy 21, the Pump House is perfect for those looking for a fine-dining experience on the water. 
Papa Docs Lake Wylie

Papa Doc's on Lake Wylie is the perfect destination for those looking for an authentic seafood experience on the water. Located off Hwy 49, Papa Doc's is the place to stop and grab a drink when you cross into Lake Wylie. Whether you are traveling by boat or by car, Papa Doc's provides fresh food and drinks, as well as live music on the water! Get the best lakeside shot before the sun goes down at this must-see York County destination. 
Rainbow Donuts

Photo by
 Rainbow Donuts
Located at 1712 York Hwy in York, this is not your ordinary donut shop!  Rainbow Donuts Cafe & Deli is filled with the cutest decor and Instagrammable backdrops throughout the shop, including a hot pink wall covered in donuts!
 
Windy Hill Orchard & Cidery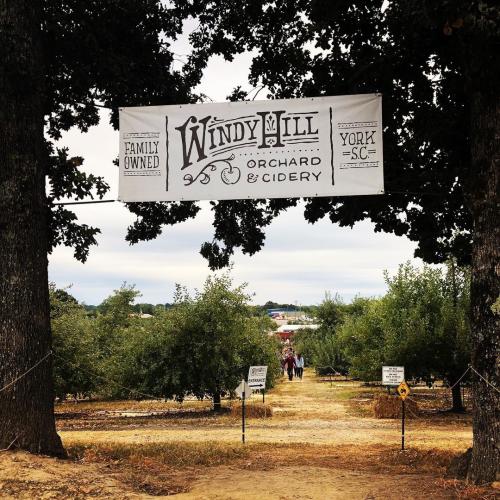 Photo by
IG user 
@ciderreport
Known as York County's Original Agritourism Destination, Windy Hill is filled with the perfect back drops for photo ops! From apple trees to the freshest donuts and Cider, there are endless opportunities for your next best shot. 
Murals:
Love Where you Live

This "Love Where You Live" interactive mural is located on the side of the Crossings on Main shop off of Main Street Fort Mill. We love this mural because there are so many ways to take pictures with it!
Rock Hill Mural on Warehouses on White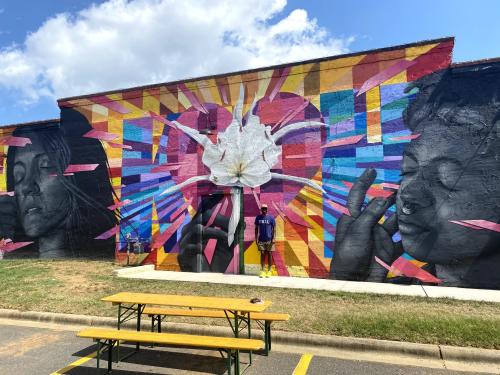 Located on the side of Dust Off Bewing, there is a massive mural sprawling with vibrant colors with "ROCK HILL" spelled across it. Imagine all of the potential photos that would enhance the look of your Instagram feed!
Freedom Walkway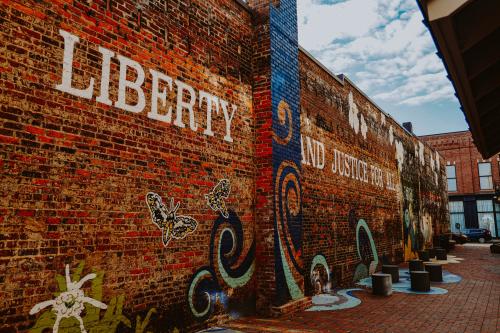 Found in Old Town Rock Hill, Freedom Walkway commemorates those who fought for justice and equality. Freedom Walkway is a must see stop in York County and provides beautiful scenery for all your Instagram shots!
Did you know that there are over 15 murals in York County just waiting to be the backdrop for your next Instagram pic in York County? Discover all of York County's mural here.