If you blinked twice over the past year, you might have missed a few new openings that took place during the pandemic. The unexpected arrived in March of 2020, but these businesses and attractions still managed to open up during a time like no other. We have compiled a running list of openings in York County you might have missed organized by category.
Hotels
This 110 guest room hotel features a roof top bar, restaurant, 2800 sq. ft. of meetings and event space, coffee pub, indoor pool and much more. The Cambria Hotel Rock Hill University Center is located next to the Rock Hill Sports & Event Center in the heart of downtown Rock Hill.
TownePlace Suites Fort Mill at Carowinds Blvd. is located across from the entrance of Carowinds and is absolutely perfect for your next family staycation! Whether you're visiting for work or planning a fun getaway with the family, the TownePlace Suites at Carowinds offers three different types of floor plans and is ready to be your home away from home!
Tru by Hilton is located off I-77 and SC Hwy 460, just 10 minutes from Charlotte International Airport. Carowinds amusement park is only three miles away and Carolina Place Mall is only five miles from their front door. Enjoy your stay with free WiFi and breakfast! 
Home2 Suites Fort Mill, SC is the perfect hotel for your accommodations. Their all-suite hotel is just minutes from major corporations and entertainment in the area. Be sure to enjoy their complimentary breakfast before heading to your business meeting or visiting Carowinds Amusement park. Relax by the fire at the patio or take a dip in the indoor heated pool to unwind from your day. Looking for dining, entertainment and shopping? Grab a bite to eat with clients or have some cocktails with friends at Kingsley or Baxter Village - located less than a mile away.
Restaurants & Bars
Model A is the place to be for delicious food and even better beers. Along with the great menu selections, there's always something going on at Model A! Stop by for Dr. Tom's trivia, Tuesdays at 6:30pm.
Kounter is located at the historic diner where the Friendship 9 held a sit in at the height of the Civil Rights Movement. Today, the restaurant is serving up gourmet meals and cocktails, but most importantly they pride themselves in being the place where everyone can have a seat at the "Kounter."
Libbie's Sweet Shoppe is truly a sweet place to be. Grab some candy, ice cream or a giant cotton candy ball! They also have more take home treats from their bakery that are sure to satisfy your sweet tooth.
Ay Papi  is a brand new vibrant restaurant on Main Street that boasts over 20 in-house cocktails with all of their ingredients made entirely from scratch! Go for the taco flights, but stay for the mouthwatering Elote and handcrafted cocktails!
Sweet Tea offers an assortment of sweet teas and lemonades! They are also truly sweet for offering lunch favorites and limited breakfast items all day.
Located on Main Street in Downtown Clover, The Vault is not your ordinary brewpub. This cozy, but modern and industrial bottle shop offers a curated tap list of 20 craft beers, a wide variety of local and out-of-state brands available in cans and bottles, four wines on tap, rotating food trucks and live music every Friday!
 
Parks
Located north of Rock Hill, Ebenezer Park is a 26-acre park on the shores of Lake Wylie. Ebenezer Park that offers a wide variety of day use recreational opportunities; as well as, overnight stays in one of their 67 campsites.
River Park's 70 acres along the pristine Catawba River offer a place to enjoy nature, trails and river access. Several miles of trails wind through the woods and include natural, boardwalk and paved surfaces.
Retail
Downtown Artistry is your destination for local and original art. From beautiful houseplants to handmade jewelry and hand-poured candles, Downtown Artistry has a unique gift for everyone! They also showcase and sell art from both professional and student artists and host classes and events throughout the month.
Yorkville Marketplace is a 12,000 sq. ft. boutique mall with over 30 locally owned small businesses specializing in new and upcycled retail items, food/beverage service, and entertainment while providing a boutique/market type shopping experience in the heart of the Historic District in York, SC. Some of their shops include a  boutique, pet care and even a photography studio!
The Hickory Post is a furniture and art gallery dedicated to providing accessible art and design for all. The curated store features one of a kind artwork, furniture and home accessories that will make your house a home. Their pieces are hand selected focusing on quality, authenticity and affordability. They also love design and you can find the most recent trends as well as gems from the past.
Art
Mural Mile
The Mural Mile is an initiative that engages the Rock Hill community and local artists in the design and installation of 8-10 murals on various buildings throughout Rock Hill's downtown and textile corridor within a one-mile radius.
Warehouse On White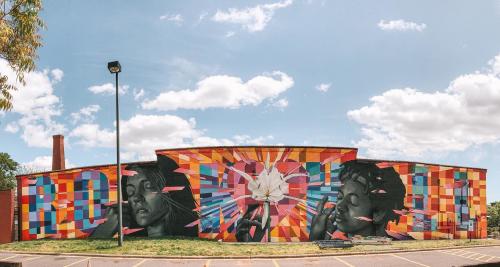 Photo by
The Mercantile 
Located on the side of Dust Off Brewing, there is a massive mural painted by Osiris Rain that is filled with faces and bright colors with "ROCK HILL" spelled across it. 
No Room For Racism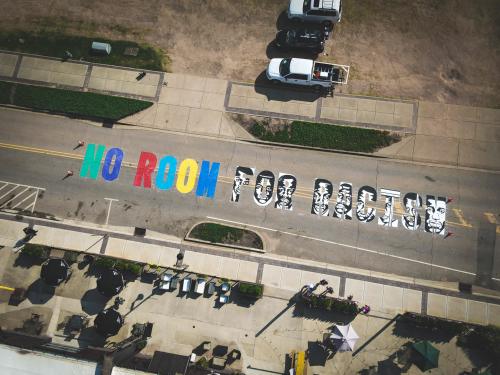 Photo by The Drone Guy LLC
The "No Room for Racism" is a powerful street mural located in front The Warehouses on White. This mural spells out the words "No Room For Racism," with the last nine letters filled in with the faces of the Friendship 9. This mural is by Heather Johnson and community members.
Sunset Park Basketball Court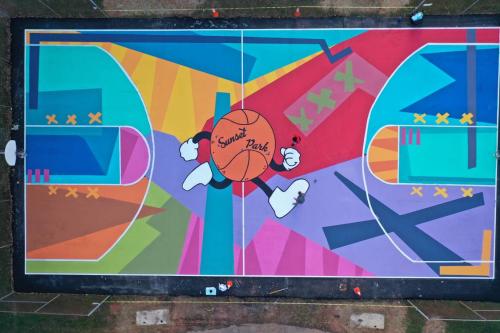 Photo by
The Herald
This mural was developed by The Old Town Association and the Housing Development Corporation, making this the first basketball court mural in Rock Hill!
Dreamer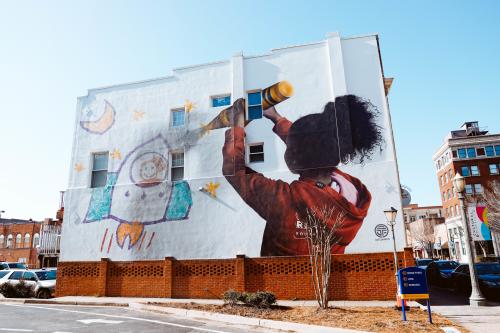 Rock Hills newest mural, "Dreamer," is a beautiful depiction of a child using their creativity and dreaming big! Dreamer is located on the southeast side of The Overhead Station Gift Shop. The artist wanted this piece to act as a reminder that children should always be encouraged to create.
"A child's dreams are fabricated through an imagination that feeds off creativity and it can all start with a crayon." - Darion Flemming
Rock Hill For All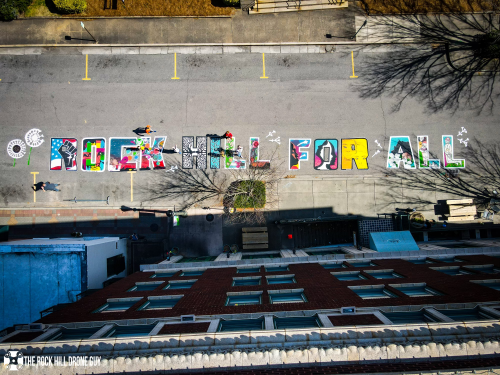 Photo by
The Drone Guy LLC
The latest installment of the Mural Mile Project on Caldwell Street in Downtown Rock Hill is brought to you by the Arts Council of York County, the Community Relations Council of Rock Hill and local artists. To discover more murals in York County, check out Murals You'll Love in York County!
You May Also Like: