Named a "Boom Town" by the New York Times, Rock Hill is growing like never before. With a burgeoning art and dining scene, and rich culture and history, there are plenty of ways to explore.
Rise and Shine
Breakfast
Start your day at Rock Hill Bagels & Deli or Sweet Tea Cafe for New York-style bagels, sandwiches, and more. Looking for something on the sweeter side? MoMo Donuts and Rise and Shine Doughnut Cafe offer traditional classics and extravagant combinations that are sure to please. For that craving brunch, sit back and relax at Flipside Restaurant in historic Old Town Rock Hill. 
Fuel Your Day
Just a short walk from the Rock Hill Sports & Event Center, Knowledge Perk Coffee Roasters is a small-batch roastery offing signature organic blends. Take a trip to France at Amelie's French Bakery & Café or Mado Paris Bakery and Cafe for Parisian-inspired classics and more traditional favorites. Want to shop while you enjoy your coffee? Head to the Mercantile HQ Cafe and enjoy one of their signature drinks while you browse their artistic displays and eclectic mix of gifts, clothing, and homewares! 
Explore Old Town
Things to do
The brand new Power House in Rock Hill is where you need to be! Featuring five different food vendors, an on-site brewery, and year-round events, you can't go wrong. 
Grab a selfie at one of the murals along the Mural Mile or discover a new gallery at the Center for the Arts. Visit the Jail, No Bail Exhibit to learn about the Friendship Nine's role in the 1960's civil rights movement. 
Shop til' you drop for home goods, gifts, and more at The Mercantile, Overhead Station, and Hickory Post. For fashion and apparel, check out Chic Boutique, Le Sorelle, Gypsy Debutante, or McFaddens Men's Shop. 
Stretch your legs at Glencairn Garden or Fountain Park. Tap into your creative side at Nailed It DIY Studio or create your own terrarium at the Mercantile HQ. 
Grab a bite
Stop by The Power House Food Hall located next to the Rock Hill Sports and Event Center. With delicious options like Flip Out Burger, Naroodle Chibi, and Ms. Lillian's Kitchen, you're sure to satisfy everyone in the group. 
Looking for an easy lunch? Head to RoCo - The Roasting Company for delicious Costa Rican rotisserie or Millstone Pizza and Taphouse for Neopolitan-style, wood-fired pizzas. 
Local Fare
Dinner
One visit to Kounter and you are sure to be wowed by Chef Rob Masone. If you're craving Mexican, Ay Papi's Tacos & Tequila offers authentic fair from fajitas to guacamole and everything in between. Looking for southern comfort food with a twist? In the mood for a burger? Hobo's and Burgers and Barley are sure to please. 
Sweet Treats
From vine-to-cone ice cream fresh from local farms to some of the best family recipes around, Rock Hill has something to satisfy every sweet tooth.
Getting Around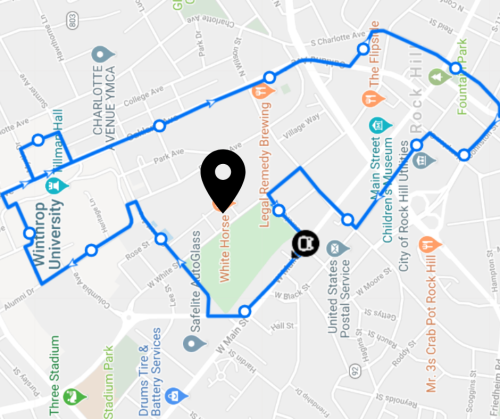 Free Bus Transportation
The My Ride Transit System is one of the best ways to get around Rock Hill. The bus system, which launched in July 2019, is free to ride, has mobile charging ports and free Wi-Fi, and is outfitted to be ADA compliant. Need a break from riding your bike? The bus even has bike racks on the front. With four fixed routes, the bus runs along the key corridors of the city, taking you from one end to the other, allowing you to visit almost any place in Rock Hill. You can download the My Ride mobile app to track where the bus currently is, preview routes, find nearby bus stops, and more.
The downtown loop, called Route 1: Knowledge Park Loop, has a bus stop right in front of the Rock Hill Sports & Events Center.
Rock Hill and Beyond
Outdoor Fun
Follow the nature trails of Anne Springs Close Greenway and get lost in the beauty and tranquility of mother nature. With over 2100 acres of beautiful protected greenspace, you can't go wrong with spending the day at The Greenway. The Greenway is open to the public for a small daily fee, but being a member will get you a few perks: special member rates on summer camps, outdoor recreation programs, and special events. You can also head to the newly renovated Ebenezer Park!  Ebenezer Park is a 26-acre park on the shore of Lake Wylie that offers a wide variety of day-use recreational opportunities. Feeling adventurous? Rent a stand-up paddleboard from The Goat Boater! If you're on a budget, take a walk along the Catawba on The Piedmont Medical Center Trail. Located in the Riverwalk community, The trail offers scenic views of the Catawba River and is a great location for outdoor activities. Providing ample space for walking, the trail is 10 feet wide and connects to nearby River Park allowing users to begin their 3.35-mile trip. Who doesn't love a gorgeous view while getting some exercise? 
Spend time at a Local Farm
Spend some time at a few of York County's many farms! Black's Peaches is a family-owned business and has been growing sweet, delicious peaches since 1923. Packed with fun, Bush-N-Vine is also a local farm that has endless activities such as a hiking trail, picnic tables, pick-your-own-crops, and even an observational beehive!  The Peach Tree Orchard has fresh local produce, canned goods, and flowers. While you're there, get a taste of their 32 flavors of deluxe ice cream
Find a Thrill 
Straddling the state line, Carowinds theme park has been a Carolina staple since 1973! Not only is Carowinds home to more than 50 rides and attractions, but it's also famous for its world-class events. Discover these upcoming Carowinds events you don't want to miss! Or get competitive at Mr. Putty's for a day filled with fun including miniature golf, ropes course & zipline, rock climbing, Mr. Stumpy's Axe Throwing, and more!