Dr. Martin Luther King Jr. Day is quickly approaching and many locations across York County are honoring him with your safety in mind. We put together a list of virtual and in-person events that you can choose from to commemorate his legacy.
40th Annual Dr. Martin Luther King Jr. Parade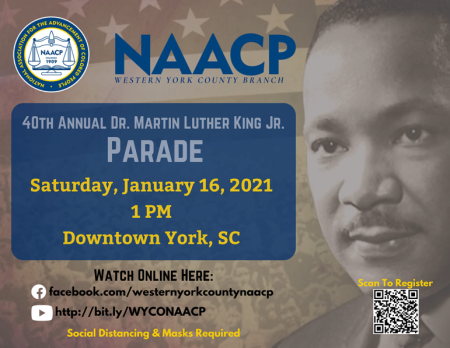 Western York County NAACP presents their annual MLK Day parade on January 16, 2021, starting at 1 p.m. in Downtown York, SC. The parade will begin at Whiteside's Cleaners and will end at Jefferson Park. If you plan to go in person, practicing social distancing guidelines and wearing a mask is required. If you plan to stay home, those who are interested can watch the parade virtually on Western York County NAACP's Facebook page.
Annual MLK Day Virtual Celebration: Virtual Interfaith Prayer Gathering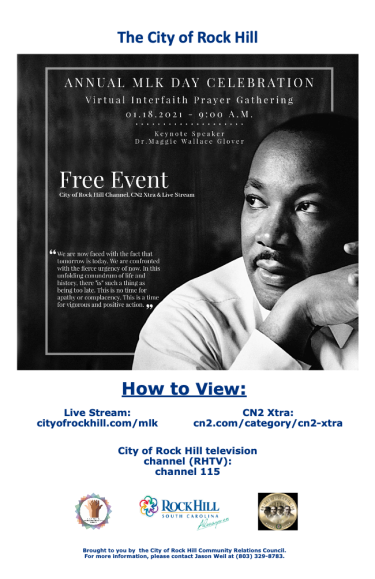 In celebration of the Martin Luther King Jr. holiday, The City of Rock Hill Community Relations Council will host its annual MLK celebration virtually at no cost Monday, January 18, 2021, at 9 a.m.
The theme of the event will be "The Fierce Urgency of Now," and will contain keynote speaker, Dr. Maggie Wallace Glover, the first African American woman elected from the Sixth Congressional District to the South Carolina House of Representatives, and performances from Poet, Angelo Geter, Vision Elite Royalty Dance Company, and soloists from the MLK Choir. Watch the event at www.cityofrockhill.com/mlk, on CN2 Xtra, and City channel 115. iDream Week
iDREAM Week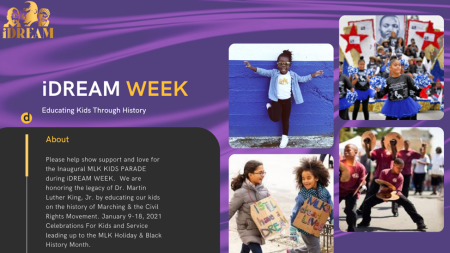 iDream is a 10-day MLK Day Celebration for kids in the Rock Hill area. All events are either virtual or following social distancing guidelines.
Here is the lineup of iDREAM Week, please be aware that some events have already passed:
Dream Black History Scavenger Hunt – Jan. 9th – Feb. 9th
iDream Vision Board Workshop – Jan. 16, 12 p.m. – 4 p.m.
iDream Day of Service – Jan. 18, 3 p.m. – 5 p.m. at Emmett Scott Rec Center
Café Kids Cooking Class – Jan. 18, 3 p.m. – 5p.m. at Sweet Tea Café
GirlPOWER: Women in History – Virtual Event, TBD via iDream week Facebook
iKID- Kidpreneur – Jan. 30, TBD For more information on iDream week visit their website www.idreamweek.com
2nd Annual MLK Prayer Event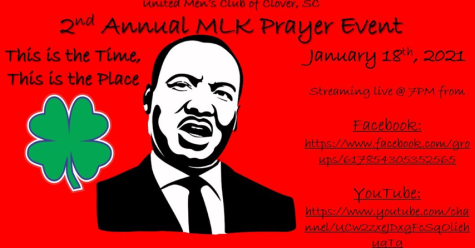 Join the United Men's Club of Clover, SC for a free virtual celebration of Dr. Martin Luther King Jr. on January 18, 2021, at 7 p.m. live on their Facebook and YouTube channel.
MLK Call to Service Day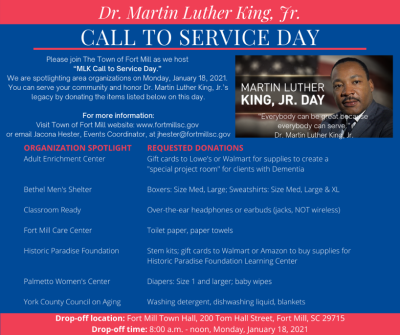 Join The Town of Rock Hill as they host "MLK Call to Service" on Monday, January 18, 2021, from 8 a.m. to noon as they collect donations at Town Hall (200 Tom Hall Street, Fort Mill, SC 29715) for a variety of organizations in the area. Check the flyer to see what you can donate to each organization. For more information contact Jacona Hester, Events Coordinator, at jhester@fortmillsc.gov
Local Churches
Churches across York County are also participating in the celebration of Dr. Martin Luther King Jr., but due to the COVID-19 pandemic, many have canceled or decided to do something small to celebrate his legacy.
Call or check your local church's social media pages to find out more about what they decide to do to celebrate his day.