Written by Corrie Drummond
Carowinds Winterfest is bringing the thrill of Christmas to the Carolinas! From fun performances, a festive holiday menu, and the rides you know and love there's something that the whole family can enjoy at Winterfest. Join in on all the fun from 5 pm- 10 pm on select nights now through January 1, 2023. 
---
Live Entertainment 
At Winterfest you can expect lots of Broadway-style performances all over the park. There are continuous shows throughout the night at the main stage where you can also view the massive Winterfest Christmas tree. The "Four Drummers Drumming" remix your favorite holiday songs with a percussionist twist and beat. The "Mistle Tones" performing next to Harmony Hall take you back in time with doo-wop Christmas hits. You can also attend Tinker's Toy Factory, a short musical for a behind-the-scenes look at Santa's elves.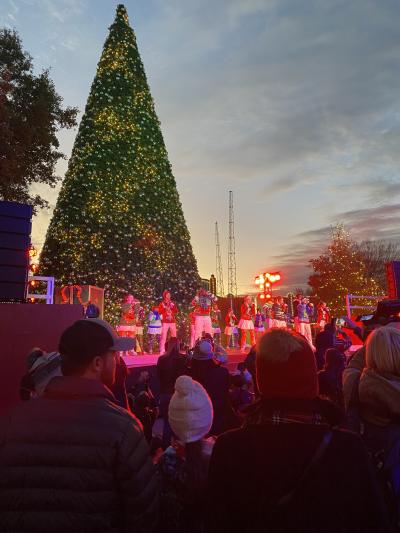 Experiences and Activities 
There are plenty of ways to experience all the fun at Carowinds even if rollercoasters aren't your thing. The Snow Flake Lake is a perfect place to chill and practice your ice skating skills. Taking a walk around Winterfest can make you hungry, so head over to Mrs. Claus' Kitchen to decorate your own yummy sugar cookies with plenty of frosting and sprinkles. Write a letter to Santa at the North Pole Post Office or visit him in person at Charlie Brown's Christmas Town. Be sure to take a selfie with Santa while you're there.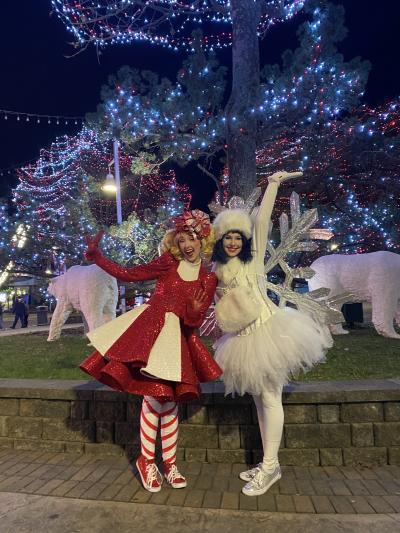 Rides
Carowinds is famous for some of the best rollercoasters in the Carolinas. Hop on Nighthawk and enjoy a roller coaster thrill with beautiful views of the park. Fury 325 takes you on a long journey, over, under, and around the northeast side of the park. Take a peaceful ride on the grand carousel, enjoy the view and Christmas tunes, or swing high up in the sky on Zephyr. For the little ones, enjoy a train ride on Snoopy's Junction.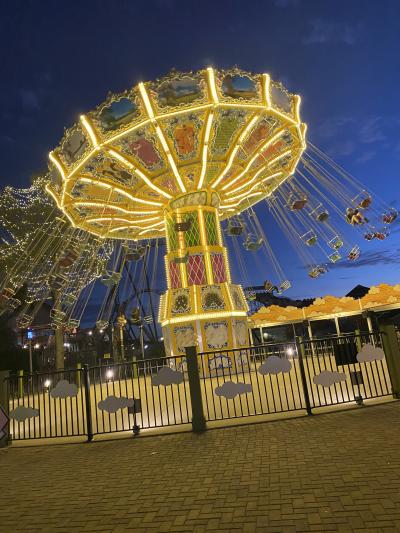 Treats
Winterfest is the perfect excuse for a diet cheat day. Warm up with a lap around the park and some hot chocolate. Grab a candy apple bacon on a stick or head to Holiday Hall for a cherry-glazed duck breast. Wash it all down at the Bubbly Bar with a citrus pom mimosa. At Dasher's Diner Bar, you can enjoy holiday-themed craft cocktails and mocktails. For dessert, try a gingerbread funnel cake or deep-fried Cornbread with ice cream at Sugar Cakes Factory. If the cold weather isn't for you, there are multiple fire pit stations where you can roast a marshmallow and make s'mores. Delicious options from Starbucks, Cinnabon, Sweet Frog, Panda Express, and more are also available.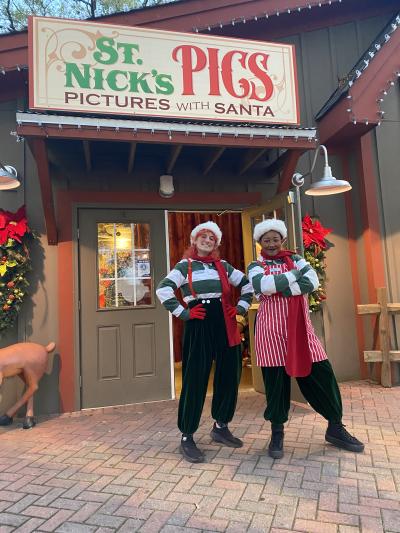 Shopping
Need some retail therapy? There are plenty of stores at Winterfest where you can be your own Santa. Find everything from toys to holiday decor at the North Pole Mercantile. Find something sweet for someone special at Sugar Plum Sweets where you can choose from an assortment of candies sure to satisfy. Professional photo opportunities with Santa are also offered at North Gate Photo. 
Purchase tickets or learn more about Carowinds Winterfest here.
Photos by Corrie Drummond